Mozzarella, Pesto, and Roasted Radicchio
Cookbook
Published by Knopf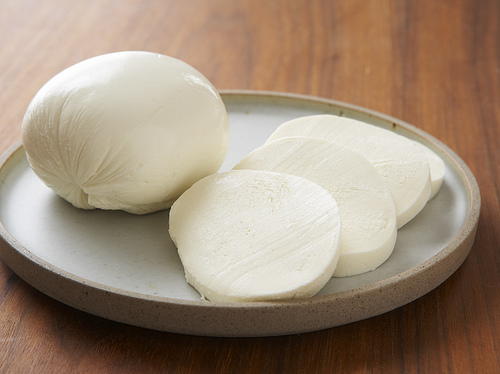 This image courtesy of Joseph DeLeo
David Greco at Mike's Deli in the Bronx was shocked to find out how ignorant I was about storing fresh mozzarella. "Everyone knows that when freshly made mozzarella is to be eaten within a day or two it shouldn't be refrigerated!"When kept at room temperature, the super-fresh mozzarella maintains its soft, creamy texture and sweet, nutty flavor. Don't confuse the hard and rubbery, shrink-wrapped supermarket mozzarella with its fresh counterpart. That cheese has nothing in common with the tender, hand-pulled delicacy. If you don't have a local mozzarella maker, buy mozzarella balls floating in whey from an upscale market or cheese store and keep them in the refrigerator. According to David, if you immerse the chilled balls in a bath of warm salted water just before serving, they'll soften into a tender, creamy consistency, closer in style to his handmade mozzarella. I'm well aware that not everyone loves radicchio as much as I do. On this sandwich, I tried to temper its bitter sharpness by pairing it with a mild mozzarella. Now, if that still doesn't work for you, go for the more classic combo and substitute tomatoes for the radicchio. But do me a favor and only use tomatoes in season, and do yourself a favor and seek out colorful heirloom varieties, such as Cherokee Purple, Earl of Edgecombe, Brandywine, Black Krim, or Costeluto Fiorentino.
NotesFor grilling the bread, I prefer to use a home-style panini machine, a two-sided grill that resembles a waffle iron. The heavy metal grills apply pressure and heat to both sides of the bread or sandwich at once. There's no flipping necessary, and you don't need to exert any extra pressure on the sandwiches as they grill. Turn the panini machine to high and allow it to heat up for 5-10 minutes.  Spread a thin layer of softened butter on both sides of the bread. (Most home-style panini grills have room for two sandwiches or two slices of bread.) Close the top grill and cook them for a few minutes, until the bread is lightly browned. This practical and easy-to-use machine is the fastest, most efficient method for making grilled sandwiches.

If you don't own a panini grill, other techniques work fine. You can achieve the same effect with the coffee-shop method, using a heavy-bottomed pan, or better yet, a well-seasoned cast iron skillet with some clarified butter. Simply brush a little of the clarified butter over both sides of each slice, and lightly brown each slice in the pan.

For grilling an open-faced sandwich on a charcoal or gas grill, brush the bread with olive oil and grill it for a few minutes on each side.


Dietary Considerationvegetarian
Taste and Texturecheesy, crisp, herby, sharp
Type of Dishgrilled sandwich
Ingredients
1 medium head radicchio (about 10 ounces), cut in half through the core
3 tablespoons extra virgin olive oil, plus extra to drizzle over sandwiches
1 tablespoon balsamic vinegar
Approximately 2 branches fresh rosemary, picked into 20 small sprigs
½ teaspoon kosher salt
1 recipe Basil Pesto (below)
1 pound (2 large balls) fresh mozzarella
2 cups warm water (optional)
1 tablespoon kosher salt (optional)
4 slices white or whole-wheat sourdough bread
1 garlic clove, peeled
3 tablespoons pine nuts
2-3 garlic cloves, peeled and finely chopped (about 1 tablespoon)
3/4 cup chopped fresh basil leaves
1 teaspoon kosher salt
1/2 cup extra virgin olive oil
1/4 cup (1 ounce) finely grated Parmigiano-Reggiano
2-3 teaspoons fresh lemon juice
Instructions
TO ROAST THE RADICCHIO: Adjust the oven rack to the middle position, and preheat the oven to 400 degrees.

Cut each radicchio half into 5 wedges. In a cast-iron or other oven proof 10-inch skillet, combine 2 tablespoons of the olive oil and 2 teaspoons of the vinegar. Arrange the wedges of radicchio in the skillet in a concentric circle, and place a small piece of rosemary underneath and on top of each wedge.

Drizzle the remaining olive oil and vinegar over the radicchio, and sprinkle over the salt. Cover with plastic wrap and then foil, and roast in the oven for 15 minutes. Remove the foil, puncture the plastic to allow the steam to escape, and remove the plastic.

Turn the wedges of radicchio over, and on the stovetop, over medium heat, cook the radicchio about 3–5 minutes to caramelize slightly, being careful not to burn it.

TO SOAK THE MOZZARELLA: Bring it to room temperature and slice into ½-inch-thick slices. Pour warm salted water over the cheese to cover, and allow to sit a few minutes, until softened. Drain the slices on paper towels.

Grill the bread (see Notes, below). Rub one side of each slice of bread with the garlic clove, and cut each slice in half on the diagonal. Place the slices on serving plates, garlic side up.

FOR THE PESTO: Preheat the oven to 325 degrees.

Spread the pine nuts on a baking sheet, and toast in the oven for about 8-10 mnutes, until lightly browned.

using a mortar and pestle, pulverize the pine nuts, garlic, basil, and salt into a smooth paste. (If you don't have one, finely chop the ingredients and smash them with a knife to puree.) Slowly drizzle in the olive oil, and add the Parmesan, mixing well to incorporate. Season with lemon juice and salt to taste, just before serving.

TO ASSEMBLE THE SANDWICHES: Arrange 2 or 3 slices of mozzarella over each half-slice of bread, and spoon about a tablespoon of pesto over the cheese. Arrange the radicchio over the pesto and drizzle with olive oil.
2002 Nancy Silverton
YOUR RECENTLY VIEWED RECIPES
Free recipes, giveaways, exclusive partner offers, and more straight to your inbox!