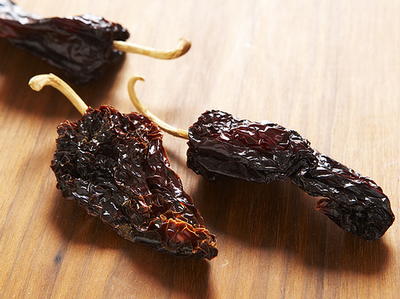 This image courtesy of Joseph DeLeo
If you talk to anyone about Xico, they invariably ask if you have eaten the mole. It is famous surprising, since it is Sweetish and very gentle, certainly not for those who like their food picante. I have eaten and been given several recipes in Xico but finally agree with my friend Carmen Ramirez Degollado that the recipe for mole de Xico printed in La Cocina Veracruzana (sadly, an out-of-print limited edition printed privately under the sponsorship of an ex-governor of Veracruz) is the most representative: she serves it in her restaurant El Bajio in Mexico City. Of course, it is a refined mole and only for those who can afford the expensive ingredients of pine nuts and hazelnuts. For those who can't, peanuts serve as a substitute. When you go to the trouble of making mole, it is best to make more than you will use. It keeps for at least a month in the refrigerator and freezes for a much longer period.
Serves10
Cooking Methodslow cooking

OccasionFamily Get-together
Dietary Considerationhalal, kosher, lactose-free, soy free
Taste and Texturenutty, rich, savory, spiced
Ingredients
12 mulato chiles, about 9 ounces (250 g)
8 pasilla chiles, about 2½ ounces (75 g)
Pork lard or vegetable oil for frying
1 small white onion, sliced
6 garlic cloves, peeled
Approximately 3 quarts (3 l) chicken or turkey broth
1/3 cup (83 ml) almonds
¼ cup (63 ml) hazelnuts
¼ cup (63 ml) pine nuts
1/3 cup (83 ml) pecans
3 tablespoons sesame seeds
¼ cup (63 ml) raisins
½ small plantain, sliced
8 prunes, pits removed
2 small rounds dried French bread
1 small corn tortilla, dried
1 large tomato, broiled until soft
4 peppercorns, toasted and crushed
4 cloves, toasted and crushed
½-inch (13 mm) cinnamon stick, crushed
¼ cup (63 ml) grated piloncillo or soft brown sugar
1 ounce (30 g) Mexican drinking chocolate
10 large servings of young turkey or large chickens
Salt as necessary
Instructions
Remove the seeds and veins from the chiles, barely cover with water, and simmer for 5 minutes. Set aside to soak for 10 more minutes. Drain well

Heat 2 tablespoons of the lard, add the onion and garlic, and fry without browning until translucent. Drain and add with ½ cup (125 ml) of the broth to a blender. Blend until smooth. Add another cup (250 ml) of the broth and blend a few chiles at a time to a very slightly textured puree. You will need to do this in 2 batches, using just enough broth to loosen the blender blades.

Add ¼ cup (63 ml) more lard to a deep, heavy pan in which you are going to cook the mole. Add the pureed chiles and fry gently, scraping the bottom of the pan from time to time because it will readily stick and scorch. Continue frying for about 10 minutes.

Add a little of the lard to a skillet and separately fry the rest of the ingredients up to and including the tortilla, adding only enough lard to coat the bottom of the pan and draining each ingredient in a strainer to remove excess fat. Crush the fried nuts, bread, and tortilla once to avoid overtaxing your blender. Add 2 cups (500 ml) of the broth to the blender, then blend the fried ingredients a little at a time, adding more broth as necessary to release the blender blade. Add the blended fried ingredients to the chile puree.

Blend together the tomato and spices, add to the mixture along with the sugar and chocolate, and continue cooking over low heat for about 10 minutes. Add another quart (1 l)of the broth and continue cooking, making sure the mole is not sticking to the bottom of the pan, for about 30 minutes. By now the mole should be thick, well seasoned, and have pools of oil forming on the surface. Either set aside to cool and store or continue as follows.

Heat about ¼ cup (63 ml) lard in a heavy pan and brown the pieces of turkey or chicken. Drain off the excess fat and add the meat to the mole. Continue cooking over slow heat for about 40 minutes, diluting with more broth and then adjusting the salt.
1998 Diana Southwood Kennedy
YOUR RECENTLY VIEWED RECIPES