Cookbook
Published by Workman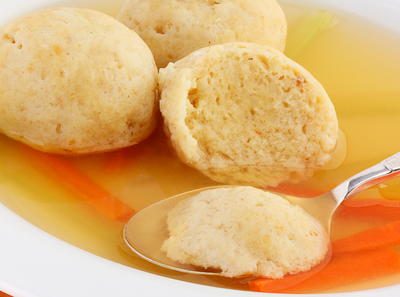 This image courtesy of Shutterstock
The world is divided into those who love floaters and those who love sinkers. While the delicate floaters are favored by matzoh ball mavens everywhere, I am a closet sinker-lover, which is the way my father's mother, Grandma Ruchel, made them. Which is not to say I haven't gobbled with gusto a floater or two in my day. Aunt Irene's are definitely floaters. Some say club soda makes for a lighter Knaidel. Cooking them longer will make them lighter too.
For Passover use kosher-for-Passover baking powder. If none is available, it may be omitted.

In my earliest memories, Mama Reen enters my house, after walking several blocks and taking several buses, carrying four or five heavy shopping bags full of home-made foods and lifts them weightlessly as she approaches me for a great big kiss. In those bags, which she methodically recycles, are tubs of her magnificent matzoh ball soup, her famous baked kreplach, indescribable and velvety chopped liver, tasty stuffed cabbage, and the world's best chocolate chip mandelbrot. She always catered to each individual taste: soft, fluffy matzoh balls for my mom and dad, hard ones for me and my sisters, cheese kreplach, meat kreplach, large and bite-size stuffed cabbage, and any permutation in between just to make us happy. No one could compete with Mama Reen's generosity and her endless, selfless need to feed. I am ever so grateful that I had, loved, and was loved by Mama Reen.–Marcy Epstein

OccasionCasual Dinner Party, Family Get-together
Dietary ConsiderationLactose-free, Peanut Free, Soy Free, Tree Nut Free, Vegetarian
Five Ingredients or LessYes
Taste and TextureLight, Savory
Ingredients
2 tablespoons melted chicken fat, melted shortening, or vegetable oil
2 large eggs, lightly beaten
½ cup matzoh meal
1 teaspoon kosher salt
1 teaspoon baking powder (see Notes)
2 tablespoons club soda, chicken broth or water
Instructions
Blend the fat and eggs together in a small bowl. Add the matzoh meal, salt, and baking powder and blend well. Add the club soda and mix thoroughly. Cover and refrigerate until the mixture is firm, at least 1 hour.

Bring a large pot of water to a boil, and lightly salt it.

Using wet hands, form the mixture into balls (2 tablespoons each for 2-inch knaidlach, 1 tablespoon for 1½-inch), and carefully drop them into the boiling water. Do not crowd the pot. Cover the pot and cook at a slow, steady boil (not a hard boil) until soft, 30 to 40 minutes.

Remove the knaidlach with a slotted spoon, and serve in soup.
1999, 2003, 2007 Judy Bart Kancigor
YOUR RECENTLY VIEWED RECIPES