Making Polenta
Cookbook
Published by Knopf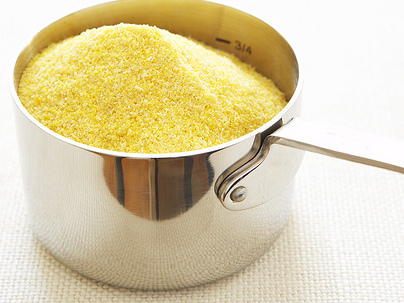 There is both yellow and white polenta, depending on whether one uses meal from yellow or white corn, but yellow polenta is more common. The cornmeal itself may be either fine-grained or coarse. Coarse-grained yellow cornmeal is more robustly satisfying in texture and flavor, and it is the one suggested below.
NotesNote on consistency: As it begins to cool, polenta should be thick, and when moved, firm enough to quiver. From an Italian point of view, it is least appealing when it is as thin and runny as breakfast oatmeal.

If you are going to let it become completely cold and firm and later slice it, do not put the hot polenta in a bowl, but spread it flat on a board to a thickness of about 3 inches.

Ahead-of-time note: If you are planning to slice polenta and grill it, bake it, or fry it, you must make it several hours in advance. It will keep for several days in the refrigerator. If you are refrigerating it for a few days, keep it whole, in one piece, and wrap it tightly with foil or plastic wrap.

Cleaning the pot: After emptying the polenta from the pot, fill it with cold water and set it aside to soak overnight. In the morning most of the cornmeal film attached to the pot lifts off easily. If you are using an Italian-made unlined copper polenta pot, after emptying it in the morning and scraping away all the loosened residues, clean it with ¼ cup of vinegar and some salt. Rinse with plain water, without using any detergent, and wipe dry. Whenever you use an unlined copper pot, go over it again with vinegar and salt, and rinse thoroughly with plain water before each use.


About4 cups

OccasionCasual Dinner Party, Family Get-together
Dietary Considerationhealthy, vegan, vegetarian
Five Ingredients or LessYes
Ingredients
7 cups water
1 tablespoon salt
1 2/3 cups coarse-grained imported Italian yellow cornmeal
An 8- to 10-cup bowl, preferably steel or copper
Instructions
Bring the water to a boil in a large, heavy pot.

Add the salt, keep the water boiling at medium-high heat, and add the cornmeal in a very thin stream, letting a fistful of it run through nearly closed fingers. You should be able to see the individual grains spilling into the pot. The entire time you are adding the cornmeal, stir it with a whisk, and make sure the water is always boiling.

When you have put in all the meal, begin to stir with a long-handled wooden spoon, stirring continuously and with thoroughness, bringing the mixture up from the bottom, and loosening it from the sides of the pot. Continue to stir for 40 to 45 minutes. The cornmeal becomes polenta when it forms a mass that pulls cleanly away from the sides of the pot.

Moisten the inside of the bowl with cold water. Turn the polenta out of the pot and into the bowl. After 10 to 15 minutes, turn the bowl over onto a wooden block or a large round platter, unmolding the polenta, which will have a dome-like shape.

If serving it soft and hot, serve it at once. You may, if you wish, scoop out the upper central portion of the dome and fill it with whatever you have prepared to go with the polenta—sausages, pork ribs, a veal, beef, or lamb stew, fricasseed chicken, and so on.
1992 Marcella Hazan
YOUR RECENTLY VIEWED RECIPES
Free recipes, giveaways, exclusive partner offers, and more straight to your inbox!