Cookbook
Published by Workman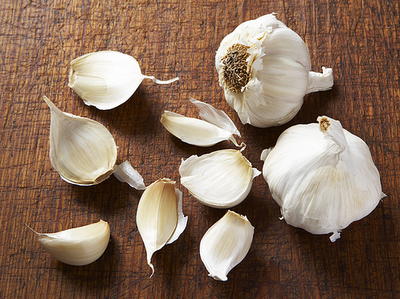 This image courtesy of Joseph DeLeo
This is the stock to use for making soups, it is pale in color, yet rich with flavor and gelatin, which will give soups good body. It is so easy to prepare, and makes such a difference to homemade soups, there is really no excuse not to have some in the freezer.
How to Render Chicken Fat from Soup

Scrape the fat from the surface of chilled stock as cleanly as possible, with as little of the stock clinging to it as possible. Place the fat in a small saucepan over medium-low heat. Because there is water in the fat, the contents of the pan will come to a boll. Reduce the heat to low and cook the fat, watching closely, until it stops boiling and is a pure, bright yellow color, 5 to 10 minutes. At this point any impurities in the fat will have begun to brown. Remove the pan from the heat and cool the fat completely. Strain the fat through a fine sieve and store it, tightly covered, in the refrigerator for up to 3 months.


Makes6 cups

Five Ingredients or LessYes
Ingredients
7 to 8 pounds raw chicken backs, necks, and giblets (but not the liver)
2 carrots
1 large yellow onion, unpeeled and quartered
1 head of garlic, separated into unpeeled cloves
Instructions
Pull off as much of the fat and skin from the backs and necks as possible. Combine the chicken, carrots, onion, and garlic in a 5-quart stockpot. Pour in enough cold water to cover the chicken by 1 inch (about 3 quarts). Heat over high heat to a boil. Reduce the heat to medium and boil 5 minutes. Skim all the foam and fat that rise to the surface.

Adjust the heat to a bare simmer–1 or 2 bubbles rising to the surface at a time. Simmer until the bones fall apart when poked with a fork, about 8 hours. Check the pot occasionally, skimming the foam and fat as it rises to the surface, and adding water as needed to keep the bones submerged.

Ladle the stock through a sieve lined with a double thickness of cheesecloth or a clean kitchen towel into a bowl. Quickly cool to room temperature. Refrigerate, uncovered, until completely chilled and a layer of firm fat forms on top.

Remove the fat from the surface. Render the chicken fat, if desired (see box). Warm the stock over low heat and ladle into 1-cup storage containers with tight-fitting lids. Refrigerate for up to 5 days or freeze for up to 3 months. Heat to a boil before using.
2000 Amy Farges
YOUR RECENTLY VIEWED RECIPES