Lentils with Chiles, Pork, and Fruit
Cookbook
Published by Clarkson Potter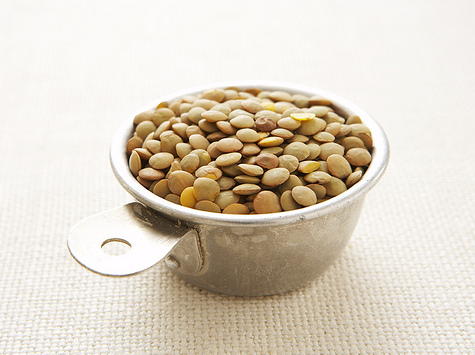 This image courtesy of Joseph DeLeo
In many of the fruit-growing areas of Mexico, fruit is used as an ingredient in some of the main meat dishes: pears and peaches in Vitualla from the Bajio, pineapple and plantain in the manchamanteles of Oaxaca, peaches, pears, and apples in the stuffing for chiles en nogada of Puebla. Much of the same fruits are used in the caldo loco (literally, mad broth) of the San Luis Potosi highlands. These sweet/sour, salty flavors are reminiscent of those from Moorish Spain. (However, it is interesting that in other country areas the people, at least in eastern Micboacan, will not tolerate the idea, let alone eat such a mixture.) This recipe is a very popular way of preparing lentils in the capital and neighboring Puebla, where it would be eaten (because of the meat it contains) as a main dish. Normally a dish of lentils without meat would be served after the main course, instead of frijoles de olla. Lentils in Mexico are very small and greenish-brown in color; however, any other type of lentils could be used. There is, in fact, a quite indigestible version of this dish given in the Diccionario de Cocina, preceded by a warning: "This vegetable is best eaten only by those with strong stomachs." If they are well cooked, this advice can be ignored. It makes a delicious soup/stew for cold days, best eaten with crusty French bread and some good, strong red wine.
NotesMethod: Heat a carnal (griddle) over medium heat-c-it must not be too hot, or the chiles will burn and make the sauce bitter-and press the chile, inside down, on the carnal as flat as possible. Leave for about 3 seconds, turn over, and repeat on the second side or until the inside flesh turns an opaque, tobacco brown-s-about 3 seconds (if the chile is fairly moist, it will blister, but that is not the sign). Remove, cover with hot water, and leave to soak for about 15 minutes.

Asado (broiled, grilled, or charred on a comal): This method is used for many rustic table sauces that are uncooked, as well as for some of the cooked tomato sauces. The tomatoes are placed whole on an ungreased comal and cooked over medium heat until the skin is deep brown with charred patches and the flesh mushy. Some cooks skin them, but it adds to the flavor and texture if the skin is left on.

Tomatoes prepared in this way give the sauces a very special depth of flavor and sweetness. It is also a good method to use when tomatoes are in season and you want to store them for sauces during the winter. Choose the ripest and broil them in the following way: Line a shallow pan into which the whole tomatoes will just fit (not too large, or the juice will dry up) and broil 2 inches (5 cm) from the heat, turning them from time to time until the skin is blistered and browned and the flesh inside mushy. Store whole in the freezer in 1-pound (450 g) batches with all the juice drained from the pan.


Serves4 to 6

OccasionFamily Get-together
Dietary Considerationegg-free, gluten-free, lactose-free, peanut free, soy free, tree nut free
Taste and Texturemeaty, salty, savory, spiced, sweet
Ingredients
8 ounces (225 g; 1 heaped cup [300 ml]) lentils, brown if available (see note above)
½ small white onion
Sea salt to taste
1 pound (450 g) boneless stewing pork, cut into 1-inch (2.5 cm) cubes
Sea salt to taste
5 small chiles anchos, cleaned of veins and seeds and lightly toasted (see Notes)
4 ounces (115 g) tomatoes, broiled (see Notes)
1 garlic clove, peeled and roughly chopped
¼ teaspoon dried Mexican oregano
1 whole clove, crushed
1½-inch (3.75 cm) cinnamon stick, crushed
1 tablespoon melted lard or safflower oil
1 ripe plantain (225 g; about 8 ounces), peeled and cut into ¼-inch(6.25 mm) slices
2 thick pineapple slices, peeled, cored, and cut into small triangular wedges
Instructions
Run the lentils through your hands to make sure there are no stones or other foreign bodies in them. Rinse them in two changes of water and put into a pan. Add onion, salt to taste, and enough water to come about 2 inches (5 cm) above the surface of the lentils. Set over medium heat and bring to a fast simmer. Continue simmering until the lentils are quite soft-about 1½ hours, depending on their age. Keep a pan of near-boiling water on the side, ready to add if necessary.

Put the pork pieces into a pan; add salt to taste and water to cover. Bring to a fast simmer and continue simmering until the pork is tender but not soft-about 25 minutes. Strain, reserving the broth, and set broth and meat aside.

Cover the dried chiles with hot water and leave to soak for about 15 minutes, until the chiles have softened and become fleshy. Drain and put into a blender jar with 1 cup (250 ml) of the reserved pork broth, the broiled tomatoes, garlic, oregano, clove, and cinnamon; blend until smooth, adding more broth only if needed to release the blades of the blender.

Heat the lard in a small frying pan, add the blended ingredients, and fry over medium heat, stirring and scraping the bottom of the pan, until reduced and well seasoned--about 4 minutes. Add to the lentils and add the pork, remaining broth, plantain, and pineapple; simmer together for about 30 minutes. Adjust salt and add water if necessary. The mixture should be like a thick soup.
1989, 2008 Diana Kennedy
YOUR RECENTLY VIEWED RECIPES
Free recipes, giveaways, exclusive partner offers, and more straight to your inbox!