Leaf-Wrapped Rice and Banana Bundles
Cookbook
Published by William Morrow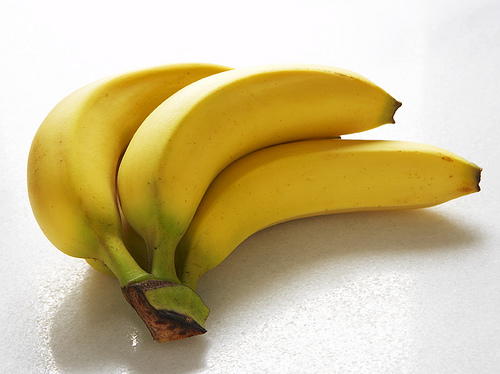 This image courtesy of Joseph DeLeo
Khao tom mat are always made with whole grains of sweet rice, but you can use any type of banana or substitute a slice of papaya or plantain. Many bananas found in Thailand are not available here, but the small red-skinned ones available in some markets work well, as do the larger, more common yellow ones. As the dumpling cooks, the rice expands and gets sticky and soft around the filling, creating a type of rice cake. Because khao tom mat are fashioned with a looser leaf wrap, they have a more yielding and less compact texture than do similar rice dumplings that are more tightly wrapped. These dumplings are wrapped using the Diamond in the Square Fold (see Notes).
NotesDiamond in the Square Fold:

The Diamond in the Square fold is a simple package fold that has the advantage of having a double layer of leaves for a more secure hold. This fold can also be used Instead of the envelope fold when dealing with leaves that are brittle or torn.

1. Lay flat the larger banana-leaf square, smooth side up (or parchment paper), and place the smaller banana-leaf square, smooth side up, diagonally on top of the first square.

2. Center and arrange the cassava and filling or rice and filling on top of the stacked leaves.

3. Fold over one corner of the stacked leaves.

4. Fold over the opposite corner.

5. Fold the ends of the leaves over as firmly as you can to create a neat, rectangular package.

6. Tie the package in a crisscross pattern to prevent the leaves from unfolding.

Coconut: Coconut milk and grated coconut are used regularly in many Indian and Southeast Asian dumpling recipes. Grating your own coconut and making fresh coconut milk takes some time, but the results are stunning. Whole coconuts are available at different degrees of maturity. Young coconuts are valued for their soft, silky flesh and tantalizing light "coconut water," while mature coconuts offer up a firm, thick flesh with a much more concentrated flavor. Brown and hairy mature coconuts are the ones used for shredding and squeezing coconut milk. It's important to buy coconuts from stores that sell them often. Coconuts that sit around can turn moldy on the inside. Shake the coconut and listen for a faint sloshing sound. If the liquid sloshes conspicuously, or not at all, that may be a sign of a coconut that is just too old. We learned to buy two coconuts for everyone called for in a recipe, in case one was a dud.

Cracking the coconut: There are many ways to crack open a coconut, and none of them is very elegant. This quick method works best for us: Wrap one coconut in three or four layers of paper towels (you could also use a kitchen towel and rinse it out afterward) and place inside a sturdy plastic shopping bag or a comparable sack (double up on the bags if needed). Find a good hard surface to whack the coconut against, indoors or outdoors. Grip the bag a few inches above the coconut and slap it as hard as you can against the surface. Do this a few times, even after you hear it crack open, so you can loosen the meat and break the coconut apart into a few manageable pieces. Unwrap the pieces and rinse them off in a bowl of cool water.

Removing the flesh: Fold up a kitchen towel and use it to hold a shard of coconut in one hand. Slide a sturdy and-we cannot emphasize this enough-blunt knife in between the shell and the flesh as far as you can while still being able to twist the knife. This twisting motion should pop the coconut meat out. Some coconuts will be easier to work with than others. Take your time and use extra care in handling the sharp edges of the coconut shell. Once all the meat has been removed, peel off the brown skin with a vegetable peeler. Rinse off the peeled pieces in a bowl of cool water. If you are not using them immediately, peeled pieces of coconut can be kept in a bowl covered with a damp towel for up to 2 days in the refrigerator.

Grating the coconut: Grate the coconut pieces over a board or a cloth through the large or medium holes of a box grater. Measure out enough coconut for your recipe and keep the rest tightly packed and refrigerated for up to 2 days or frozen for up to a month. If making dried, grated coconut, spread the coconut out on a large sheet tray and bake in a 200°F oven for 15 to 20 minutes. One large coconut should make 4 cups of freshly grated coconut or, after baking, 2 cups of dried coconut.

Making fresh coconut milk. Put the meat of one grated coconut that has been cut into into small chunks) into a blender. Pour in ¾ cup of room-temperature water, preferably nonchlorinated water, such as distilled or spring water, and blend for 1 minute. Add another ¾ cup of water and blend until it is mixed evenly and milky, about 1 minute longer. Strain the coconut milk through a sturdy sieve, pressing down on the coconut and squeezing out as much liquid as you can. You should have just about 2 cups of fresh coconut milk. Use coconut milk shortly after it has been made. If left to sit for an hour or two, it can being to separate.

Rinsing your rice: Most rice dumpling recipes ask that you give the uncooked rice a gentle (and often repeated) rinse to wash away some, but not all, of the powdery starch on its surfaces. To give your rice one full rinse, place it in a bowl, pour in enough cool water to cover the grains generously, and then swirl the rice around for a few seconds. Use one hand to hold back the grains as you tilt the bowl and pour out the starchy water.


Serves4 to 8 (makes 8 dumplings)
OccasionCasual Dinner Party, Family Get-together
Recipe Coursemain course, side dish
Dietary Considerationegg-free, gluten-free, halal, kosher, lactose-free, peanut free, soy free, vegan, vegetarian
Taste and Texturechewy, sweet
Ingredients
¼ cup dried black turtle beans, soaked in plenty of water for 6 to 8 hours, or ½ cup canned, drained and rinsed
3 pandan leaves, each folded in half and tied into a knot for easier handling, or ¼ teaspoon pandan extract
2/3 cup fresh coconut milk (see Notes) or canned coconut milk
¼ cup sugar
½ teaspoon salt
1 cup medium-grain sweet (glutinous) white rice, preferably from Thailand, rinsed (see Notes) and soaked in plenty of water for 6 to 8 hours
2 very ripe bananas
Eight 8-inch prepared banana-leaf squares
Eight 6-inch prepared banana-leaf squares
Eight 36-inch lengths of kitchen string for tying the khao tom mat
8- to 10-quart steamer pot
Instructions
Cook the beans 1 to 1½ hours in Advance: (Skip this step if using canned black turtle beans.) Drain the black turtle beans and place them in a small saucepan. Cover the beans with plenty of water and bring to a simmer over medium heat. Cover, reduce the heat to low, and simmer until the beans are tender, 1 to 1½ hours. Drain and place in a small bowl to cool.

Cook the Rice: Place the knotted pandan leaves in a small pot. Pour in the coconut milk and stir in the sugar and salt. Bring to a simmer over medium-low heat. Immediately cover, reduce the heat to very low, and barely simmer for 15 minutes. If using fresh coconut milk, be careful not to let it come to a boil.

Drain the rice. Remove the pandan leaves from the coconut milk and discard. Raise the heat from very low to low, mix in the rice, cover, and simmer for 3 minutes. Uncover and stir the rice until most of the liquid has been absorbed, 1 to 2 minutes. The rice will be firm and undercooked. Scoop into a bowl, mix in the beans, and set aside to cool.

Assemble the dumplings: Before assembling the khao tom mat, review the Diamond in the Square Fold (see Notes).

Line a tray with a kitchen towel and have ready the rice mixture, bananas, banana-leaf squares, and ties.

Peel the bananas and split each one into 4 equal pieces by cutting them both crosswise and lengthwise. You will have 8 banana slices.

Lay flat 1 large banana-leaf square, smooth side up, then place a smaller leaf square, smooth side up, diagonally on top of the large square. Center 2 rounded tablespoons of the rice mixture on top of the stacked leaves and spread it out into a 4 × 2-inch rectangle. Gently press a piece of banana into the rice mixture. The length of the banana should not be longer than the 4-inch length of the rice rectangle. Top with 1 tablespoon of the rice mixture. Fold over one corner of the stacked leaves. Fold over the opposite corner. Fold the ends of the leaves over as firmly as you can to create a neat, rectangular package. Tie to secure the folds, place it on the lined tray, and repeat until you have 8 packages.

Steam the dumplings: Remove the basket from the steamer pot, add 2 inches of water to the pot, and bring to a boil over high heat. Arrange the packages in the basket, then place the basket in the pot. Cover, reduce the heat to medium, and steam for 1 hour. Check the water level halfway through the cooking and replenish with boiling water as needed.

Remove the pot from the heat. Carefully remove the basket and place it on a folded kitchen towel. Let the khao tom mat cool slightly, cut off the strings (unless you are freezing the dumplings), and serve. They can also be served at room temperature. It's best not to open the packages too soon, and to peel back the leaves just before eating, so they stay moist and warm. Khao tom mat can be refrigerated for up to 3 days or frozen (unopened) for up to 6 months. Reheat them in a steamer pot. If reheating frozen khao tom mat, allow them to thaw before steaming.
2009 Wai Hon Chu and Connie Lovatt
YOUR RECENTLY VIEWED RECIPES
Free recipes, giveaways, exclusive partner offers, and more straight to your inbox!