Lamb Shanks with Mushroom Bolognese
Cookbook
Published by Chronicle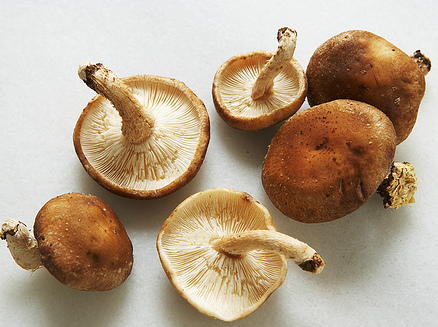 This image courtesy of Joseph DeLeo
I grew up eating cuts such as shank, short ribs, and oxtails. And I love the flavor imparted by the slow braising these cuts require. Lamb shanks were the first meat I put on Tra Vigne's menu, even before a steak. If you like to smoke foods, try smoking your lamb shanks in a covered grill in a covered grill for 45 minutes to add yet another layer of flavor.
NotesIt is acceptable and even preferable to do this dish a day ahead. It is much easier to defat the braising liquid after it has been, refrigerated. The meat can even cook while you sleep. For example, from midnight to 6:00 a.m. at 250°F. You can also cook the whole dish in a covered pot on the stove-top. There is a caramelization of flavors in oven braising that stove-top cooking does not replicate. If the shanks are cracked—cut through the bone in the middle—they will cook through to tenderness more rapidly, closer to 2 hours than 4 hours.

Do not serve cheese with this pasta. The subtle gaminess of the cheese emphasizes the gaminess of the lamb.

Chicken Stock

Good cooking depends on good ingredients and there is almost nothing more basic than stock. If you choose not to make your own, seek out a high-quality substitute. You may be able to talk a local restaurant into selling you stock, or your butcher shop may make various stocks themselves. If you buy canned broth, look for low-salt versions. Make sure to taste the broth before you cook with it so you know what you are working with. Remember that canned stock lacks the natural body of homemade stock and so sauces made with canned stock will be thinner than those made with homemade. I often like to use a concentrated stock for the extra flavor and body it imparts to dishes which means I boil stock until it has reduced to half its original volume.

My recipe is very simple: 5 pounds chicken bones; 10 cups water; 1 large onion, cut into 1-inch chunks; 2 carrots, cut into 1-inch chunks; 2 celery stalks, cut into 1-inch chunks; 1 bay leaf; 10 peppercorns; 1 small bunch parsley stem, I rinse the bones twice to remove blood and boil the bones in water to cover for 30 minutes. During this time, 1 skim carefully, then add the rest of the ingredients, continue to simmer, uncovered, very slowly for 4 hours; cool, strain, and defat. If I want a concentrated stock, I boil the stock until it is half its volume. Refrigerate or freeze until needed.

Variation for Brown Chicken Stock:

Preheat the oven to 450°F. After the second rinsing, place the bones in a roasting pan and roast, stirring occasionally, until brown all over. Transfer to the stockpot and simmer with water as directed above. While the bones are simmering for the first 30 minutes, put the vegetables in the same roasting pan and roast until brown all over, stirring occasionally, then add to the stockpot. Immediately put the roasting pan on the stove top over medium heat and add ½ cup dry white wine or water. Stir and scrape up all the browned bits from the bottom and sides of the pan and pour into the stock. Proceed as directed above.

Since I am a chef, I have to write a recipe that gives the correct—from my viewpoint—method. Rinsing the bones ahead of time and then skimming the stock well during the first part of its simmering yield dividends in clarity and refinement of flavor. You can dispense with the rinsing and skimming, however. Just put all the ingredients in a pot, bring to a boil, and follow the recipe from there. Save bones in a plastic bag in the freezer. Don't bother to defrost them before you make stock. Save parsley stems and assorted vegetables such as fennel tops, mushroom stems, even scrubbed carrot peelings. The recipe may also be increased proportionately. To save space in the freezer, cook the stock until very, very reduced, then dilute it as needed with boiling water.


Serves4
OccasionFormal Dinner Party
Dietary Considerationlactose-free, peanut free, soy free, tree nut free
Taste and Texturegarlicky, herby, meaty, rich, savory, umami, winey
Ingredients
6 tablespoons extra virgin olive oil
4 lamb shanks
Salt and freshly ground pepper
¾ pound mixed fresh mushrooms such as morel, shiitake, chanterelle and domestic, roughly chopped
1 tablespoon minced garlic
1 cup diced onion (¼-inch dice)
½ cup diced carrot (¼-inch dice)
½ cup diced celery (½-inch dice)
2 cups dry red wine
1 bay leaf
3 cups chicken stock (see Notes) or canned low-salt chicken broth
3 cups peeled, seeded, and chopped tomatoes (fresh or canned, depending on season)
½ pound dried orecchiette
3 tablespoons finely chopped fresh basil
1 tablespoon finely chopped fresh oregano
Instructions
Preheat the oven to 300°F. Heat 3 tablespoons of the olive oil in a large, deep overproof pot over medium heat until hot. Season the shanks with salt and pepper and brown on all sides, about 10 minutes. Remove to a plate.

Raise the heat to medium-high, add the mushrooms, and do not move them until they begin to brown, about 1 minute. Season with salt and pepper and sauté until brown allover, about 5 minutes. Remove to another plate and reserve for final assembly.

Reduce the heat to medium, add the remaining 3 tablespoons olive oil to the pot, and heat until hot. Add the garlic and sauté briefly until light brown. Add the onion, carrot, and celery, season with salt and pepper, and sauté until light brown, about 8 minutes.

Add the wine and bay leaf, bring to a boil over high heat, and cook until reduced by half. Add the stock and tomatoes and bring to a boil again. Season with salt and pepper. Return the meat to the pot, cover, and place in the oven to braise until fork tender. Test at 2 hours, but the shanks may take as long as 4 hours.

Let the meat cool in the liquid to room temperature. Remove from the braising liquid and reserve separately. Skim off and discard the fat from the braising liquids. (The recipe may be made to this point a day ahead, covered, and refrigerated. See Chefs Notes.)

Bring a large pot of water to a boil. Add salt and the pasta and cook until al dente, about 12 minutes. Drain.

Meanwhile, pour the defatted braising liquids into a saucepan and bring to a boil over high heat. Reduce the heat and simmer for about 10 minutes, skimming the surface all the while. Add the basil and oregano.

Return the shanks to the sauce and simmer gently just until heated through, then remove and keep warm. (To serve the meat off the bones, see the variation, below.) Add the mushrooms and pasta to the sauce and heat gently until warm through. Pour onto a large, deep platter or divide among plates and top with the shanks. Serve immediately.

Variation:

If you wish to serve the meat off the bone (which turns this into a pasta dish rather than meat on a bed of pasta), tear the meat into big chunks and return it to the sauce with the mushrooms. Cook just until reheated. Add the pasta, stir, and heat through. Taste for seasoning and serve immediately.
1999 Michael Chiarello
YOUR RECENTLY VIEWED RECIPES
Free recipes, giveaways, exclusive partner offers, and more straight to your inbox!