Khmer Chicken Samla with Coconut Milk
Updated February 23, 2016
Cookbook
Published by Workman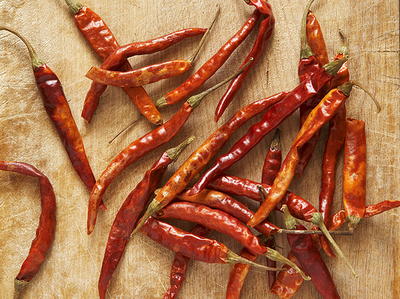 This image courtesy of Joseph DeLeo
Lemongrass features so prominently in Khmer cooking that in local produce markets it is impossible to miss the lemongrass vendors. They sit there with huge piles of finely slivered lemongrass in front of them, always slivering more while at the same time measuring out lemongrass by the bag to shoppers. They're a beautiful sight, the piles of freshly slivered lemongrass, and fragrant as well. Khmer samlas are somewhere between soup and stew, ideal for eating with rice. The curry paste used (with lots of lemongrass) is traditionally made by pounding all the ingredients in a stone mortar long and hard until they make a paste; using a food processor or blender, you can reduce them quickly and easily to a fine chopped texture that, while not as smooth as a pounded paste, is very acceptable.
 If you wish, you can include eggplant in this curry. Use round green or white Thai eggplants, halved or quartered, or Asian eggplants, unpeeled, cut into rough 1-inch chunks. Add the eggplant about 10 minutes after you add the first coconut milk.
Serves5 as part of a rice meal
OccasionCasual Dinner Party
Dietary Considerationegg-free, gluten-free, lactose-free, low carb, peanut free
Equipmentfood processor, mortar and pestle
Taste and Texturecreamy, garlicky, herby, hot & spicy, rich, savory, tart
Ingredients
6 to 10 stalks lemongrass
2 small wedges wild lime, mostly peel, or substitute chunks of regular lime, minced (about 1 teaspoon)
½ teaspoon minced fresh turmeric or ground turmeric
Several pinches of salt
3 tablespoons minced galangal
10 to 12 tiny mauve Asian shallots, coarsely chopped, or substitute 4 to 5 regular shallots, coarsely chopped (about 1 cup)
10 medium to large cloves garlic, coarsely chopped
4 Thai dried red chiles, soaked in warm water until softened
2 tablespoons shrimp paste
2 whole chicken legs (1½ to 2 pounds), rinsed
3 tablespoons vegetable oil
3 cups coconut milk, canned or fresh , divided into 1½ cups thinner milk and 1½ cups thicker milk
2 teaspoons salt
1 teaspoon sugar
Instructions
Cut the tough root ends and dry upper stalks off the lemongrass; peel off the tough outer layers and discard. Very thinly slice the remaining 2 to 3 inches of each stalk. You should have 1¼ cups (the number of stalks you need will vary greatly depending on their size and freshness).

If using a large mortar with a pestle, place the lime and turmeric in the mortar with a pinch of salt and pound to a paste. Add the galangal and pound well. Add about one third of the lemongrass and pulverize to a smooth texture. Gradually add more lemongrass, continuing to pound; empty out some or all of the mixture if your mortar is getting full. Once the lemongrass is broken down, add the shallots and then the garlic, along with another pinch of salt, as you continue pounding. Once you have a smooth, even paste, transfer to a medium bowl and set aside.

If using a food processor or blender, place the lemongrass in the processor or blender and process until very finely chopped. Add the lime, turmeric, a pinch of salt, and the galangal and process until finely chopped. Add the shallots and garlic and another pinch of salt and process to a fine paste. Transfer to a bowl and set aside.

Reserve the chile-soaking water and chop any tough stem ends off the soaked chiles and discard. Cut the chiles open and remove and discard the seeds (or set aside for another purpose). Mince the chiles, then place in a mortar or a blender or processor, with a pinch of salt, and pound or process to a coarse paste. If using a blender or processor, add a little chile-soaking water if necessary to help create a paste, and use a spatula to push the mixture back down the sides to the blade. Add to lemongrass paste, stir to mix well, and set aside.

Spread the shrimp paste on a piece of aluminum foil, fold the foil over to seal, and flatten into a thin package. Place in a hot skillet over medium-high heat for 3 to 4 minutes. Turn over and cook for another 3 to 4 minutes, pressing the package flat against the skillet occasionally with a spatula. Remove from the skillet, unfold the foil, and crumble the toasted shrimp paste into the curry paste, stirring thoroughly to blend it in. Set the curry paste aside.

If you wish, remove the skin and any excess fat from the chicken and discard. Use a heavy cleaver to cut the drumsticks and thighs apart, then halve each drumstick and cut each thigh into 3 pieces.

Heat a large heavy pot over medium-high heat. Add the oil and when it is hot, stir in the curry paste. Cook, stirring, until smooth and aromatic. Add the chicken pieces and stir to turn and coat.

Cook, stirring occasionally, for 7 to 10 minutes, until starting to change color.

Add the 1½ cups thinner coconut milk, the salt, and the sugar and bring to a boil. Boil gently for 10 minutes. Add about half the thicker coconut milk, bring back to a boil, and simmer, half covered, for 20 minutes.

Skim off any scum, then add the remaining coconut milk and simmer for another 10 to 15 minutes, until the chicken is very tender.

Serve hot, giving each person 2 pieces of chicken and lots of sauce.
2000 Jeffrey Alford and Naomi Dugid
YOUR RECENTLY VIEWED RECIPES