Kasha (with or without the Varnishkes)
Updated February 23, 2016
Cookbook
Published by Workman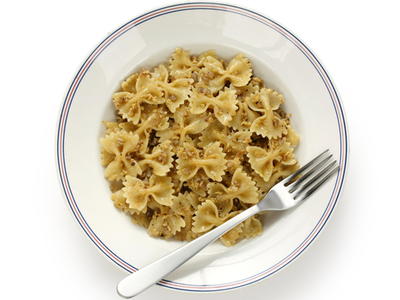 This image courtesy of Shutterstock
Say "kasha" and you get a smile. This Jewish staple–buckwheat groats (a health food really, it's so packed with vitamins and nourishment) is yet another butt of endless jokes. Seinfeld's friend Elaine doesn't say that George's mother's house smells of lentils. What does it smell like? You got it: kasha. Another controversy: A few apostates in the family--and I won't embarrass them by naming them, they are so wrong--are not varnishkes devotees. They like their kasha plain and simple. To me, kasha is not kasha without the bowties, their soft texture against the nutty kasha, a perfect marriage in an imperfect world. My mother dresses it up with sautéed onions and green pepper. While most people use medium groats, Mom likes the extra nuttiness of the whole, which she toasts in the oven, despite the fact that the directions on the box do not say to--but then, that would involve reading the directions.
In my family we use the word "kasha" to describe on impossible imbroglio, i.e., cousin A calls cousin B and repeats something cousin C said about cousin D. Now if cousin B shuts her mouth or has a senior moment and forgets about it, this is not a kasha. But if cousin B calls--(and you can fill in the blank with anyone at this point), now that's a kasha.
Serves12
Dietary Considerationkosher, lactose-free, peanut free, soy free, tree nut free, vegetarian
Taste and Texturechewy, nutty, savory
Ingredients
3 tablespoons vegetable oil
1 large onion, chopped
1 green bell pepper, stemmed, seeded, and chopped
1 large egg
1 box (13 ounces) whole buckwheat groats
4 cups homemade chicken stock or low-sodium boxed or canned broth, plus more if needed
Kosher (coarse) salt and freshly ground black pepper
8 ounces bowtie pasta
Instructions
Preheat the oven to 350°F.

Heat the oil in a large saucepan over medium heat. Add the onion and bell pepper and cook, stirring often, until soft and the onions are golden, 10 to 12 minutes.

Meanwhile, beat the egg in a medium-size bowl and stir in the groats, mixing until all the grains are coated. (This will help prevent the granules from sticking, but you will still need to break them up when toasting.) Spread the egg-coated groats on a baking sheet or in a shallow pan. Place it in the oven, and bake, stirring often to separate the grains and prevent burning, until all the grains are dry, about 5 minutes. Remove the pan from the oven and separate the groats.

Add the stock to the onion mixture, arid stir in the toasted groats. Season with salt and pepper to taste, and bring to a boil. Then reduce the heat to a simmer, cover the pan, and cook until the groats are tender and the water has been absorbed, 10 to 15 minutes. (If the groats are tender after 10 minutes, uncover the pan and continue cooking.)

Meanwhile, bring a large pot of lightly salted water to a boil. Add the bowtie pasta and cook until al dente, 10 to 12 minutes.

Drain the pasta and stir it into the kasha. Serve immediately.
1999, 2003, 2007 Judy Bart Kancigor
YOUR RECENTLY VIEWED RECIPES