Kale Salad
Cookbook
Published by Square One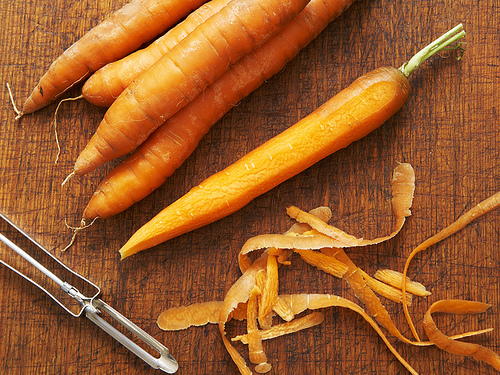 This image courtesy of Joseph DeLeo
The cabbage in this light, bright-colored, fiber-rich salad is pressed in the traditional Japanese manner. It is a perfect accompaniment to any meal.
NotesPressing Vegetables:

Although practiced by many cultures, pressing vegetables comes to macrobiotic cooking through the Japanese cuisine. In Japan, tossing thinly sliced or shredded vegetables with salt or salty seasonings, then pressing them to release their liquid while maintaining crispness and flavor is a customary culinary practice. Once pressed, the vegetables are enjoyed as a side dish or they are combined with other fresh or cooked ingredients. Cucumbers, daikon radishes, turnips, carrots, onions, red radishes, cabbage, and ginger are among the most frequently pressed vegetables.

The most common seasonings used for pressing, either alone or in combination, include salt, umeboshi plums, tamari and shoyu soy sauce, seasoned seaweed, mirin, herbs, and all types of vinegar. Umeboshi vinegar is especially good to use with red vegetables as it heightens their color. As a general rule, use ¼ to ½ teaspoon of seasoning for every cup of sliced vegetables.

Traditionally, pickled foods in Japan are pressed in tsukemonoki-wooden or ceramic tubs. After the ingredients are placed in the tub, they are covered with a large wooden lid. Heavy rocks are then placed on top of the lid to put pressure on the ingredients below. Although these traditional pressing vessels are still used today, they are not found in most modern kitchens. When preparing your own pressed vegetables, choose from the following methods. All are effective.

Japanese pickle press. Specifically for pressing vegetables, the Japanese pickle press is a special container (usually made of plastic) with a screw-down lid that presses tightly on the ingredients below. This type of press comes in a variety of sizes and is found at most natural foods stores. Pickle presses are also available through a number of mail order companies and online sources.

Homemade pickle pressL It's easy enough to make your own version of a tsukemonoki. You'll need only three items—an appropriate-sized bowl (preferably one with a flat bottom and high sides, like a souffle dish); a flat plate that fits in the bowl; and a weight, such as a heavy can, a bag of beans, a pot filled with water, or even some clean rocks. (No matter what type of weight you use, be sure it's clean, because the expressed juices from the vegetables will rise above the level of the plate and come in contact with the weight.)

Although the ingredients may vary from recipe to recipe, the method for pressing vegetables with a homemade press is basically the same-and very easy:

1. In the bottom of the bowl, place the sliced vegetables and any other ingredients that are called for in the recipe.

2. Place the flat plate on top of the vegetables.

3. Set the clean, heavy weight on top of the plate to put pressure on the vegetables below.

Hands-on quick press: When a quick press is all you need, simply use your hands to mix the salt and/or other seasonings into the vegetables while pressing and squeezing. This method can also be used in combination with other pressing methods to accelerate the process.

Pressing time will vary from a few minutes to a few days, depending on the desired result. Generally, the longer vegetables are pressed the softer and more "pickled" they will become. Keep in mind that thinly cut vegetables will break down more quickly than thicker ones.

While the vegetables are being pressed, leave the bowl either on the kitchen counter or in the refrigerator for the desired amount of time. When the vegetables are ready, discard the liquid, rinse with cold water (if too salty), then squeeze to remove any excess liquid. If desired, add more seasonings before serving. Pressed vegetables will keep a day or two in the refrigerator, although ideally they should be enjoyed immediately while still crisp and colorful.
Serves6 to 8 servings
Recipe CourseAppetizer, Side Dish
Dietary ConsiderationEgg-free, Gluten-free, Halal, Kosher, Lactose-free, Peanut Free, Soy Free, Tree Nut Free, Vegan, Vegetarian
Type of DishFirst Course Salad, Salad
Ingredients
2 cups shredded red cabbage
2 teaspoons umeboshi paste
1 teaspoon apple cider vinegar
1½ cups corn kernels
Pinch sea salt
5 cups finely chopped kale
1 cup julienne-cut carrots
1 cup red radishes, cut into thin half moons
1 cup julienne-cut daikon
3 tablespoons olive oil
3 tablespoons lemon juice
Vegetable salt to taste
Freshly ground black pepper to taste
Instructions
Press the cabbage with the umeboshi paste and vinegar for 1 hour (see Notes).

While the cabbage is pressing, fill a 4-quart pot halfway with water and bring to a boil. Add the corn and quickly blanch for a minute or two. Remove the corn with a slotted spoon and place in a large salad bowl.

Add a pinch of salt to the same water, then add the kale and blanch for 2 to 3 minutes. Remove with a slotted spoon and spread on a tray to cool.

Add the cooled kale to the corn, along with the carrots, radishes, daikon, pressed cabbage, olive oil, and lemon juice. Toss the ingredients, add salt and pepper, and toss again before serving.

• Add 1 teaspoon minced garlic, or 1 tablespoon Dijon mustard.

• Add ¼ cup toasted pumpkin or sunflower seeds.

• Add sauerkraut or slivers of dill pickle.
2007 Sandy Pukel
YOUR RECENTLY VIEWED RECIPES
Free recipes, giveaways, exclusive partner offers, and more straight to your inbox!