Jumbo Black and White Cookies
Cookbook
Published by Clarkson Potter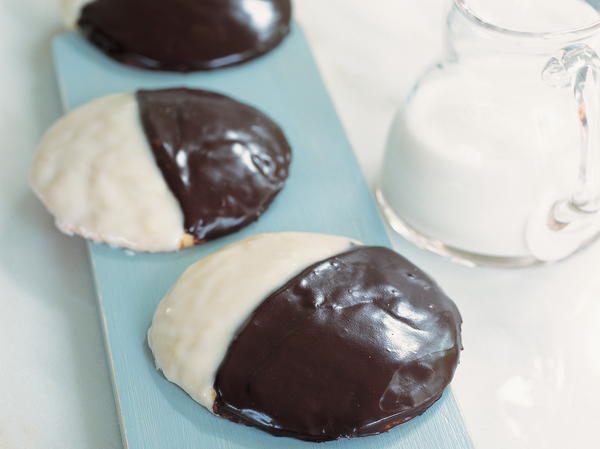 This image courtesy of Mark Ferri
Truly enticing, these cookies are a perfect choice to serve at a school bake fair, after a teenage sporting event, as a take-home party favor at your child's birthday party, or simply lined up on a decorative platter when entertaining casually. Also, since the batter and the glazes can be assembled the day ahead of baking and the cookies can be baked, glazed, and individually wrapped a day ahead of serving, this recipe is a great choice when you want a satisfying dessert that can be worked into a busy schedule. The glazes are also great for dunking the tops of cupcakes.
NotesTiming is Everything

• The cookie batter and the glazes can be fully assembled one day ahead and kept refrigerated, well covered. If very chilled, let the batter sit out of refrigeration at a comfortable room temperature for 2 hours before scooping and baking. Bring the white glaze to room temperature before using, and reheat the chocolate glaze very briefly just to loosen it to a spreading consistency.


OccasionCasual Dinner Party, Family Get-together
Dietary Considerationhalal, kosher, peanut free, soy free, tree nut free, vegetarian
Taste and Texturebuttery, chocolatey, creamy, rich, sweet
Ingredients
4½ cups unbleached all purpose flour
½ teaspoon baking soda
1½ teaspoons baking powder
1 teaspoon salt
1 cup (2 sticks) unsalted butter, at room temperature
One 8-ounce block of cream cheese, at room temperature
½ cup solid vegetable shortening
2 cups granulated sugar
1½ cups confectioners sugar (not sifted)
3 extra-large eggs, at room temperature
2 teaspoons finely minced lemon zest
1 tablespoon strained fresh lemon juice
2 teaspoons pure vanilla extract
3½ cups sifted confectioners sugar, or more as needed
8 ounces unsweetened chocolate, chopped
6 generous tablespoons light corn syrup, or more if needed
1½ teaspoons flavorless vegetable oil
1½ teaspoons pure vanilla extract
5 to 7 tablespoons boiling water
3½ cups sifted confectioners sugar, or more as needed
3 generous tablespoons light corn syrup, or more if needed
1 teaspoon pure vanilla extract
4 tablespoons milk, or more as needed
Instructions
Use a whisk to combine the flour, baking soda, baking powder, and salt in a bowl, then sift this into another bowl and set aside. Using an electric mixer, cream the butter with the cream cheese and shortening until homogenous, then add the granulated sugar in a steady stream, beating constantly on a moderate speed until light. Beat in ½ cup of confectioners' sugar and, when well mixed, add the eggs one at a time, beating well after each addition. Add the lemon zest, juice, and vanilla and beat well. Stop the machine and, using a large rubber spatula, scrape down the sides and across the bottom of the bowl. Beat again, briefly. Stop the machine and add all of the dry ingredients. With the machine on a slow speed, stir the mixture until the flour is well mixed, but don't overwork the batter. Run the spatula underneath the batter, incorporating any unmixed fat. Cover the bowl and chill the batter for 1½ to 2 hours or up to overnight.

Position the rack on the center shelf. Preheat the oven to 350°F. (Although it's preferable to bake these cookies on the center shelf, if not working with a double oven, place the racks on the upper-and lower-third shelves.) Line several cushioned cookie sheets with parchment paper. Place the remaining 1 cup of confectioners' sugar on a plate and place it next to your work surface, along with a large triggered ice cream scoop with a liquid capacity of a generous 1/3 cup or a 1/3-cup measuring cup.

Shaping one cookie at a time, use the ice cream scoop to retrieve a level portion of the chilled batter and release it into your nonworking hand that's been dusted with confectioners' sugar. Use your index finger to release any clinging batter from inside the scoop and add this to the batter in your hand. Coat your working hand in sugar and gently shape the batter into a ball (the mixture will feel very soft and light). If at any time the dough starts to stick to your hands, dust your hands lightly with more sugar. Place the ball on a prepared cookie sheet. Repeat with the rest of the dough, placing four balls on each sheet. Use your hand to gently flatten the balls evenly, then correct the circular shape as needed.

Bake the cookies in batches for 18 to 21 minutes. If baking two sheets in one oven, switch the shelf positions after half the baking time. When done, the cookies will have widened substantially, and the outer rims will be light golden and the middles will be quite light, but firm. Place the baking sheets on wire racks and let them sit there for 5 minutes before using a thin metal spatula to transfer the cookies to wire racks to cool further. While the cookies bake, keep the remaining batter in the refrigerator. And before applying more parchment and batter to the sheets, run them under cold water to cool them completely, then dry them well. (Alternatively, to make these cookies smaller, use a slightly smaller ice cream scoop with a liquid capacity of ¼ cup. Bake these for between 14 and 17 minutes. This will yield about six more cookies.)

Make the glazes. Place 3½ cups of confectioners' sugar in a glass mixing bowl. Melt the chopped chocolate either in the top of a double boiler over barely simmering water, stirring constantly, or in the microwave on high for about 1 minute, stirring after heating until perfectly smooth. Stir the chocolate into the confectioners' sugar along with the light corn syrup, vegetable oil, and vanilla. Stir in 5 tablespoons boiling water. If too thick to spread, add more boiling water, 1 tablespoon at a time. If it ever becomes too thin, stir in some more confectioners' sugar. When right, the mixture should be dark and thick but pourable and very smooth and shiny. Set this aside. Place 3½ cups of confectioners' sugar in a glass mixing bowl and add the corn syrup, vanilla, and milk. Mix until perfectly smooth. If too fluid, add more confectioners' sugar or, if too dry, add a more few drops of milk. When right, the mixture should be bright white, quite thick, and very smooth and shiny. Set it aside.

Tear off two long sheets of waxed paper and lay them, slightly overlapping, on your counter. Place the racks holding the cookies over the paper. Lay another sheet of waxed paper alongside and place the bowls of glaze on the paper next to the cookies. Stick a short metal icing spatula or a regular table knife into each bowl of glaze. Lift one cookie off the rack and hold it over the bowl of chocolate glaze in your nonworking hand. Use the spatula to spread the glaze generously and evenly over only half of the cooled cookie, allowing any excess glaze to fall back into the bowl. Use the spatula to scrape off any glaze from the bottom edge of the cookie. Place the cookie back in its original spot on the rack. Continue this with the remaining cookies until all of them have been half-covered in chocolate.

Repeat this procedure with the white glaze, meeting the chocolate flush in the center. When finished, each cookie should be lavishly coated with the two glazes. Let the cookies sit on their racks, uncovered, until the glaze is completely set (it will feel firm and no longer sticky), which can take a few hours, even on a dry day. When set, the cookies can be wrapped individually in plastic wrap and kept at room temperature. These cookies will stay perfectly tender and very moist for several days.
2004 by Lauren Groveman
YOUR RECENTLY VIEWED RECIPES
Free recipes, giveaways, exclusive partner offers, and more straight to your inbox!