Japanese Beef and Vegetable Hot Pot 
Cookbook
Published by Sasquatch Books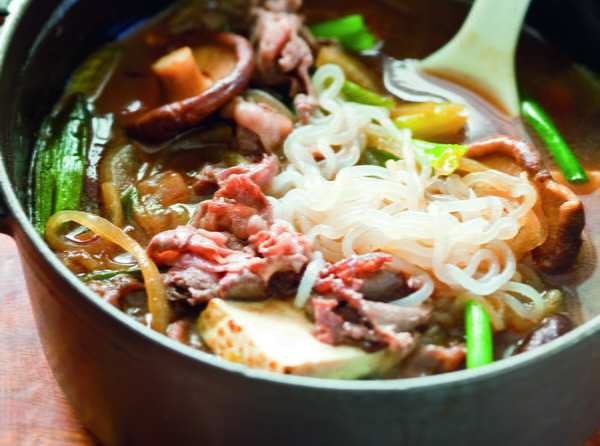 This image courtesy of Laura Ferroni
Sukiyaki was one of the few Japanese dishes Grandma Kimiye Hayashi cooked for her children when they were growing up. She would throw in whatever vegetables were available—mostly carrots and celery—despite the fact her kids didn't care too much for them. Sukiyaki is a versatile dish and traditional ingredients include tofu, Japanese scallions (negi), and chrysanthemum leaves (shungiku), but you can add bamboo shoots and any leafy vegetable such as Chinese cabbage or spinach. Traditionally, sukiyaki is cooked at the table in a sukiyaki pan that has been greased with suet (beef fat). In this "modern" method, the sukiyaki is cooked in the kitchen and served from a Dutch oven or crock pot to retain the heat.
Notes
The quality of beef in sukiyaki is very important. I use a cut called "Korean barbecue beef," available in Asian markets, which are thin slices of sirloin or another prime cut of beef. Or ask your butcher to slice any tender, well-marbled beef into very thin slices. The noodle known as shirataki, literally "shining waterfall," is made from the root of an aroid called devil's tongue or snake palm. It can be found in Japanese markets and online at www.asianfoodgrocer.com.
Pat's Notes: The best dashi is, of course, homemade. But several authentically flavored instant dashi powders are available. Simply mix with water. Ask for dashino- moto or hon-dashi in Japanese markets and well-stocked supermarkets. Check the list of ingredients before you buy as many brands contain monosodium glutamate (MSG).
Makes6 to 8 servings as part of a multicourse family-style meal
Dietary ConsiderationEgg-free, Gluten-free, Halal, Kosher, Lactose-free, Peanut Free, Tree Nut Free
Type of DishHot Soup, Soup
Ingredients
1 cup dashi (see Notes) or chicken stock 
½ cup Japanese soy sauce
½ cup mirin or sake
¼ cup sugar
4 ounces shirataki (see Notes) or cellophane noodles
Boiling water
2 tablespoons vegetable oil, divided, plus more as needed
1 pound well-marbled tender beef (sirloin tip, top sirloin, or tenderloin), sliced paper-thin across the grain, then cut into bite-sized pieces
1 large yellow onion, halved and cut into thin crescents
4 ounces (1 cup) fresh shiitake, enoki, or button mushrooms
2 medium carrots, peeled and cut into ¼-inch diagonal slices (1 cup)
2 stalks celery, cut into ¼-inch diagonal slices (1 cup)
5 green onions, white and green parts, cut into 2-inch diagonal lengths
9-ounce package broiled tofu (yakitofu), cut into 16 pieces
Instructions
To make the sukiyaki sauce, mix together the dashi, soy sauce, mirin, and sugar in a bowl. Taste and adjust seasonings if desired. Set aside.

In a heatproof bowl, soak the noodles in boiling water for 1 minute. Tip into a colander over the sink and rinse under cold running water. Cut them in half.

In a medium Dutch oven or heavy-bottomed pot, heat 1 tablespoon of the oil over high heat until it becomes runny and starts to shimmer. Add half of the beef and stir until the meat is no longer pink, 2 to 3 minutes. Transfer to a plate. Repeat with the remaining beef, adding more oil if necessary.

In the same Dutch oven, heat the remaining 1 tablespoon oil over medium-high heat. Add the onion, mushrooms, carrots, and celery and stir and cook until just wilted, about 4 minutes. Add the green onions and stir until they turn bright green, about 30 seconds. Add the sukiyaki sauce, noodles, cooked beef, and tofu. Mix well and bring to a gentle boil over medium heat. Cook until all the ingredients are heated through, 1 to 2 minutes. Serve hot with Japanese rice.

Optional: For a very traditional serving method (and only if the sukiyaki is kept bubbling over a brazier or hot plate at the table), crack one egg for each diner into individual bowls and beat with chopsticks. At the table, lift out pieces of beef, vegetables or noodle and dip in the egg before eating. This transfers the heat to the egg so you don't scald your mouth.
2009, 2011 Patricia Tanumihardja
YOUR RECENTLY VIEWED RECIPES
Free recipes, giveaways, exclusive partner offers, and more straight to your inbox!