Infusions
Cookbook
Published by Agate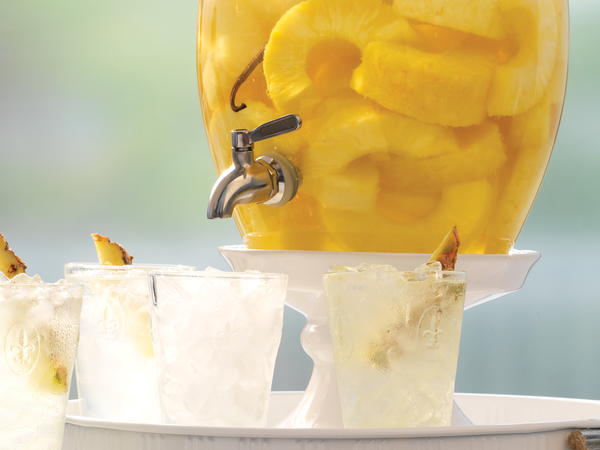 This image courtesy of Tim Turner
Infusing or flavoring vodka goes back nearly as far as vodka itself. Fruits and herbs weren't originally used to enhance flavor; instead they served to mask unpleasant congeners left behind from unrefined distillation methods. In time the necessity to mask a questionable distillate developed into a highly specialized segment of vodka's legacy. There is an abundance of quality flavored vodkas serving invaluably behind the bar. Creating infusions at home, however, is a particularly fun and relatively easy way to add flavor options not available on market shelves. Use infusions to develop new recipes or to augment those you already enjoy. Fruits, herbs, vegetables, and spices-select one or combine several into a creative concoction. Let your imagination and culinary senses prevail. Love citrus? Pick from sliced lemons, limes, oranges, clemen tines, mandarins, and blood oranges and combine two or more to create an original citrus-infused vodka. Prefer spicy? Infuse chilies and peppers of your choice to make a zesty foundation for any Caesar, Bloody Mary, Bloody Bull, or other savory tipple. Try a little crossover-cilantro and mango, chilies and lime, cucumber and ginger, pineapple and vanilla. You get the idea. One of my recent favorites is the combination of pineapple and vanilla bean infused in a New-World corn-based vedka-approachable, neutral, and a great canvas for flavors. And it makes an amazing twist on a Vodka Sour-fresh lemon juice, simple syrup and egg white.
NotesPineapple-Vanilla Bean Infusion:

2 ripe, fresh pineapples, peeled, cored, and sliced

2 whole vanilla beans, sliced to release seeds

2 bottles 0.5 liters) vodka

In a clean, wide-mouth jar place sliced pineapple and vanilla beans, and cover completely with vodka. Replace lid and store in a cool, dark place for three to five days. Strain through a large, fine sieve to remove the fruit. Bottle and refrigerate.

Simple Syrup:

Simple syrup is one of the essential cocktail staples-the best way to add the pure sweetness of sugar to a drink recipe.

1 cup (480 ml) water

1 cup (480 ml) sugar

Dissolve sugar into boiled water. Allow mixture to cool and store in a clean bottle in your refrigerator for up to a month.

Basic rules for foolproof infusions, as outlined in The Modern Mixologist:

1. Secure an infusion jar with a wide mouth and a tight-fitting lid.

2. Select very ripe, fresh fruits as they provide the best flavor and natural sweetness.

3. Rinse all fruits and vegetables before infusing.

4. Place fruits, vegetables, herbs, and spice in a clean infusion jar.

5. Select a neutral vodka, generally one that has New-World character and is grain based-either corn, wheat, or mixed grain.

6. Completely cover the infusion with vodka. (Reserve the empty vodka bottles, into which you can transfer the finished infusion.)

7. Store the infusion jar in a cool, dark place.

8. Most fruits and vegetables infuse in three to five days but the best method for determining whether your brew is finished is to taste it.

9. Stir the infusion daily and taste it to monitor.

10. When finished, strain the vodka through a fine sieve. Pour into the empty vodka bottles and refrigerate until ready to consume.


Type of Dishalcoholic beverage, beverage, cocktails
Ingredients
2 oz (60 ml) pineapple vanilla bean infused vodka (see Notes)
1 oz (30 ml) freshly squeezed lemon juice
1 oz (30 ml) simple syrup (see Notes)
1 tbsp egg white
Instructions
In a mixing glass add infused vodka, fresh lemon juice, simple syrup, and egg white; shake vigorously with ice until well blended and egg white is completely emulsified. Strain into an ice-filled double Old Fashioned glass and garnish with a pineapple spear.
2013 Tony Abou-Ganim
YOUR RECENTLY VIEWED RECIPES
Free recipes, giveaways, exclusive partner offers, and more straight to your inbox!