Hot Buttered Hummus with Basturma and Tomato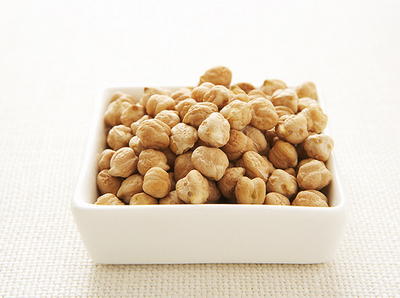 This image courtesy of Joseph DeLeo
This recipe was inspired by my trip to Cappadocia, in the center of Turkey, where I saw the most incredible phallic natural rock formations. These "fairy chimneys" are volcanic deposits that have been sculpted by wind and rain. Cappadocia is also known for its manti-very small raviolis-and its kasseri cheese and thriving dairy farms. In Cappadocia, they make hummus without tahini, and they use butter instead of olive oil because of its quality and availability. I lighten this recipe by using half butter and half olive oil. The butter pairs well with the spicy beef, and the olive oil imparts the Mediterranean flavor. Basturma is a dry-cured beef, meaning that rather than soaking in brine, it is rubbed with dry salt and spices, including fenugreek, chilies, and garlic. Armenians, Turks, Lebanese, and other eastern Mediterranean people eat basturma in paper-thin slices, much like prosciutto (the Italian dry-cured ham) or bresaola (the Italian dry-cured beef). You can find basturma, also spelled pastirma, at a good middle eastern or armenian market, but if you don't have one near you, try www.tulumba.com; my favorite brand is Ohanyan's pastirma. I prefer fatty basturma to lean because the texture is softer and the flavor is, of course, better. Most markets will slice basturma to order. When I slice it, I prefer to rub most of the spice mixture off with the back of a knife. The spice mixture is packed on for curing purposes, and there is no need for too much of it, since most of the flavor has already been imparted to the meat. At Oleana, we serve this dish under the pret-a-manager (ready to eat) portion of the menu, where we list several options for bread condiments before appetizers. We stuff each little ball of hummus with a butter nugget and then wrap each ball with basturma and bake until warm, serving them sprinkled with fresh chopped tomatoes, black olives, and scallions. Below I include another way of presenting the hummus-as a dip-which is more casual and perfect for cocktail parties. I recommend plenty of French chardonnay with this dish. If you want to go red, try something earthy and peppery, like a Rhone-style wine or Chianti.
Peeling and Seeding Tomatoes:

Bring a medium saucepan of water to a boil over high heat. Meanwhile cut off the tops of the tomatoes, and then score them with your knife by running a shallow, slit from the top to the bottom. Add the tomatoes to the boiling water, and let them, sit in the water for 45 seconds to 1 minute, or until the slits start to seperate and the skin pulls away from the flesh. Drain the tomatoes immediately and plunge them into ice water, or cool them under running cold water. Peel the skins off and cut the tomatoes in half. Remove as much seed as possible and squeeze them gently in your hand to drain off some of the water.
Serves8 as an appetizer
OccasionBuffet, Casual Dinner Party, Cocktail Party, Family Get-together
Dietary Considerationegg-free, gluten-free, peanut free, soy free, tree nut free
Taste and Texturebuttery, creamy, garlicky, rich, savory, spiced
Ingredients
2 cups chickpeas, soaked overnight
1 stick butter, cut into small pieces, plus 1½ tablespoons
½ cup extra virgin olive oil
1 teaspoon finely chopped garlic (about 1 large clove)
1 tablespoon freshly squeezed lemon juice (about ½ lemon)
2 teaspoons ground cumin
Salt and pepper to taste
¼ pound or 16 thin slices basturma
2 teaspoons extra virgin olive oil or melted butter for garnish
2 plum tomatoes, peeled, seeded, and finely chopped (see Notes)
8 pitted, dry-cured black olives
1 scallion, 1 inch green trimmed from the top, washed, and finely chopped
Torn pieces of crusty french bread or pita bread (cut into wedges, torn, or left whole for guests to tear)
Instructions
In a medium saucepan, cover the chickpeas in about 8 cups of fresh water. Bring them to a boil over medium-high heat. Reduce the heat to medium-low and simmer the chickpeas for at least 25 minutes, until very tender. Drain the chickpeas and reserve 1 tablespoon of the cooking liquid.

Before the chickpeas cool down, puree them in a food processor fitted with a metal blade, with the 1 stick of the butter. ½ cup olive oil, garlic, lemon juice, reserved cooking liquid, cumin, and salt and pepper, until very smooth and creamy. It may take 3 to 4 minutes, depending on how sharp your blade is.

Let the hummus sit at room temperature for 20 to 30 minutes and then cool it in the refrigerator for at least 45 minutes. This makes it easier to shape and stuff with butter.

Preheat the oven to 350°F.

Cut the 1½ tablespoons of butter into 8 equal, small cubes or rectangles.

Scoop the hummus into 16 balls, about 2 tablespoons each. Roll the hummus into nice rounds and put your finger in the bottom of each ball to make a pocket for the butter bit.

Stuff a butter bit into the bottom of each hummus ball and seal it by pushing the hummus around it. You may need to roll it between your hands again to reshape the ball. Press each ball a little so it flattens slightly.

Wrap a piece of basturma around each hummus ball and place them, with the seam side of the basturma down, onto a heavy baking sheet.

Bake for 8 to 10 minutes, until warm.

. Drizzle a little of the remaining 2 teaspoons olive oil over each and then top each with tomatoes and an olive.

. Sprinkle with scallions and serve immediately with the bread.

After you've pureéed the hummus, place it in a small round casserole or baking dish, but don't chill it. Using a rubber spatula, spread it in a smooth, even layer. Top the casserole with the chopped bits of butter and lay the slices of basturma in a round pinwheel pattern, laying each slice from the center to the edge. Each center slice may overlap a bit.

Bake for 8 to 12 minutes, until warm, and then sprinkle the top with chopped tomatoes, scallions, and olive. Serve as a dip with crusty french bread or pita bread.
2006 Ana Sortun
YOUR RECENTLY VIEWED RECIPES