Honey-Glazed Pear Upside-Down Cake
Cookbook
Published by Hyperion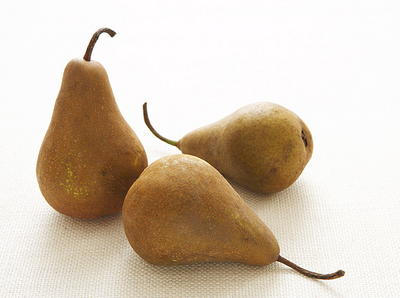 This image courtesy of Joseph DeLeo
All good cooks steal recipes. Be it "my" special chocolate birthday cake from Rose Levy Beranbaum's Cake Bible, or the much-heralded green tomato basil pie I clipped from some forgotten magazine so many potlucks ago, stealing-or, let's say, borrowing-is how good cooks build their repertoires. Of all the hundreds of recipes I've lifted over the years, none has worked its way into my dessert rotation quite like Claudia Fleming's roasted chestnut honey pears. But no matter how many times I serve the thyme-scented caramelized fruit to the accolades of family and friends, I never quite remember to give credit where credit is due. Naturally, over the years of pear glazing, I have taken some liberties with the original formula. And then there are the mistakes I've made that stuck because they either made the pears even better, or easier. For example, Claudia uses Italian chestnut honey, which I never seem to remember to pick up when I'm in the right kind of specialty store. So I have been substituting whatever honey I've got in the cupboards, usually orange blossom. It makes for a subtler but no less delectable pear cake. She also calls for adding the honey and butter in two additions. The first is to simmer the pears in, and the second to create a honey butter sauce at the end. But once when I was harried and distracted, I accidentally threw everything into the pan at once. The pears came out sweeter and thoroughly candied, transformed from juicy fresh fruit into glowing amber jewels with a dense, toothsome texture. I've never gone back. Usually when I make honey-glazed pears, I serve them with a slice of soft, homemade pound cake, which absorbs all the good, buttery, honeyed pear juices, becoming suffused with their perfume. But one day I found myself with a load of Bosc pears, a dinner I needed a dessert for, and the itch to do something newish and a little fancier. As impressive as the honey pears and pound cake combination is in the mouth, it's not very striking on the plate. A pear tart, with glistening, shapely wedges of fruit, makes a much grander presentation. So I contemplated baking a pear tart, maybe a mahogany pear tart tatin with a flaky puff pastry crust. But then I'd lose the supple, spongelike cake factor, since a pastry crust doesn't absorb syrupy fruit juices as well. I started thumbing through other dessert books looking for a solution when I hit upon a photo in Dorie Greenspan's Baking: From My Home to Yours. Called Swedish visiting cake, it pictured an almond-topped butter cake that was baked in a skillet. It reminded me both of tart tatin, which is also often made in a skillet, and of my--I mean Claudia's-skillet-roasted pears. What if I simply glazed the pears as usual with honey, thyme sprigs, and butter, then poured the cake batter on top and baked the whole thing? If I flipped it over for serving like an upside-down cake, shouldn't it emerge as golden as a pear tart tatin, but with a moist, cakey layer that would be perfectly primed to sop up all the luscious pear drippings? I mixed up the batter, changing things slightly as I went (replacing almond extract, which I abhor, with extra vanilla, which I adore), and poured it over a pan of roasted pears. Then I popped it back into the oven and hoped for the best. An hour later, the cake unmolded just like I had imagined, with glossy, honey-gilded pears crowning the pale cake. The oohs and aahs commenced as soon as the dessert hit the table, and continued until the very last crumb was happily devoured. Naturally, everyone asked where I got the recipe. "Urn, I stole it twice over," I reluctantly confessed. But no one really cared. Just as long as I promised to make it again and again, my double thievery was easily forgiven.
Serves6 to 8
OccasionCasual Dinner Party, Formal Dinner Party
Dietary Considerationhalal, kosher, peanut free, soy free, vegetarian
Taste and Texturebuttery, fruity, herby, sweet
Type of Dishcake, dessert
Ingredients
¼ cup chestnut or other intense honey
4 small or 3 large Bosc pears, peeled, quartered lengthwise, and cored
3 fresh thyme sprigs (optional)
1 cup sugar
Finely grated zest of 1 lemon
2 large eggs
1 tablespoon vanilla extract
1 cup all purpose flour
¼ teaspoon salt
½ cup plus 1 tablespoon unsalted butter (1 stick), melted and cooled
¼ cup sliced almonds
Instructions
Preheat the oven to 350°F. In a 9-inch (not nonstick) skillet, simmer the honey until it begins to reduce, caramelize, and darken in color, 6 to 10 minutes. (Do not let the honey burn. If it starts to smell burned, turn off the heat.)

Arrange the pears, close together and cut side down, in a circular pattern in the pan (the stem ends should point toward the center). Simmer over medium heat, turning them from one cut side to the other, until they begin to turn golden, about 10 minutes.

Flip the pears over to their curved side and scatter with the thyme sprigs if using. Transfer the pan to the oven and roast, uncovered, until very tender, about 25 minutes.

Meanwhile, in a large bowl, whisk together the sugar and lemon zest. Whisk in the eggs and vanilla. Fold in the flour and salt; stir in ½ cup melted butter.

When the pears are soft, remove the skillet from the oven and brush the edges with the remaining 1 tablespoon melted butter. Pour the batter on top of the roasted pears and scatter the almonds over the batter. Bake until a toothpick inserted in the center comes out clean, 25 to 30 minutes. Let the cake cool for 30 minutes in the pan. Run an offset spatula along the edges of the pan to loosen the cake; carefully invert the cake onto a serving platter. Serve warm or cooled.
2010 Melissa Clark, Inc.
YOUR RECENTLY VIEWED RECIPES