Herb-Scented Double Rib Lamb Chops
Cookbook
Published by Clarkson Potter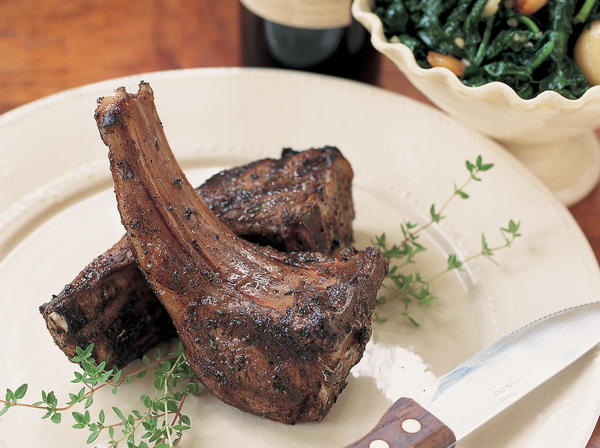 This image courtesy of Mark Ferri
You won't find lamb chops better than these: thick with a very dark exterior, a rosy-red interior, and a savory flavor that leaves nothing to be desired. This recipe illustrates perfectly the concept of how uncomplicated food can provide a big dining experience. Make sure your exhaust fan works, and serve your chops on plain sturdy plates so their beauty can shine.
NotesTiming is Everything

• The chops can be seasoned (but not salted) up to two days ahead and kept refrigerated, well covered.

• The chops can be pan-seared up to an hour before finishing them in the oven. Leave them on a tray at a comfortable room temperature. Lengthen the roasting time, however, by a few minutes to compensate for the cooler temperature of the chops when entering the oven.

Here's the Scoop On Stove-Top Grilling

Outdoor grilling requires high heat, so when you'd like to get the same results indoors, you need to crank the heat up as high as it goes. Once the food hits the hot pan, the only way to prevent a large amount of billowing smoke from forming (thus an uninvited visit from your local fire guy) is to make sure that you have a properly functioning exhaust fan. And don't wait until the food begins to sear to turn it on. The exhaust fan should be turned on while the pan is heating.

The best pan to use is a heavy, well-seasoned cast-iron pan (with or without grill lines) or a large, high-quality rectangular grill pan that can fit over two burners, increasing the size of your cooking surface. If the food to be grilled is not coated with a wet marinade, it's better to lubricate the dry food with some great olive oil, rather than oiling the grill pan. Conversely, when grilling food that's been marinated, it's best to pat the excess off and, just before placing the food on the pan, either swab the hot surface evenly (but very lightly) with pure oil or remove the pan from the heat and spray it lightly with some vegetable spray. Let the oiled surface become very hot, then add the food to be seared. It's not advisable to sear food longer than 3 minutes per side, since even the best exhaust fan can give out, leaving you with lots of smoke. That's why you finish cooking in the oven, on either a preheated baking sheet or under a hot broiler.
6 Servings as a main course
Cooking Methodpan-frying, roasting
OccasionCasual Dinner Party
Dietary Considerationdiabetic, egg-free, gluten-free, halal, kosher, lactose-free, low carb, peanut free, soy free, tree nut free
Five Ingredients or LessYes
Taste and Texturegarlicky, herby, meaty, savory
Ingredients
Garlic Confit Oil or extra virgin olive oil
1½ tablespoons minced fresh thyme
2 rounded teaspoons minced fresh rosemary
Freshly ground black pepper
Kosher or sea salt to taste
12 double rib lamb chops (1½ to 2 inches thick), trimmed of excess fat (or use chops from the loin)
Instructions
Line a large 17 × 13-inch shallow baking sheet with aluminum foil shiny side up, and place the baking sheet on the rack in the upper third of the oven. Preheat the oven to 425°E, preferably for 30 minutes or longer.

Turn on your exhaust fan. Pour about ½ cup of the oil into a bowl and stir in half the minced herbs and lots of black pepper. Use a pastry brush to apply an even layer of the seasoned oil to all sides of the lamb chops, then season again very generously with pepper. Sprinkle the chops generously, on one side only, with salt.

Place one or two large well-seasoned cast-iron skillets, or a large stove-top grill pan, on the stove over high heat. (Or straddle an extra-large grill pan over two burners.) As a last resort, use one or two heavy-bottomed nonstick skillets. When very hot, lay the chops in the pan salted side down in a single layer without crowding. Brown on the first side for 3 full minutes. Sprinkle the unsalted side with salt, then use tongs to turn the chops and brown them for another 3 minutes. Since double-rib chops will have a wide, thin layer of top fat, after browning them on both sides, stand the chops on this fatty side to brown and crisp it. If doing this in batches, remove each batch of chops to a tray so you can sear the rest.

When all the chops are seared, transfer them to the preheated baking sheet and sprinkle them with the remaining minced herbs and a bit more salt. Roast the double chops until done to your liking: 7 to 9 minutes for medium-rare, 6 minutes for thinner loin chops. Serve hot.
2004 by Lauren Groveman
YOUR RECENTLY VIEWED RECIPES
Free recipes, giveaways, exclusive partner offers, and more straight to your inbox!