Herb-Roasted Guinea Hen with Mushrooms
Cookbook
Published by Chronicle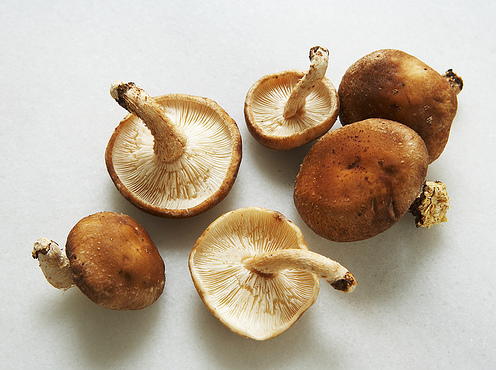 This image courtesy of Joseph DeLeo
Guinea hens aren't quite as meaty as chickens, but their flesh is far more flavorful.
NotesPoultry:

The Hoffman family has lived on their thirty-five-acre San Joaquin Valley ranch in Manteca for more than a half century. Until 1980, they grew walnuts and alfalfa hay, but then they found their calling. "My husband, Bud, really started all this when he began raising game birds for the California Department of Fish and Game," explains Ruth Hoffman. The male birds were released for hunting, and the Hoffmans sold the females to restaurants. Alice Waters of Chez Panisse was their first customer. Bud Hoffman passed away in 1999 and now Ruth, her son Joe, and her grandson Jeremy carryon the business of raising chickens, quail, wild turkeys, and pheasants for restaurants and the farmers' market.

Hoffman birds are raised in flight pens measuring fifty by three hundred feet, where they are free to roam and forage on native grasses that grow up to three feet tall. All the birds are from the Hoffmans' own breeding stock and are fed only whole grains. They grow more slowly and longer than industrially raised birds, and their muscular meat is moist, lean, and flavorful.

Large-scale poultry farming has had its share of bad press in recent years. Overcrowded conditions and feed made of recycled animal by-products (which encourage the growth of salmonella) have made shoppers lose confidence in "supermarket" poultry. Small growers, like the Hoffmans, know their birds, raising them and processing them according to a higher set of standards.

When asked why her poultry tastes so good, Ruth Hoffman answers without hesitation, "Because we raise our birds right and they come to the market so fresh." The Hoffmans process on Wednesday and Thursday and then pack up their birds in ice-filled coolers and bring them to the Ferry Plaza market early Saturday morning. They usually sell out by noon.

Season:

Chicken, guinea hens, ducks, and quail are available year-round. Pheasants are seasonal and can be found at the market mid-September through Christmas.

Choosing:

Buy birds with pink, fresh-looking skin and no off odor. If you know you're going to buy poultry, throw a cooler in your car with a few frozen ice packs to keep the birds cold on the ride home.

Storing:

Keep poultry in the coldest part of the refrigerator (the ideal temperature is as close to 32°F as possible), and cook within 3 days of purchase.

Preparing:

Remove any excess fat from inside the bird, then rinse inside and outside under cold running water. Dry well with paper towels.

Brining chickens makes them juicier and more tender. Make a solution of salted water (2 tablespoons kosher salt for every 1 quart water), submerge the bird completely in the brine, and then cover and refrigerate for 24 hours. Alternatively, sprinkle a rinsed bird generously with kosher salt, about 1 tablespoon for a 3-pound bird.

Poultry should be cooked to an internal temperature of 160°F to kill bacteria. Always be sure to use hot, soapy water to wash your hands, cutting boards, and knives after handling raw poultry.

Freezing:

Cut the birds into pieces and then arrange in a single layer, not touching, on a tray. (Pieces freeze much faster than a whole bird, preserving the quality of the meat.) Freeze until frozen solid. Remove from the freezer, wrap pieces individually in heavy plastic, put in zippered plastic bags, and squeeze out all the air before sealing. Freeze for up to 3 months. Thaw in the refrigerator; it may take longer than putting it on the kitchen counter, but the chance of bacterial growth is minimized and the quality of the meat remains high.

Varieties:

Ducks weigh 3 to 5 pounds, are sold whole, breasts only, or legs only. The flesh is dark and has a rich meaty flavor. Guinea hens, which weigh about 3 pounds, are similar in size and flavor to a chicken, but have leaner, darker flesh and a richer flavor. Pheasants weigh 2 to 3 pounds and have light, moist, tender mild-flavored meat. Quail are small birds, about 6 ounces each, with white, delicately flavored meat.


Serves4
OccasionCasual Dinner Party, Family Get-together
Dietary Considerationegg-free, gluten-free, peanut free, soy free, tree nut free
Taste and Textureherby, meaty, savory, umami, winey
Ingredients
1 guinea hen, about 3 pounds
Salt
Handful of fresh rosemary sprigs, chopped
Handful of fresh thyme sprigs, chopped
2 bay leaves, broken into small pieces
Extra virgin olive oil for brushing
1 cup water
2 tablespoons butter
3 leeks, white, and pale green parts, finely chopped
Freshly ground black pepper
½ pound fresh cremini mushrooms, stem ends trimmed and caps sliced
¼ pound fresh shiitake mushrooms, stems removed and caps sliced
½ cup port
Instructions
At least 4 hours (and as much as 24 hours) before cooking, cut down along both sides of the backbone of the guinea hen and remove it. Rinse the hen in cold running water and pat dry with paper towels. Sprinkle both sides of the hen with 1 tablespoon salt and all the herbs, rubbing them allover the bird. Lay the hen flat on a plate, cover loosely with waxed paper, and refrigerate.

When you are ready to cook the guinea hen, preheat the oven to 450°F.

Brush most of the salt and herbs off the guinea hen and pat dry with paper towels. Lay the hen, skin side up, on a rack in a roasting pan and brush the skin with a little olive oil. Pour the water into the pan. Roast until skin is crispy and well browned, about 1 hour. Remove from the oven, transfer the hen to a plate, and let rest for 10 minutes.

About 15 minutes before the hen is ready to remove from the oven, melt the butter in a skillet over medium heat. Add the leeks, sprinkle with salt and pepper, and cook, stirring often, until soft, about 10 minutes. Add the mushrooms and cook, stirring occasionally, until they are soft and most of the juices they release have been reabsorbed, about 10 minutes.

Remove the rack from the roasting pan and put the pan on the stove top over medium heat. Add the port and deglaze the pan, stirring with a wooden spoon to loosen any browned bits stuck to the bottom. Pour the deglazed pan juices into the skillet holding the mushroom mixture and stir to mix well.

Spoon the mushroom mixture onto a serving platter. Cut the hen into serving pieces, arrange the pieces on top of the mushrooms, and serve.
2006 Christopher Hirsheimer and Peggy Knickerbocker
YOUR RECENTLY VIEWED RECIPES
Free recipes, giveaways, exclusive partner offers, and more straight to your inbox!