Cookbook
Published by Chronicle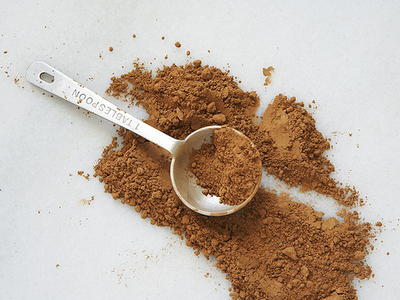 This image courtesy of Joseph DeLeo
These charming chocolate and rum buttercream creatures, each with its own personality, are known as Igels in Austria. They captured my heart in Belgium and Germany, and I know you'll love them too. Include them on an assorted miniature tray for a touch of delicious whimsy.
*Or, make a small pastry bag by placing the icing into one corner of a resealable plastic food bag. Cut a very small tip off one corner and pipe three tiny dots on each Hedgehog.

Decorative Note: An easier way to decorate these Hedgehogs is to omit the pine nuts. Coat them with the chocolate glaze and, before it sets up, apply chocolate sprinkles over two-thirds of each pastry. Pipe "eyes" on the uncovered portion with the royal icing.
Makes4 dozen 1½-inch edible pets
OccasionBuffet, Family Get-together
Dietary Considerationpeanut free, soy free
Five Ingredients or LessYes
Taste and Texturebuttery, chocolatey, crisp, crunchy, nutty, rich, sweet
Ingredients
1¾ cup (245 grams) unsifted all-purpose flour
1/3 cup (35 grams) unsifted cocoa powder
¼ cup (45 grams) rice flour
7 ounces (1¾ sticks) unsalted butter, room temperature
2/3 cup (130 grams) granulated sugar
4 egg yolks
¼ cup water
½ cup (100 grams) granulated sugar
8 ounces (2 sticks) unsalted butter, room temperature
1 tablespoon dark rum
2½ ounces (1½ cup) pine nuts
¼ cup (1½ ounces) solid vegetable shortening
1 pound semisweet chocolate, chopped
1 cup (100 grams) unsifted powdered sugar
2 tablespoons (1 large) egg white
1/8 teaspoon cream of tartar
Instructions
Make the Dough: In a medium bowl, briefly blend the flour, cocoa powder, and rice flour with a wire whisk; set aside. In the large bowl of an electric mixer, cream the butter at medium-low speed until smooth, about 1 minute. Beat in the sugar at medium speed until fluffy, scraping down the sides of the bowl. Lower speed and gradually add the flour mixture, combining thoroughly.

Divide the dough in half; roll one portion at a time between two sheets of waxed paper to form a circle 10 inches in diameter and 1/8 inch thick. Leaving the dough between the waxed paper, transfer the circles to a baking sheet and refrigerate until firm, for at least 2 hours or up to 3 days; or freeze, well wrapped, up to 1 month.

Adjust rack to lower third of oven and preheat oven to 350 degrees F. Line two large cool baking sheets with parchment paper.

Remove one dough circle at a time from the refrigerator. Peel off top waxed paper sheet, replace it loosely on top, and flip the entire package over. Peel off and discard the second sheet of waxed paper.

Pinch the wide end of a ½-inch plain decorating tip (such as Ateco #6) into an oval to make an oval cutter. Using the cutter, cut out oval shapes in the dough, and space them ½ inch apart on baking sheets. Bake, one sheet at a time, for 10 to 13 minutes, or until cookies appear dull brown and feel slightly firm (lightly touch a few). Place baking sheet on a wire rack until the cookies are completely cool. To store, stack in an airtight metal container at room temperature up to 1 week.

Make the Rum Silk Buttercream: In the large bowl of an electric mixer, whip the egg yolks until light and fluffy, about 4 minutes. Remove bowl from mixer stand. In a 1-quart heavy-bottomed saucepan, combine the water and sugar over low heat. Stir occasionally, washing down any sugar crystals clinging to the sides of the pan with a brush dipped in cold water, until sugar is dissolved. Increase the heat and cook, without stirring, until the syrup reaches 238 degrees F on a candy thermometer. Pour into the center of the yolks and quickly whisk vigorously to combine. Return bowl to mixer, and whip at medium speed until the egg yolk mixture thickens and cools to body temperature, about 5 minutes. Maintaining medium speed, gradually add the butter to the cooled egg yolk mixture, a tablespoon at a time. Continue mixing until all the butter has been incorporated and the buttercream is smooth and homogeneous. Add the rum, whipping until thoroughly combined.

Set the cookies close together on one large clean baking sheet. Using a 14-inch pastry bag fitted with a ½-inch plain decorating tip (such as Ateco #6), pipe an oval bulb of butter cream on each cookie. Hold a cookie in one hand as you pipe with the other. Then stick eight pine nuts into each buttercream oval as illustrated. Refrigerate to firm the buttercream, at least 2 hours.

Make the glaze: Combine the shortening and chocolate in a 3-quart mixing bowl. Place it over a saucepan filled with enough hot tap water (120 to 130°F/49 to 55°C) to reach the bottom of the bowl. Stir the mixture occasionally until the glaze is liquid and smooth and registers close to 110°F (43°F) on a candy thermometer. If water begins to cool while melting the chocolate, maintain the 120°F (49°C) temperature over very low heat. 2. Place the chilled Hedgehogs an inch apart on two wire racks set over shallow baking pans to catch drips. Ladle about 2 tablespoons glaze over each Hedgehog, to cover completely. After masking the pastries, gently move each one slightly on the rack with a small metal spatula while the glaze is liquid, to remove chocolate drippings from its underside. This neat finish also keeps the pastries from sticking to the rack. 3. Pour the glaze from the baking pans back into the saucepan, and reheat. Pour through a sieve in case any cookie crumbs have fallen into it. 4. The warm glaze sets up quickly after touching the cold, firm buttercream, leaving a gorgeous sheen. Do not refrigerate the pastries after they have been glazed. Make the royal icing

When the glaze has set, mix the royal icing ingredients together in a 1 1/2-quart mixing bowl. With a hand mixer on medium speed, whip until the mixture is thick and has a marshmallow-like consistency, about 5 minutes. Fill a small handmade paper cone* with 2 tablespoons icing and pipe three tiny dots on each Hedgehog. Then, dip a toothpick into some of the remaining liquid chocolate glaze, and place a dot of it on two of the icing dots, forming the Hedgehog's eyes. Now their true personalities will be evident.

. Gently lift each pastry with a small metal spatula, and arrange in a single layer in a foil-lined cardboard container, such as a cake box. Cover and store at room temperature up to 2 days.
2000 Flo Braker
YOUR RECENTLY VIEWED RECIPES
Free recipes, giveaways, exclusive partner offers, and more straight to your inbox!