Cookbook
Published by Bulfinch Press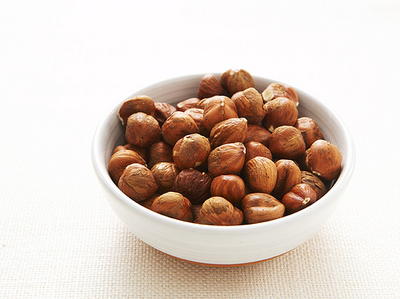 This image courtesy of Joseph DeLeo
This shortbread has a distinctly nutty flavor with melt-in-your-mouth crispiness. The cookies have a very small proportion of sugar and no eggs or leavening agents-they rely on incredibly well-creamed butter for lightness. When they come out of the oven, they have risen and increased in size dramatically At Chanterelle we make the shortbread look extra fancy by using "Chittara" wooden rolling pins from Italy that are meant for rolling and cutting spaghetti out of pasta dough. We roll the grooved rolling pin in multiple directions over the top of the rolled shortbread dough to form little grooved diamonds on the tops of the cookies. We then cut the cookies into rectangles, and they retain this pattern when they bake. There are a number of grooved and patterned wooden rolling pins made to decorate children's Play-Doh that you can use on the top of this dough.
Storage: These cookies will keep, sealed in a container, for 1 week.

Creaming butter:

When you cream butter well, you introduce thousands of air pockets into your dough or cake batter, leavening it and yielding a delicate, seemingly light baked product. Leavening agents like baking powder act on the air bubbles already created in the creaming process.

There are numerous opinions about what temperature butter should be before you work with it. Most chefs agree that creaming slightly melted butter or warm butter yields a product with low volume and a greasy, tough, heavy texture. The question arises: To what extent should your butter be chilled to avoid its melting in the creaming process?

In all my recipes with creamed butter and sugar I recommend that you start with room-temperature butter (66°F to 70°F). Room-temperature butter should yield to the pressure of your fingers without being slippery or overly soft. Butter properly whipped and creamed in this temperature range stores the maximum amount of air bubbles in your cake or cookie batter.

The agents that force air into the butter are your beater or whisk and sugar crystals. There are certain visual signs that signal the extent to which air has been incorporated into your creaming butter. Well-creamed butter increases in volume and dramatically lightens in color-if you are using white sugar, the color of your butter will change from yellow to almost white after creaming.

There are also visual clues to look out for if you are worried that your butter is becoming too warm. The butter becomes very shiny and glossy-properly whipped butter is matte white. Overly warm butter no longer gains in volume or lightens in color. If this happens, place the mixing bowl in the refrigerator for 5 minutes. Also make sure that none of the remaining ingredients yet to be added is warm, in order to prevent further melting.


About50 small cookies
OccasionFormal Dinner Party
Dietary Considerationegg-free, halal, kosher, peanut free, soy free, vegetarian
Five Ingredients or LessYes
Taste and Texturebuttery, crisp, nutty
Type of Dishcookie, dessert
Ingredients
¾ cup (3.25 ounces) filberts (skinned hazelnuts)
1/3 cup cornstarch
2 1/3 cups flour
½ teaspoon salt
16 tablespoons (8 ounces) butter, at room temperature
¾ cup sugar
Food processor
Stand mixer
Cookie sheets
Cookie cutter (optional)
Decorative wooden rolling pin (optional)
Instructions
Grind the hazelnuts and assemble the dry ingredients:

Combine the hazelnuts and 1 tablespoon of the cornstarch in a food processor and grind to a fine powder. In a dry bowl, whisk together the hazelnut powder, remaining cornstarch, flour, and salt, and set aside.

Cream the butter (see "Creaming butter" in the Notes section, below):

Place the butter in the bowl of the stand mixer with the paddle attachment and beat on medium speed for 1 minute. Add the sugar and beat on medium-high speed until the mixture becomes fluffy and almost white, 8 to 10 minutes, stopping the mixer occasionally to scrape down the sides of the bowl. This dough has no added leavening agents. It is extremely important to cream the butter well and incorporate as many air pockets as possible into the fat structure.

Add the dry ingredients, all at once, to the butter mixture. Using a rubber spatula, fold together for a few turns. With the mixer on slow speed, mix the dough until thoroughly combined, 1 minute.

Using a rubber spatula, scrape the dough onto a piece of plastic wrap. Wrap the dough tightly and press it into a 1-inch-thick rectangle. Refrigerate for at least 2 hours.

Preheat the oven to 350°F. Spray cookie sheets with oil and line with aluminum foil, parchment, or silicone pads, or use nonstick pans.

Quick Method for Shaping:

Using a sharp knife and a cutting board, cut the chilled dough into 1½ × 3-inch bars. Cut each bar into 8 or 9 even slices. You should aim for a raw cookie that is 1½ × 1 × 1/3 inch thick. Place the cookies 1 inch apart on the prepared cookie sheets.

Shaping by Rolling and Cutting (see the Note on rolling tart dough):

Roll out the dough to 1/3 inch thick. Using a knife and ruler, cut the cookies into perfect rectangles. You may also use a small 1½-inch cookie cutter to punch out shaped cookies. Place the cookies 1 inch apart on the prepared cookie sheets. Refrigerate any remaining dough scraps for 20 minutes before rerolling them.

Bake the cookies until golden brown and you can smell the wonderful aroma of toasted hazelnuts With butter, 12 to 15 minutes. For even browning, rotate your cookie sheets from front to back and between each of the baking racks at least once while the cookies are baking. Allow the cookies to cool on the sheets.

These cookies go well with almost all the recipes in this book.
2006 Kate Zuckerman
YOUR RECENTLY VIEWED RECIPES