Grilled Mushroom Banderilla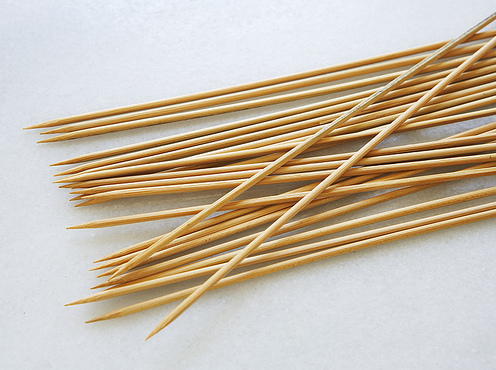 This image courtesy of Joseph DeLeo
Banderilla is Spanish for "little skewer." and the grilled mushrooms make a perfect tapas or snack. The mushrooms are first marinated in saffron, onion, and garlic, and then they are ready to grill. Mushrooms' availability will vary, and it is best to use them when they are in season. Mushrooms are foraged in the fall, and this dish lends itself to that time of year. My two top choices for mushrooms for this recipe are chanterelles or hen of the woods. Their piney, herbal qualities go well with saffron. Otherwise, cultivated oyster mushrooms, which are now widely available, make a good substitute at other times of the year.
This dish is especially good when paired with Garlic and Almond Soup, another delicious fall treat. It also works well as tapas, served with toasted almonds, and is excellent with Celery Root Skordalia.
Try serving it with a chilled Fino sherry or a light-bodied, low-tannin red wine, like tempranillo from Rioja.
NotesI prefer to use natural lump charcoal when grilling. Natural charcoal is made from pure wood, with no chemical additives. I also like to throw some wet chips of apple, alder, or cherry wood on the grill to impart a sweet, pleasantly woody flavor: Gas grills are very convenient, but food cooked over a gas flame lacks the depth of flavor imparted from a wood fire. I also think that building and tending a natural charcoal fire is a wonderful, ritual that enhances a meal.

Charcoal briquettes are convenient and available everywhere, but they are made from sawdust and scrap wood with starch binders and chemical additives, which produce oxygen for a longer and more even burn. The additives don't burn off and therefore can affect the flavor of your food.

Lighter fluid is also convenient. It usually burns off by the time you are ready to cook, so that the chemicals do not affect the food's flavor. However, I believe that I can taste the chemicals on food cooked over a fire started with lighter fluid. I prefer to start my grill fires in a metal chimney with a wooden handle. Good grilling are available at most hardware and kitchen stores.

Here's a recipe for a great grill fire. I like to build a two-level fire, with one side hotter than the other, which creates a "high" and a "low" flame. Remember that natural charcoal bums hotter and faster than briquettes. A good brand of natural lump charcoal is Nature's Own, which is available at most natural food and specialty kitchen stores. Or you can order your charcoal online at www.peopleswoods.com.

Grilling Supplies

Grill (my favorite is the Weber Kettle, 22.5 inch)

Natural lump charcoal

Chimney

Newspaper

Lighter

Good grill brush

Long tongs

1. Make sure the vents on your grill are open. Air feed a fire.

2. Fill the bottom of your grill with charcoal (at least 4 inches on one side and 2 inches high on the other) and set the chimney in the middle of the coals. The fire needs to be big enough in surface area to accommodate the amount of food you're cooking.

3. Fill the bottom of the chimney with one sheet of loosely crumpled newspaper and fill the top with charcoal.

4. Light the newspaper and allow it to burn. When the coals have caught fire, release, them from the chimney and allow them to light the rest of the coals.

5. When the fire is at maximum heat, usually after about 20 minutes, the coals will be gray. Place the iron grill on top of the coals.

6. Once the grill gets hot, after about 5 minutes, brush it well the grill brush to clean it.

7. Let the grill heat up for about 5 minutes more then begin cooking. If you're grilling food with lots marinade or fat, it may begin to smoke. Using your tongs, Place food on the "low" side of the grill and move it over to the "high" side when the smoke settles down.

* Turkish Alternative

An alternative to grilling directly over flame is to grill turkish style: cooking skewered meat, above the grill iron. To do this, roll up two, long pieces of foil, about 12 inches long depending on the width of your grill and bow many skewers you're grilling. Place the foil rolls on the grill, parallel to each other, about an inch shorter apart than the skewer. Balance the ends of the skewers on the top of the foil rolls, and spin the skewers as the meat cooks above the fire.
Serves4
Cooking Methodgrilling, sauteeing
OccasionBuffet, Casual Dinner Party
Recipe Coursetapas/small plates
Dietary Considerationegg-free, gluten-free, halal, kosher, lactose-free, peanut free, soy free, tree nut free, vegan, vegetarian
Taste and Texturegarlicky, smoky, spiced, umami
Ingredients
½ pound Chanterelle or hen of the woods mushrooms or 12 oyster mushrooms
2 tablespoons extra virgin olive oil
½ small white onion, finely minced
1 rib celery, peeled and finely minced
2 teaspoons finely minced garlic (about 2 cloves)
1 pinch (about 12 threads) saffron
1 tablespoon tomato paste
½ cup white wine
4 sprigs fresh thyme leaves only, finely chopped (optional)
Juice of ½ lemon
Salt and pepper to taste
8 bamboo skewers
Instructions
Clean the mushrooms with a towel and trim the dry, dirty stems. Avoid washing them if possible, because they absorb too much water.

In a medium skillet over medium-low heat, cook 1 tablespoon of the olive oil, the onion, celery, garlic, and saffron. Cook until the onions soften, 5 to 6 minutes. Do not brown the onions.

Stir in the tomato paste, wine, mushrooms, and thyme and simmer on low heat for about 15 minutes, until the wine and liquid that the mushrooms release while cooking has reduced and glazed the mushrooms. Stir in the remaining 1 tablespoon olive oil and the lemon juice. Season well with salt and pepper. Cool and set aside.

Prepare a charcoal grill (see Notes).

While your grill is heating, divide the mushrooms evenly among the skewers: about 6 chanterelles or hen of the woods mushrooms, or 3 oyster mushrooms to a skewer.

You'll know that the grill is hot enough to use when the charcoal has turned from red and black to gray. Place the skewers on the edges of the grill, not directly over the fire, and sear the mushrooms for 3 to 4 minutes on each side. The mushrooms should be golden and crispy and smoky in flavor.

Serve the mushrooms warm.
2006 Ana Sortun
YOUR RECENTLY VIEWED RECIPES
Free recipes, giveaways, exclusive partner offers, and more straight to your inbox!