Grilled Leg of Lamb with Greek Chimichurri Sauce
Cookbook
Published by Workman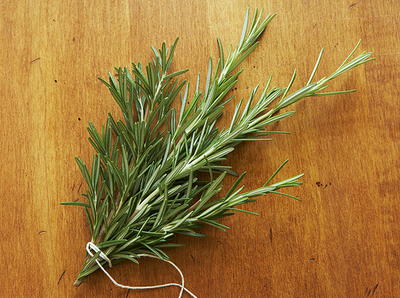 This image courtesy of Joseph DeLeo
Instead of the usual easter ham, why not cook a leg of lamb? It's a wonderful, springtime entrée that is a real divide-and-conquer meal, attracting all sorts of interesting side dish contributions from others. This lamb is well seasoned with fresh garlic, rosemary, and lemon slices; it marinates in the refrigerator overnight. Then you can grill it on a rotisserie or directly on the grill until it's done just to taste. When lamb grills or roasts it tends to crisp up, cooking more on the edges while remaining rare in the center, Since everyone likes lamb at a different degree of doneness, there is something delicious here for everybody. And save those bits of lamb with the bone to simmer in    January Lamb Stew   —even if it's not January!
COLD OUT THERE?

You can roast the leg of lamb in the oven. Set it on a rack in a shallow roasting pan and bake it in a 375°F oven until done to taste, 1½ to 2 hours. Test for doneness by inserting an instant-read meat thermometer into the leg of lamb (take care not to touch the bone). The lamb will be medium-rare when the temperature registers 125°F; at 140°F it will be medium-well. Begin checking for doneness after 1½ hours.
Serves10
Preparation Time - Text 15 minutes  Marinate: 8 hours
OccasionBuffet, Casual Dinner Party, Family Get-together, Formal Dinner Party
Dietary Considerationdiabetic, egg-free, gluten-free, low carb, peanut free, soy free, tree nut free
Taste and Texturecrisp, garlicky, herby, meaty, savory
Ingredients
1 bone-in leg of lamb (5 to 7 pounds)
1 whole bulb garlic, separated into cloves, peeled, large cloves cut into slivers
2 tablespoons kosher salt
1 tablespoon freshly ground black pepper
1 tablespoon dried thyme, plus fresh thyme sprigs (optional) for garnish
1 tablespoon dried oregano, plus fresh oregano sprigs (optional) for garnish
3 lemons, thinly sliced and seeded, plus lemon wedges for serving
4 stalks (8 inches long) fresh rosemary, plus rosemary sprigs (optional), for garnish
2 to 3 tablespoons olive oil
1 cup coarsely chopped red onion (1 medium-size onion)
1 cup pitted kalamata olives
1 cup loosely packed fresh mint leaves
1 cup loosely packed flat-leaf or curly parsley
½ cup loosely packed fresh oregano
1 medium-size clove garlic, peeled
1 tablespoon fresh lemon juice, or more to taste
Pinch of salt
Instructions
Using the tip of a sharp knife, cut evenly spaced small slits about ½ to 1 inch deep all over the lamb. Insert pieces of garlic clove in the slits. You should have 20 or more slits.

Place the salt, pepper, dried thyme, and dried oregano in a small bowl and stir to combine.

Tear off a piece of aluminum foil large enough to completely wrap the leg of lamb and place it on a work surface. Arrange large piece of plastic wrap on top of it. Place the garlic-studded leg of lamb on top of the plastic wrap. Rub the herb mixture all over the leg of lamb. Arrange the lemon slices and stalks of rosemary all over the lamb, placing some underneath the leg and some on top. Wrap the lamb tightly with the plastic wrap, then with the aluminum foil. Refrigerate the lamb until ready to cook, at least 8 hours, preferably overnight.

When ready to cook, unwrap the lamb and remove the lemon slices and rosemary sprigs and discard them. Rub the lamb lightly with olive oil.

S. Preheat the grill to medium-high heat.

Skewer the lamb on the rotisserie spit, if using, and grill according to the manufacturer's instructions until cooked to taste, 1¾ to 2 hours. When done to medium-rare the internal temperature of the lamb will read 125°F on an instant-read meat thermometer (take care not to touch the bone when inserting the thermometer). When done to medium-well the temperature will register 140°F. You can also grill the leg of lamb on a medium-high grill over indirect heat, turning it often; it will be done after 1¾ to 2 hours.

Remove the lamb from the rotisserie spit, if using, and place it on a platter to rest for about 15 minutes before carving. Or, let the lamb cool completely, wrap it in aluminum foil, and refrigerate it. Rewarm the lamb by opening up the foil on top and placing the lamb in a 350°F oven for about 30 minutes before serving.

Carve the lamb into slices. Garnish the platter with sprigs of fresh thyme, oregano, rosemary, if desired, and lemon wedges. Serve the Greek Chimichurri Sauce on the side.

Place the onion, olives, mint, parsley, oregano, garlic, lemon juice, and salt in a food processor fitted with a steel blade. Process until finely chopped and well blended, about 1 minute.Taste for seasoning, adding more lemon juice as needed. Spoon the chimichurri sauce into a small glass bowl, cover it with plastic wrap, and refrigerate until serving time.
2007 Anne Byrn
YOUR RECENTLY VIEWED RECIPES