Griddle-Cooked Whole-Wheat Flatbread
Cookbook
Published by Workman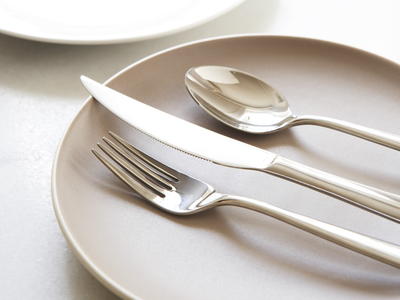 A roti to an Indian is what a flour tortilla is to a Mexican. The main difference between the two is the kind of flour used: rotis are made with a light whole-wheat grain, while tortillas rely on all-purpose flour. The all-purpose flour has more protein than the Indian atta, and as a result tortillas can be far chewier than rotis. (Nevertheless, if I am rushed for time, I will make a trip to the local Mexican restaurant, which makes its tortillas in-house, and serve them with my curries.) Rotis are also known as chappatis in certain parts of India, and their thickness can vary among households. They are an Indian's silverware, used to wrap around succulent curries, stir-fries, pickles, and condiments—an easy, addictive, and functional flatbread.
Roti flour, also labeled atta ("flour"), is packaged in small, medium, and large bags, and can be found in Indian, Pakistani, Middle Eastern, and other Asian grocery stores. It is a low-protein flour, and is ideal for making these fluffy-thin flatbreads. (When you knead dough made with high-protein flour, it forms gluten—which gives European yeast breads their structure, an unwanted constitution in rotis.)

Rotis are a cinch to freeze, should you decide to make a large stack for future use. Don't brush them with ghee before you freeze them. Keep them tightly wrapped, either in foil or in plastic wrap, and then secure the package in a freezer-safe self-seal bag. They thaw beautifully in a microwave oven (thanks once again to the low protein content, which means they won't toughen like other breads): wrap a roti in a moist paper towel and microwave it for barely 1 minute. Once it is warmed, brush it with ghee.


Makes12 Breads
OccasionBuffet, Casual Dinner Party, Family Get-together
Dietary Considerationegg-free, peanut free, soy free, tree nut free, vegetarian
Five Ingredients or LessYes
Taste and Texturebuttery, savory
Ingredients
2 cups roti flour (see Notes), plus extra for dusting
1½ teaspoons coarse kosher or sea salt
About ¾ cup warm water  
Ghee or melted butter for brushing
Instructions
Thoroughly combine the flour and salt in a medium-size bowl.

Drizzle a few tablespoons of the warm water over the salted flour, stirring it in as you do so. Repeat until the flour comes together to form a soft ball; you will use about ¾ cup warm water altogether. Using your hand (as long as it's clean, I think it's the best tool), gather the ball, picking up any dry flour in the bottom of the bowl, and knead it to form a smooth, soft ball of dough (do this in the bowl or on a lightly floured surface). If it's a little too wet, dust it with a little extra flour, kneading it in after every dusting until you get the right soft, dry consistency. (If you used your hand to make the dough from the start, it will be caked with clumps of dough. Scrape them back into the bowl. Wash and dry your hands thoroughly, and return to the dough to knead it. You will get a much better feel for the dough's consistency with a dry hand.)

Wrap the ball of dough in plastic wrap, or cover it with a slightly dampened cloth, and let it rest at room temperature for about 30 minutes.

When you are ready to cook the roti, use your hands to roll the dough into a 12-inch-long log. Cut it crosswise into 12 pieces, and shape each piece into a ball. Press each ball flat to form a patty. Cover the patties with plastic wrap. (At this juncture, if you wish, you can refrigerate the dough for up to 4 days. Bring it back to room temperature before you proceed.)

Place the ghee close to the stove, with a pastry brush handy. Tear off a large sheet of aluminum foil, fold it in half lengthwise, and set it aside. Tear off 13 sheets of wax paper, each about 8 inches wide.

Lightly flour a small work area near the stove, and place a dough patty on it (leaving the others under cover). Roll it out to form a round roughly 5 to 6 inches in diameter, dusting it with flour as needed. Make sure the round is evenly thin, with no tears on the surface. Lift the round, plop it onto a sheet of wax paper, and cover it with a second sheet. Repeat with the remaining dough patties, stacking them between sheets of wax paper as they are rolled.

Heat a medium-size skillet (preferably nonstick or cast iron) over medium heat. If you have a gas stove, light another burner and keep the flame on medium heat. If yours is an electric stove, place a heat diffuser on a separate burner, with the heat set to medium. (If you don't have a heat diffuser, place a skillet over medium heat.)

Transfer a round to the hot skillet. Cook until the surface forms some bumps and bubbles, and the underside looks cooked and has some brown spots, 2 to 3 minutes. Immediately flip the round over directly onto the other burner's open flame (or the heat diffuser or skillet). It will puff up and cook on the underside in barely 15 to 30 seconds. Lift it off with a pair of tongs and place it on the piece of foil. Brush one or both sides with ghee. Fold the sheet of foil over the roti to keep it warm.

Continue cooking the rounds, brushing them with ghee and keeping them warm under the foil. Then serve.
2008 Raghavan Iyer
YOUR RECENTLY VIEWED RECIPES