Green Minestrone with Chicken and Pesto
Cookbook
Published by Warner Books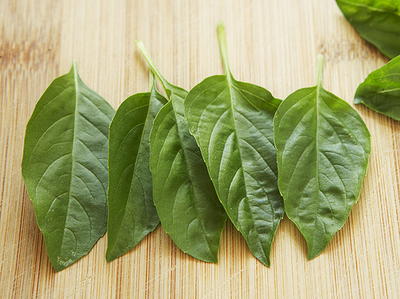 Pesto sauce, with its fragrant trinity of garlic, basil, and Parmesan, gives this soup of green and white vegetables distinct Ligurian overtones. Untraditional though it may be, chicken proves to be an enhancement, lending a mellowness to the broth. Served without chicken meat in it, the soup is a satisfying first course. With chicken meat, it is a sturdy main course. No other vegetables would be needed in such a meal, nor would any cheese. An appetizer of cold seafood or a country pate and a simple nut torte or crunchy cookies for dessert should round things out nicely. Split peas lend a velvety flavor background for the other vegetables, but they can be omitted to have a lighter soup, perhaps better suited to summer. Unlike the classic pesto sauce, this one contains no pignoli nuts, as I dislike their flavor and grittiness in the soup. It is also possible to eliminate cheese from the pesto and pass some separately at the table.
Cooking Methodsauteeing, slow cooking
OccasionCasual Dinner Party, Family Get-together
Recipe Courseappetizer, main course
Dietary Considerationegg-free, gluten-free, peanut free, soy free, tree nut free
Equipmentblender, mortar and pestle
Taste and Texturegarlicky, herby, meaty, rich, savory
Type of Dishchicken soup, soup
Ingredients
One 3 ½ to 4 pound chicken, quartered, with neck and all giblets except liver
10 cups water, or as needed
1 celery stalk whole with leaves and 2 celery stalks, diced
1 small carrot
1 small onion, whole, and 1 medium, chopped
3 parsley sprigs
8 to 10 black peppercorns
2/3 cup green split peas (optional)
2 tablespons (1/4 stick) butter and 2 tablespoons mild olive oil, or 4 tablespoons olive oil
2 large leeks, white portions only, thinly sliced
½ pound string beans, trimmed and cut into ½-inch lengths
1 pound small zucchini
1 small (about 1 ½ pounds) green cabbage, preferable savoy
Leaves of 1 large bunch young and tender Swiss chard, well washed and coarsely chopped (optional)
½ cup rice or 4 medium boiling potatoes, peeled and cubed
Salt and pepper, to taste
4 garlic cloves
1 teaspoon coarse salt
2 cups loosely packed whole fresh basil leaves, well washed
½ cup olive oil
4 tablespoons grated Parmesean cheese, optional
Salt, to taste
Grated Parmesean cheese
Instructions
Place chicken and giblets in a close-fitting 5-quart soup pot, preferably of enabled cast-iron and add up to 10 cups of water, which should cover the chicken. Bring to a boil, partly covered, then reduce to a simmer and skim foam as it rises to the surface. When foam subsides, add the whole celery stalk, carrot, whole onion, parsley, and peppercorns. Keep at a low simmer for about 3 hours, stirring every 30 minutes, until chicken begins to fall from bones. Replenish water if chicken is not covered during the first 2 hours of cooking.

While chicken is cooking, prepare split peas. Wash them in 2 changes of cold water and pick over to remove stones or discolored peas. Place in saucepan with about 3 to 4 cups water and boil for 2 or 3 minutes. Drain off water and rinse peas. Add about 3 to 4 cups fresh water and bring to a boil and cover; let stand for about 30 minutes.

Remove chicken soup and discard giblets, vegetables, and peppercorns. If you plan to serve chicken meat in soup, remove skin, bones, and cartilage and break breast and thigh meat into spoonable pieces. Strain soup through a sieve and skim off fat. Return to rinsed soup pot and add soaked, drained split pea. Simmer gently, partly covered, for about 20 minutes while preparing the other vegetables.

Heat butter and oil in a 10-inch skillet. Add chopped onion, leeks, and diced celery and sauté gently, stirring frequently, for 8 to 10 minutes or until vegetables soften but are not brown. Add to soup with string beans and simmer gently, partly covered, for about 10 minutes.

Wash zucchini well, trim off ends, and cut into vertical quarters. Using a small paring knife or a spoon, scoop out inner pulp with seeds. Slice remaining zucchini shell into ¾ -inch pieces.

Cut cabbage into quarters, wash under running cold water, and trim out white core. Shred cabbage as for coleslaw, eliminating tough white ribs. Add zucchini and cabbage to soup and simmer gently for another 20 minutes.

If you use Swiss chard, trim off all white stems and veins. Stems can be cooked as a separate vegetable another day. Wash leaves well and chop or slice coarsely. You should have 3 to 4 cups. Place in saucepan with enough water to cover and parboil for about 3 minutes or until leaves begin to wilt. Drain well and add leaves to soup, discarding their cooking water.

The soup can be prepared up to this point and stored, covered, in the refrigerator for up to 24 hours. Bring to room temperature before reheating.

About 20 minutes before serving, add rice or potatoes to soup and cook until tender. Season with salt and pepper, but do not oversalt as pesto will be added.

Serve in heated bowls, with or without chicken. Pass Pesto Sauce at the table. I prefer this without extra cheese sprinkled on top, but it can be passed at the table.

Leftover minestrone can also be stored, covered, in the refrigerator for up to 24 hours or frozen for 6 weeks, but rice will expand considerably so soup will need thinning with water or broth in the reheating. Potatoes may disintegrate a bit, but that can be pleasantly soothing.

Cut garlic cloves in half vertically and remove and discard inner green-tipped sprout. Cut garlic into small pieces, and, using a blender or mortar and pestle, crush to a paste with coarse salt. You can also crush garlic through a press and then mix with salt. Slice basil leaves and add to garlic. If using a mortar and pestle, trickle oil in slowly, working it in as for mayonnaise. If you are using a blender, add 1/3 cup oil and blend at moderate speed until you have a smooth emulsion, adding the rest gradually.

If you add cheese, stir it in by hand. Add salt as needed.

Extra pesto can be spooned into a narrow, small bowl or jar and topped with ½ -inch layer of olive oil. Cover and store in refrigerator for up to 1 week or in freezer for up to 1 month.
1995 by Mimi Sheraton
YOUR RECENTLY VIEWED RECIPES