Cookbook
Published by Workman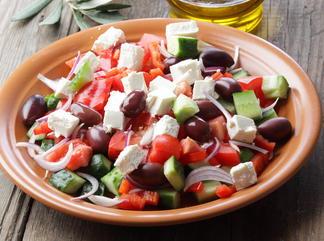 This image courtesy of Shutterstock
In the nineteenth century, following the French ideal, the salad preferences of cosmopolitan Greeks turned to plates of pristine solo edibles. Not so in the countryside, where, as always, villagers were combining glorious arrays of fresh offerings from the garden. These fabulous mixes, particularly the one featuring that amazing new vegetable, the tomato, came to be known as "village" salads, horiatiki—from horio, for "village"—meaning rustic and rural. The designation was somewhat pejorative because it signaled a lack of refinement. Now Greeks think quite the other way. They have rebounded to the love of their own rural heritage, and with it to their glorious village salad—which in fact has followed Greeks around the world. The Greek village-style salad crops up in restaurants from French to Indian, from Frankfurt to Singapore. In a village salad, the goods are a select choice of fresh pickings (tomatoes, bell pepper, cucumber, onions) coupled with some of the pantry's best stock (olives, feta cheese, capers, oregano). The Greek-American version adds a few springy greens.
Because a good Greek village salad depends on whatever is fully ripe and crisp in the market, any of the secondary elements, such as the cucumber or bell pepper, can be omitted if they aren't at their best and other ingredients either substituted or increased. What must stay are the tomatoes, onion, olives, and cheese.

In Greek towns, the village salad is dressed with oil. In Greek cities, a touch of lemon may be added. Internationally, the dressing often incorporates vinegar. The choice of rustic or refined is yours.

Goats and the Garden

While goat cheese blends spectacularly well with radishes and other salad vegetables, there is one thing a goat does not pair well with: a flower garden. As much as love the goats of Greece—I will talk to them, pet them, feed them—I show considerable temper when one of my rather casual neighbors lets her goat loose to chance upon my patio. To add some color to the starkly whitewashed house, I fill the patio flower boxes with lilies, carnations, and the like. Indeed, I do this over and over because, time and again, some free-roaming goat chews up my flowers. Never will any of my neighbors accept any blame; my flowers are not taken seriously, not like a vegetable garden. Goat and garden? Not a good pairing. Goat cheese and salad? Fabulous!


Serves6

Total Timeunder 15 minutes
Dietary Considerationegg-free, gluten-free, halal, kosher, low carb, peanut free, soy free, tree nut free, vegetarian
Taste and Texturecrisp, crunchy, light, salty, tangy
Ingredients
2 small or 1 large green bell pepper, cored and sliced into thick strips
1 cucumber, peeled if preferred, sliced into thick half-rounds
1 small red or white onion, sliced into thin slivers
3 medium tomatoes (12 ounces total), cut into ½-inch-thick wedges
18 to 24 Kalamata olives
1 tablespoon capers (optional)
4 ounces feta cheese, coarsely crumbled
Salt and freshly ground black pepper, to taste
1/3 cup fruity olive oil
2 tablespoons fresh lemon juice or red wine vinegar (optional)
2 teaspoons dried oregano
Instructions
Place the peppers, cucumber, onion, tomatoes, olives, capers, if using, and cheese in a large bowl. Sprinkle lightly with salt and pepper, then with the oil. Add the lemon juice, if using. Crumble the oregano over the top, toss gently, and serve.

The Greek-American Rendition:

As a horiatiki salad depends on good fresh produce, Greek Americans were faced with a quandary. American tomatoes are often picked well before ripening and are decidedly pale in comparison to their Greek counterparts. Besides, Americans had a fixed notion that salad means lettuce, and supermarket vegetable sections almost always have some crisp fresh lettuce available to accommodate that notion. Ever adaptable, Greeks in the States altered their village salad to include lettuce. In addition, scallions are often substituted for bulb onions. As the new version traveled west, the salad picked a new appellation. In a nod to its origin, it is often called not a village salad, but a "Greek" salad.

To make the Greek-American version, add 3 cups romaine, red lettuce, baby spinach, or arugula, and reduce the amount of the other vegetables accordingly. Substitute 6 scallions, trimmed and cut into 1-inch lengths, for the red or white onion.
2004 Susanna Hoffman
YOUR RECENTLY VIEWED RECIPES
Free recipes, giveaways, exclusive partner offers, and more straight to your inbox!