Grape Leaves Stuffed with Pine Nuts, Currants, and Golden Raisins
Cookbook
Published by Workman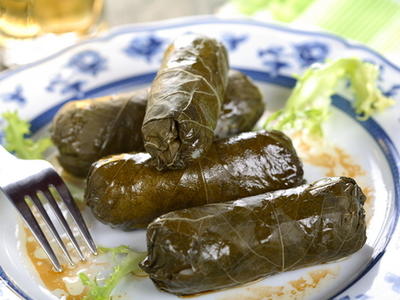 This image courtesy of Shutterstock
Tucked tightly together in concentric circles in their pan, or arrayed on a gala appetizer platter, little grape leaf dolmades—filled with rice, nuts, herbs, and dried fruit—glisten like gems; not for the wearing, but for the palate! Greeks have been wrapping foods in tender grape leaves since antiquity, and still today dolmadakia are perhaps their most famous snack. They make hot dolmades as a main dish, too, but it is the cool, rice and raisin–filled ones that enhance festive occasions. The stuffing is even more alluring if the currants and raisins have been plumped with piney retsina wine  (see Notes) and if short-grain rice is used to keep the filling moist and chewy.
NotesYou can produce equally fine dolmadakia in less time by precooking the rice. Add the cooked rice to the sauteed ingredients, mix well, and set aside until cool enough to handle. Fill, roll, and pack the dolmadakia as described above, using 1 tablespoon of the rice mixture instead of ½ tablespoon. Weight and cook as described, simmering for 10 minutes only.

Though using a round pan and placing the grape leaves in concentric circles is both traditional and most amenable to weighting down with a heavy plate, you can use a rectangular or square pan and layer the leaves in rows if you have a slightly smaller, similarly shaped object to place on top of the leaves to hold them down during cooking.

If you don't have enough dolmades to completely fill a second or third tightly packed layer, a partial one will do as long as the plate or pan you use for weighting covers the top layer well enough to keep individual dolmades from floating up and breaking apart during cooking.

Rice and raisin–filled appetizer dolmadakia keep well for several days, so you can successfully make them ahead of time for a big party. After cooling and pouring off the liquid, cover them well with plastic wrap so they don't dry out, and store in the refrigerator until ready to serve.

Grape Leaf Tricks

Since bottled grape leaves come in stacks with the leaves cupped together facing the same direction, you can cut off the stems from an entire stack at one time before separating the leaves for filling. For fresh grape leaves, you need to trim each leaf individually, either before or after blanching.

When filling and rolling the dolmadakia, work around any minor holes or tears by overlapping or tucking the leaf in a creative way as you go. Use leaves with major tears, or ones that are too small to roll easily, for lining the pan.

Every now and then, you will have a leaf that tears completely or just won't cooperate as you roll it. Shake out the filling and use the rascal along with the other torn leaves to line or top the pan.

Keeping Wine-Infused Currants and Raisins at Hand

Wine-enhanced currants and raisins add an extra dash of flavor, and in Greek cooking I use lots of them, so I keep a supply soaking in the refrigerator. Generally I have on hand a container of currants, one of golden raisins, and one of dark raisins, all in tart retsina, for appetizer and entree dishes. I also keep a set of the three soaking in a sweet muscat-style Greek wine, such as Mavrodaphne, for dessert dishes. They can be soaked in regular dry and sweet white wines well. The process could not be simpler: Place a cupful or two of the fruit in a glass or plastic container that has a good lid. Pour in enough wine of choice to cover the fruit by ¼ inch or so, seal with the lid, and refrigerate.

The wine-soaked fruit will store for months. As I scoop out the currants or raisins I need for a recipe, I add more dried fruit. In due time, I use the very fruity wine collected at the bottom of the container as a dessert flavoring.


Makes30 to 40 pieces
OccasionBuffet, Casual Dinner Party, Cocktail Party, Game Day
Recipe CourseAntipasto/mezze, Hors D'oeuvre
Dietary ConsiderationEgg-free, Peanut Free, Soy Free, Vegan, Vegetarian
Five Ingredients or LessYes
Taste and TextureChewy, Herby, Savory, Sweet, Winey
Ingredients
2 tablespoons dried currants
2 tablespoons golden raisins
¼ cup retsina wine
30 to 40 fresh or bottled grape leaves, stems cut off (see Notes)
1/3 cup olive oil
½ cup short grain rice, preferably Arborio
1 small onion, finely chopped
1 clove garlic, minced or pressed
¼ cup pine nuts
2 tablespoons finely chopped lemon zest
¾ teaspoon salt
2 tablespoons chopped fresh dill, stems reserved
2 tablespoons chopped fresh mint leaves, stems reserved
1½ tablespoons fresh lemon juice
Lemon slices, for garnish
Instructions
Combine the currants and raisins with the retsina in a small bowl and let stand for at least 1 hour, or preferably overnight.

If using fresh grape leaves, bring a large pot of water to a boil over high heat. Drop in the leaves, pressing down to submerge them, and blanch until they are no longer bright green, about 2 minutes. Drain immediately, rinse in cool water, and gently squeeze out the excess liquid. Set aside. If using bottled grape leaves, remove them from the jar gently to avoid tearing, and squeeze out the excess liquid. Set aside.

Heat the oil in a medium-size skillet over medium-high heat. Add the rice, onion, garlic, pine nuts, zest, and salt, reduce the heat to medium, and sauté until the onion is transparent, about 5 minutes. Add the currants and raisins, with their liquid, and sauté until the liquid has mostly evaporated, about 3 minutes. (The rice will not be cooked through.) Remove from the heat and stir in the dill and mint leaves.

Line the bottom and sides of a medium-size pot or sauté pan with torn or extra grape leaves and some of the reserved dill and mint stems.

On a counter, lay out as many grape leaves, veined side up, as you have room for. Place about ½ tablespoon of the rice mixture near the stem end of each leaf. Roll the bottom of the leaf up over the stuffing. Then fold in the sides of the leaf to partially enclose the filling. Continue rolling to completely enclose the filling, forming a stubby cylinder.

As you fill and roll the leaves, tightly pack the dolmadakia, leaf tip down, in the pan, forming concentric circles until the bottom is completely covered. When one layer is complete, make a second layer.

Continue stuffing, rolling, and tightly packing the leaves until all the stuffing is used. Try to keep the top layer as even and flat as possible, even if it is not complete. Cover the top layer with the remaining dill and mint stems and any extra grape leaves.

Fill the pan with enough water to barely cover the leaves. Pour the lemon juice over all. Weight down the dolmadakia with a heavy plate or a slightly smaller pan partially filled with water. Set the pan on the stove and bring to a boil over medium heat. Reduce the heat and simmer until the rice is tender, 1 hour. Remove, taste a dolma to make sure the rice is done, and allow to cool.

When the dolmadakia are cool enough to handle, carefully pour off the liquid, pressing down on the leaves slightly to extract the excess liquid. Chill until completely cool.

. Present the dolmadakia in their cooking pan if it is attractive, or arrange them nicely on a platter. Garnish with the lemon slices and serve.
2004 Susanna Hoffman
YOUR RECENTLY VIEWED RECIPES
Free recipes, giveaways, exclusive partner offers, and more straight to your inbox!