Gefüllte Fish
Cookbook
Published by HarperCollins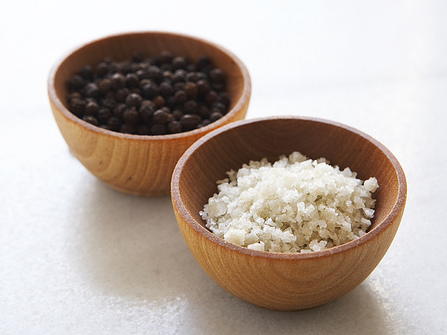 This image courtesy of Joseph DeLeo
Along with chicken soup and chopped liver, this dish completed the holy trinity of my mother's kitchen. Any woman who could not make proper gefüllte fish (by "proper" she meant fish that tasted exactly like hers) was barely worth socializing with. Hers was by all odds extraordinary, differing from most in that it was cooked in a broth loaded with onions and the fish itself was heavily peppered. There was not a trace of sweetness in it; only the tiniest pinch of sugar was added if the fish broth seemed acidic, and no carrots were grated into the mix, another practice that results in sweet fish. Although it was ground finely enough to hold together smoothly, the fish was still coarse enough to have an interesting texture, not too solid or all of a piece. My grandmother chopped her fish in a big wooden bowl with a lunette, or half-moon hand chopper; my mother did hers in a grinder and then chopped as other ingredients were added. Blenders and processors produce too fine a mix for this. Anyone with patience should try the chopping method at least once, to see the fish at its most perfect. Sometimes my grandmother wrapped fish skins around the balls of fish before cooking so it really lived up to its name. My mother cooked the skins for flavor but did not wrap the skin around the fish balls because as kids we hated it. The fish was always placed in cold water; hot water tends to make it toughen and harden. Carp was added if my mother trusted the fish man and knew it would not taste of mud, as carp often does, thereby spoiling the taste of the entire batch. For that reason pike and whitefish were most often used, and carp eliminated. It is possible to have the fish ground at the market, but my mother's belief that the mix will invariably include some scales has been transmitted to me, and though I have it filleted and trimmed at the market, I grind or chop it myself. Tiny balls can be made for cocktail use.
NotesHorseradish Preparation

Freshly grated horseradish root, when available, is preferable to the bottled variety. The fresh root is generally available in Jewish neighborhoods around Passover, but it may also be found at other times of the year.

The bottled variety is packed in vinegar, as it must be to prevent blackening. Freshly grated horseradish without vinegar is quite different and more interesting. To prepare it, peel a piece of horseradish root and grate on the fine side of a grater, or better yet in a blender or food processor. Grate only as much as you need for a meal. If you want to grate a lot in advance, then add a dash of salt, place in a narrow jar, and cover with white vinegar.

A horseradish root weighs about ¾ pound and will make about 1 cup when grated.
10 to 12 pieces
OccasionFamily Get-together
Dietary Considerationhalal, kosher, lactose-free, low carb, peanut free, soy free, tree nut free
Taste and Texturejuicy, light, savory, sweet
Ingredients
3 pounds pike (weight before cleaning, filleting), approximately
3 pounds whitefish (weight before cleaning, filleting), approximately,
OR 2 pounds each pike and whitefish and 1 pound carp, filleted
Kosher (coarse) salt
All bones, heads, skin, and trimmings from above fish, with carp roe, if any
2 large onions, peeled
2 extra-large eggs, lightly beaten
½ cup ice water, approximately
2 teaspoons salt
½ to 1 teaspoon white pepper, depending on your tolerance
2 tablespoons matzoh meal
5 very large or 7 medium onions, peeled
6 cups water, approximately
Small strip of knob celery, if available
3 large carrots, scraped and sliced into ½-inch rounds
Pinch of sugar
Red or white horseradish and matzohs, as accompaniment
Instructions
Rinse the fish fillets under cold running water, place in a bowl, sprinkle lightly with coarse salt, and store in the refrigerator for 4 or 5 hours or overnight, before beginning the preparation. Place all the trimmings in a separate bowl, salt, and store in the same way. Set the roe aside until ready to use.

When you begin the preparation, rinse the fish and trimmings and drain well. Place all the trimmings In the bottom of a wide, 3- to 3½-quart Dutch oven-type pot. Set aside.

Chop all the fish together, either by hand, using a round wooden bowl and a half-moon chopper, or by putting it through the fine blade of a grinder. Grind or chop the two large onions along with it. Then grind all again, or keep chopping until smooth. Stir in the eggs, ice water, salt, pepper, and matzoh meal. Mix well. The consistency should be soft and thick, somewhat like thick, cooked oatmeal.

If you want to taste for seasoning, pinch off a small amount of fish, about the size of a hazelnut, and cook it in simmering salted water. Cool quickly in the freezer and taste. (Do not taste the fish raw, as it is freshwater fish and may be dangerous in an uncooked state.) Add salt or pepper to the raw mix as needed.

Slice the very large or medium onions in thin rounds and add to the pot with the fish trimmings. Pour in enough water to come very slightly above the onions; this should be between 4 and 6 cups. Shape the fish into slightly oval or round balls, each using about 2 tablespoons of fish. Shape with wet hands or with two wet tablespoons. Gently place the fish balls on top of the onion bed. Cover and bring to a boil, then lower the heat, and with cover slightly askew, simmer gently but steadily for 1 hour.

Add the knob celery, if you have it, along with the carrots and roe. Taste the broth and add a little salt and pepper if needed, and a tiny pinch of sugar if the broth is unpleasantly sharp. Cover and continue cooking at a steady simmer for another hour.

If the pieces of fish are touching and seem to stick together when first placed in the pot, don't worry. As they cook you will be able to separate them merely by shaking the pot gently several times during cooking.

Let the fish cool in the broth. When cool, gently lift the pieces out and place in a dish that is 2 or 3 inches deep and large enough to accommodate the fish in a single layer.

Strain the fish stock and reserve. Pick out a few of the onions and carrots and strew them over the fish and roe. Pour the strained stock over all and chill in the refrigerator. The fish tastes better if it stands overnight, although it can also be served freshly made and hot, something I detest.

The fish broth should jell. Serve, diced, with the fish and a piece of carrot, onion, and roe, and, of course, with horseradish, red or white. Matzohs are also a standard accompaniment. Stored in the refrigerator, the fish will keep for 3 to 5 days, and possibly even a week.
1979, 1991 by Mimi Sheraton
YOUR RECENTLY VIEWED RECIPES
Free recipes, giveaways, exclusive partner offers, and more straight to your inbox!