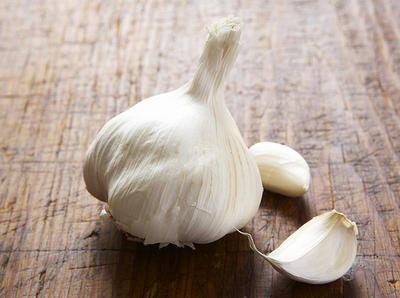 This image courtesy of Joseph DeLeo
There is a saying in Provence: "Aigo bouido sauva la vido," which means "garlic soup saves lives." It is true that garlic has immune-stimulating properties, and it has been used for millennia to heal a range of ailments. Although this soup just may save lives, it's also plain out-of-this-world delicious. I created this recipe in 1993 when I was the chef at Aigo Bistro in Concord, Massachusetts, and it has followed me from restaurant to restaurant ever since. It's a favorite of loyal customers and has become a signature dish. I was originally inspired by the Provencal soup called aigo bouido, which means "boiled garlic" in old Provencal dialect, and then I gave the soup a Spanish twist by adding a picada-a mixture of pureed almonds and bread crumbs-to thicken it. It's important to use a blender to prepare this soup because the blade pulls in and gives a smoother and tighter puree, leaving no chunks of almonds or bread. The garlic becomes sweet, soft, and silky when it's roasted, making for a sweet, creamy soup. I like to garnish it with a parsleyed olive oil, which I make in the blender until the parsley liquefies and the natural chlorophyll turns the oil bright green. I also add a little vitamin C to the oil to help keep its vivid green color for up to a week.
Drink some rosé from Provence or Spain with this soup and serve it with Grilled Mushroom Banderilla.
If you can't find blanched almonds, you can bring 3 cups of water to a boil and add 1 cup of whole raw almonds, and continue to boil for 45 seconds to 1 minute. Drain. Allow to cool for a few minutes and then pop the almonds out of their skin one at a time by pinching the nut between your thumb and forefinger and middle finger. Spread the nuts out to dry.
Serves8
Cooking Methodroasting, sauteeing
OccasionCasual Dinner Party, Formal Dinner Party
Recipe Courseappetizer, main course
Dietary Considerationegg-free, halal, kosher, peanut free, soy free
Taste and Texturecreamy, garlicky, nutty, rich, savory
Type of Dishhot soup, soup
Ingredients
6 whole heads garlic
4 tablespoons canola oil
Salt and pepper to taste
1 tablespoon butter
2 large onions, peeled, halved and cut into thin strips
½ cup dry bread crumbs (panko Brand or Plain unseasoned, not sourdough)
1 cup blanched whole or slivered almonds (no skins; see Notes)
8 thin slices French bread or baguatte
8 tablespoons extra virgin olive oil
8 cups chicken stock preferably homemade
½ vitamin C tablet (optional)
½ bunch fresh flat-leaf parsley (about 1 cup)
Instructions
Preheat the oven to 350° F.

Split the garlic heads in half widthwise, and season with salt and pepper. Place the cut sides down on a heavy baking sheet lightly coated with about 2 tablespoons of the canola oil.

Roast the garlic in the oven for 20 to 25 minutes, until the garlic is soft. Once the garlic is cool, after about 30 minutes, squeeze the garlic out of its skin. You should have about 1 ½ cups of squeezed garlic.

Over medium-high heat, melt the butter with the remaining 2 tablespoons of canola oil in a large, heavy sauté pan, until the butter begins to brown. Add the onions and saute them over high heat until they begin to soften and become translucent, 7 to 10 minutes. Turn the heat down to medium-low and continue cooking, stirring occasionally, for about 20 minutes, until the onions are golden brown. Season with salt and pepper and set aside.

Spread the bread crumbs and almonds evenly on a baking sheet and bake until golden brown, about 12 minutes.

In a food processor fitted with a metal blade, process the almonds and bread crumbs until very finely ground. Place them in a mixing bowl and set aside.

Puree the onions and garlic in the food processor until smooth and creamy. Set aside.

Make the croutons by brushing the slices of French bread on both sides with approximately 3 tablespoons of the olive oil. Place them on a baking sheet in an even layer and toast them in the oven for about 6 minutes, until golden and lightly crisp. Set them aside to cool at room temperature. Reduce the oven temperature to 220° F to warm the soup bowls later.

In a large saucepan over medium-high heat, bring the chicken stock to a boil. Reduce the heat to low and simmer, gently, for about 5 minutes.

. Make the picada by placing 2 to 3 cups of the hot chicken broth in a blender with the almonds and bread crumbs and blend until smooth and creamy, about 4 minutes, creating the smoothest texture possible.

. Scrape the picada into a medium mixing bowl and whisk in the garlic and onion puree, incorporating it to make a smooth paste. Whisk this mixture into the simmering chicken stock, and season the soup with salt and pepper. The soup should be smooth and creamy. If there are any chunks of nuts or it doesn't look smooth enough, strain it through a medium sieve. Keep the soup warm on very low heat, until ready to serve.

. Place the remaining 5 tablespoons of olive oil with the vitamin C tablet (if using) and parsley leaves in the blender and blend for 3 to 6 minutes on high speed, making a bright green oil. The parsley should completely liquefy, and there shouldn't be any flecks in the oil.

. Warm 8 soup bowls in the 220°F oven for just a minute.

. Ladle the garlic soup into warm bowls and top each with a crouton of toasted French bread. Drizzle 2 teaspoons of parsley oil over the top of each crouton and serve immediately.
2006 Ana Sortun
YOUR RECENTLY VIEWED RECIPES