Cookbook
Published by Knopf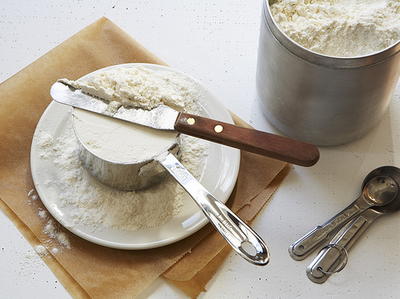 This image courtesy of Joseph DeLeo
French bread, as we all know, has been praised and prized above all other breads in the world for its distinctive crumb, crisp crust, and superb flavor. However, the carefully controlled preparation of it in commercial bakeries is difficult to duplicate in one's own kitchen. If you are ready for the challenge, you should search out a recipe that is as complete as the one developed by Julia Child and Simone Beck for Volume 2 of Mastering the Art of French Cooking. Their method seems tremendously complex but it is great fun to follow through to the final goal (and once mastered, not difficult to do again); the loaves are startlingly good and genuinely French. The bread I am giving here is not truly French, and for that reason it is called "French-style." Actually it could be called "Continental," because it is very much like the bread one finds in Italy, Spain, and Portugal. It has also been known for many years as "Cuban Bread." It is a casual, easy-to-make bread that can be played with in several ways. If made according to the basic recipe below it produces a good loaf ready for eating almost the minute it comes from the oven. It will not hold for more than half a day but, of course, can be frozen.
2 long loaves
Dietary Considerationlactose-free, peanut free, soy free, vegetarian
Five Ingredients or LessYes
Mealbreakfast, brunch, dinner, lunch
Taste and Texturechewy, crisp, light
Ingredients
1½ packages active dry yeast
1 tablespoon granulated sugar
2 cups warm water (l00° to 115°, approximately)
1 tablespoon salt
5 to 6 cups all-purpose or hard-wheat flour
3 tablespoons yellow cornmeal
1 tablespoon egg white, mixed with 1 tablespoon cold water
Instructions
Combine the yeast with sugar and warm water in a large bowl and allow to proof. Mix the salt with the flour and add to the yeast mixture, a cup at a time, until you have a stiff dough. Remove to a lightly floured board and knead until no longer sticky, about 10 minutes, adding flour as necessary. Place in a buttered bowl and turn to coat the surface with butter. Cover and let rise in a warm place until doubled in bulk, 1½ to 2 hours.

Punch down the dough. Turn out on a floured board and shape into two long, French bread-style loaves. Place on a baking sheet that has been sprinkled with the cornmeal but not buttered. Slash the tops of the loaves diagonally in two or three places, and brush with the egg wash. Place in a cold oven, set the temperature at 400°, and bake 35 minutes, or until well browned and hollow sounding when the tops are rapped.

For a wheaten loaf, use half white flour and half whole-wheat flour.

Substitute equal parts of whole-wheat flour and cracked wheat for half of the white flour.

For a more involved, more tightly textured loaf: Use either the original recipe or the whole-wheat variation. After the first rising, remove from the bowl, punch down, and knead again for 5 to 10 minutes. Return to the buttered bowl for a second rising. When it has doubled in bulk, form into two loaves and place on a baking sheet sprinkled with cornmeal. Cover and let rise for 30 minutes. Slash with a sharp razor or knife, brush with slightly beaten egg white or water, and place in a cold oven set for 375° or 400°. Bake until nicely browned and hollow sounding when tapped with the knuckles.

Line the oven rack with tiles (see page 12), preheat the oven to 400°, and slide your bread loaves from the baking sheet directly onto the tiles, which have been sprinkled with cornmeal.

Add to the liquid in the first step 4 to 5 tablespoons olive oil and then proceed with either the original recipe or the whole-wheat variation. You may need to use a small additional amount of flour.

Use 1/3 white flour, 1/3 whole-wheat, and 1/3 cracked-wheat. This will give a very nice coarse, nutlike texture to the bread. With this mixture I would advise adding olive oil in the beginning to give tenderness.
1973 James A. Beard
YOUR RECENTLY VIEWED RECIPES