French Pumpkin Soup Baked and Served in the Shell
Cookbook
Published by Chronicle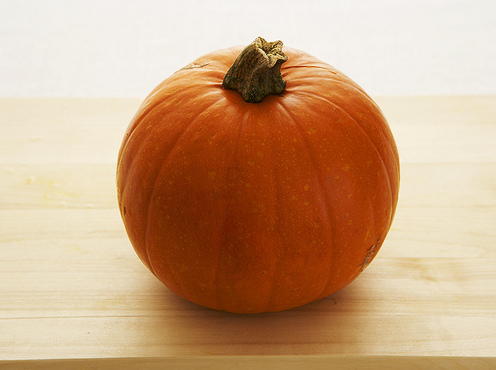 This image courtesy of Joseph DeLeo
For a festive meal, serve this soup as a main course for a light supper or lunch on a chilly autumn day. The heavy, dense flesh of the pumpkin helps it to hold its shape during baking. As it cooks, its juices are slowly released into the stock, where their flavor intensifies.
NotesWinter Squashes:

Buy a handsome winter squash when its beauty strikes you and allow it to sit on the table until the whim to cook it hits. Winter squash is the name for the many varieties of hard-skinned squash of South and Central America, such as the sturdy fall-colored delicata, Gold Nugget, Hubbard, Red Kuri, acorn, buttercup, kabocha, and all sorts of pumpkins. They all have a hard, indigestible skin in common and, like gourds, cucumbers, and melons, belong to the all-embracing Cucurbitaceae family. Whereas every bit of a summer squash is edible, winter squashes have a fleshy, usually golden to flaming orange interior with lots of big, hard seeds that are inedible unless hulled and roasted. In fact, today most pumpkins in the United States are ornamentals, primarily jack-o'-lanterns of the pepo species. These are direct relatives of Mexican pumpkins that were first cultivated for their seeds rather than their flesh.

Luckily for shoppers at the market, All Star Organics, a three-and-a-half-acre farm in Marin County, brings exceptional heirloom winter squashes to market every fall and winter. Farmers Marty Jacobson and Janet Brown are dedicated to growing heirloom and open-pollinated varieties of squash (and other crops) with a primary focus on diversity. "We are interested in providing our customers with the experience of diversity that exists within any category of food crop," explains Brown, who also has a day job at the Center for Ecoliteracy in Berkeley. They nourish their soil in part with sea kelp, which promotes strong growth; compost for nitrogen; ground up oyster shells for calcium; and granite rock powder for micronutrients. Wildflowers attract beneficial insects.

"The amount of nutrition stored in a winter squash is formidable:" says Brown, "and they will keep for months without refrigeration. No wonder so many cultures all over the world depend in part on squash for their diet." All Star gives market shoppers a chance to try a variety of these nutritional powerhouses, among them Long Island Cheese squash, which is squat shaped, fawn colored, and has a soft suede finish. Its dark reddish orange interior is densely flavored. The extraordinary French Rouge vif d'Etamps, which dates back to the 1840s and is also known as the Cinderella pumpkin (because it is shaped like Cinderella's carriage), is fantastic for making soup baked in the squash shell.

All Star Organics also raises delicious examples of more mainstream squashes, such as the butternut and buttercup. The butternut is the most common all-purpose squash, with firm, abundant, bright orange, creamy flesh and a thick neck that gives way to a bulbous, smooth bottom. Brown describes the buttercup as "squat and dark green, with an occasional scattering of warts. Blazing orange inside, the flesh is dry and flaky after baking, like a baked potato." The handsome delicata, with its yellow, green, and orange stripes and distinctive, nutty flavor (somewhere between a sweet potato and a butternut squash) is also popular and sold by other vendors at the market.

Season:

Late summer through March.

Choosing:

Squashes should be heavy for their size and free of soft spots.

Storing:

Store whole at cool room temperature for up to a few months. Janet Brown advises arranging squashes "in a single layer in a cool, dry place with at least modest air circulation," If the squash is cut, store it in the refrigerator wrapped in plastic wrap. It molds quickly if not chilled.

Preparing:

Typically, winter squashes are halved or cut into wedges, the seeds and strings are removed, and then the pieces are peeled, A large metal spoon is ideal for scooping the seed cavities clean. A microwave can make seeding and peeling go more quickly: Prick the squash in several places with a knife so it won't explode. Place the squash in the microwave and microwave on high for 4 minutes for small squashes and about 10 minutes for larger squashes, then halve, seed, and peel.

Don't throwaway your pumpkin seeds. Wash them in a colander under cold running water, rinsing away any strings, and then pat dry and toss with a little olive oil or melted butter and salt or other seasoning. Spread the seeds on a rimmed baking sheet and toast in a 325°F oven until golden brown and crisp, 30 to 45 minutes. Let cool and store in an airtight container.
Serves6 to 8
OccasionCasual Dinner Party, Family Get-together
Dietary Considerationegg-free, peanut free, soy free, tree nut free
Taste and Texturecheesy, creamy, herby, rich
Type of Dishhot soup, soup
Ingredients
1 rouge vif d'etamps (cinderella) pumpkin, 8 to 10 pounds
½ cup (¼ pound) unsalted butter, including 1 tablespoon at room temperature 
Salt
3 leeks, white part and 2 inches of green, cut into 1-inch-thick rounds
6 slices country bread, each 1 inch thick, torn into bite-sized pieces and toasted
½ teaspoon ground dried sage
½ teaspoon freshly grated nutmeg
Freshly ground black pepper
2 cups shredded gruyere cheese
About 5 cups chicken stock, preferably homemade
2 bay leaves
Instructions
Preheat the oven to 350°F.

Using a large, sharp knife, cut off the top of the pumpkin, creating a lid about 4 inches in diameter. Set the lid aside. Using a large metal spoon, scoop out any seeds and strings. Rub the cut side of the lid and the inside of the pumpkin with the 1 tablespoon room-temperature butter. Season the lid and the inside of the pumpkin with salt and place the pumpkin, cut side up, in a good-looking deep baking dish or pan that you can bring to the table. Set the lid aside.

In a skillet, melt the remaining 7 tablespoons butter over medium heat. Add the leeks and cook, stirring, until soft, about 8 minutes. Add the toasted croutons and sprinkle them with the sage, nutmeg, and a little salt and pepper. Stir well and remove from the heat.

Spoon a layer of the seasoned croutons into the pumpkin. Sprinkle a layer of the cheese on top of them. Repeat the layers until you have used up all the croutons and cheese. Pour in stock to within 1 inch of the rim. Lay the bay leaves on top, and then fit the lid onto the pumpkin.

Bake until the pumpkin begins to soften and brown on the outside and the stock bubbles on the inside, 1½ to 2 hours. Carefully remove the baking dish from the oven.

With a long-handled spoon, gently scrape the flesh from the bottom and sides of the pumpkin into the soup, being careful not to puncture the walls. Ladle the soup, including tender chunks of pumpkin flesh, into warmed bowls and serve.
2006 Christopher Hirsheimer and Peggy Knickerbocker
YOUR RECENTLY VIEWED RECIPES
Free recipes, giveaways, exclusive partner offers, and more straight to your inbox!