Cookbook
Published by Workman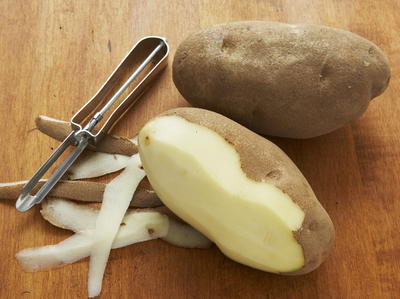 This image courtesy of Joseph DeLeo
The French are famous for their fried potatoes. Most Americans probably know only plain pommes frites, which are like skinny American French fries. But the French have a whole range of fried potatoes, each with a different shape, size, and name: chips, julienne, pailles (straws), allumettes (matchsticks), Pont-Neuf (thick-cut), gaufrettes (waffled), and soufflées. Most chefs peel their potatoes before trimming them into a basic rectangular shape that then can easily be cut into any other shape desired. I trim the potato with its skin on, there by peeling it at the same time and saving myself one step (see step 1, below). The general method for deep-frying potatoes below is followed by specific instructions for preparing and cooking, the individual varieties of pommes frites. When I am asked why potatoes fried in America don't taste like the potatoes fried in France, I reply that both our potatoes and the oil we use to fry them differ from what is used in France. The best flavor is achieved when a combination of animal fats (beef, veal, and pork) is used. Since animal fats are unhealthy, however, we avoid frying with them, sacrificing that true French flavor. The texture of fried potatoes in America also differs from the French because most of ours are made from the brown skinned Russets, while the French use a yellow potato closer in texture to our red-skinned potatoes (see "Yellow Potatoes," below).
NotesYellow Potatoes: One reason for the superior results the French achieve with fried potatoes is the yellow potato. Used extensively in Europe where they are prized for their flavor, creamy texture, and superb cooking qualities, yellow potatoes are now beginning to make their, appearance in American markets. Varieties to look for are Yellow Finnish, yellow Corolla, Delta Gold, and Golden Delite.


Serves4 to 6
Total Timeunder 30 minutes
OccasionFamily Get-together
Dietary Considerationegg-free, gluten-free, halal, kosher, lactose-free, low cholesterol, soy free, tree nut free, vegan, vegetarian
Five Ingredients or LessYes
Taste and Texturecrisp, salty
Ingredients
8 large potatoes
2 to 3 quarts light vegetable or peanut oil, for deep-frying
Salt
Instructions
Trim one side of the potato so it rests flat on your cutting board. Keep trimming the sides and turning the potato until four sides are square. Trim the ends, stand the potato on one end, and trim the remaining peel at the four edges. You will now have a classically trimmed potato, ready for slicing. (If you don't want to waste any potato, just peel it and don't trim it, but realize that some of your finished product will not be perfectly shaped.)

Prepare the potatoes according to the style of French-fried potato you want (see Variations), and soak the potatoes in a bowl of cold water until ready to use.

Place the oil in a deep-fryer with a frying basket and heat to the temperature specified for the style of potato you are making (see Variations). Temperatures will range from 320° to 400° depending on the thickness of the potato.

Drain the potatoes and dry between several layers of paper towels. Place about two handfuls of potatoes in the frying basket (any more and the temperature of the oil will drop, increasing the frying time and causing the potatoes to absorb too much oil). Slowly lower the potatoes into the hot oil. If the potatoes are wet, the oil may boil violently. Remove the basket at once. In such cases it may be necessary to lower the basket in steps to avoid excess spattering which can be dangerous. Shake the basket frequently to prevent the potatoes from sticking.

5. When the potatoes are done, drain them in the frying basket, then on paper towels. Sprinkle with salt before serving.

Variations

Pommes Chips (Potato Chips): The potatoes should simply be peeled and thinly sliced (a food processor works well), then fried in very hot oil (390° to 400°). The chips should be golden brown in about 2 minutes.

Pommes lulienne (Julienned Potatoes): The potatoes are first thinly sliced and then cut into thin julienne and fried as for pommes chips (above).

Pommes Pailles et Allumettes (Potato Straws and Matchsticks): Both are cut about 1/8 inch thick; allumettes (matchsticks) are 2 inches long and pailles (straws) are as long as the potato will allow. Both are fried at 375° until golden brown, about 3 minutes.

Pommes Pont-Neuf (Thick-Cut French Fries): These are 3½-inch-long French fries cut ½-inch square that need to be fried at two temperatures. First fry them at 350° for about 7 minutes. At this point the potatoes should be cooked but not browned. A potato pressed between thumb and fore-finger should crush. (If you are unaccustomed to handling very hot food, do not attempt this test. Instead, use the back of a spoon to crush the potato on a plate or counter.) This first frying can be done several hours ahead of time. Just before serving, the potatoes should be fried again at 390° to 400° for 1 to 2 minutes until golden brown.

Pommes Frites (French Fries); This term generally refers to potatoes cut into strips ¼-inch square and about 2½-inches long. They can either be fried like the pommes Pont-Neuf, requiring only about 5 minutes for the initial frying, and about 1 minute to brown at the higher temperature, or they can be fried all at once at 350° until they color 7 to 8 minutes.

Pommes Soufflées (Puffed Sliced Potatoes): These little air filled crunchy pillows take care and time to prepare, but are a guaranteed hit. Instead of cutting the potatoes into a rectangle, simply peel them. Slice them length wise into 1/8- to 3/16-inch-thick ovals and then fry in small batches at two temperatures. Care should be taken when slicing the potatoes to make sure they are evenly cut. Drop the slices by the handful into 325° oil. When the bubbling of the oil ceases, this first frying should be done. Use a frying skimmer to remove the slices and drain on paper towels. At this point, the potatoes should have little or no color. The second frying is done at 400° and the slices should immediately puff and brown. If they have not browned sufficiently, they will collapse on cooling. Should this happen, refry them and some will puff again. Not all slices will puff. These potatoes need to be practiced on your family and friends before attempting to impress guests. Serve the potatoes salted, in a napkin-lined serving dish.

Pommes Gaufrettes (Waffled French Fries)

To make gaufrettes, you will need a vegetable slicer with a ripple blade. The gaufrettes are round and are cut 1/8 inch thick. Make the first cut with the ripple slicer, then rotate the potato one-quarter turn to make the next cut. Continue to rotate the potatoes one quarter turn back and forth as they pass across the rippled blade to give them the traditional open basket-weave design that resembles a waffle. Cook as for the Pommes Chips on page 225, for about 3 minutes.
1988 Richard Grausman
YOUR RECENTLY VIEWED RECIPES
Free recipes, giveaways, exclusive partner offers, and more straight to your inbox!