Flour-based Brown Sauce
Cookbook
Published by Knopf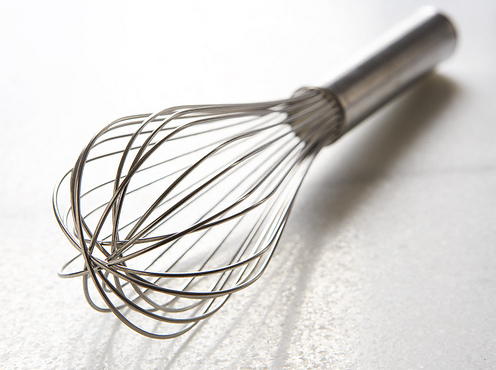 This image courtesy of Joseph DeLeo
This sauce most nearly approaching the traditional demi-glace. Its preliminaires are somewhat exacting, and it requires at least two hours of simmering; the longer it cooks the better it will be. It may be refrigerated for several days and freezes perfectly for several weeks.
NotesA NOTE ON BROWN ROUX

Brown roux, which is the thickening for this type of sauce, is flour and fat cooked together until the flour has turned an even, nut-brown color. For an ordinary sauce, the flour is cooked in rendered fresh pork fat, or in cooking oil. But if the sauce is to accompany a delicate dish, such as foie gras, eggs, or vol-auvent, the flour should be cooked in clarified butter—meaning the butter is melted and decanted, leaving its milky particles behind, as these burn and taste bitter.

It is important that the roux be cooked slowly and evenly. If the flour is burned, it will not thicken the sauce as it should, and it will also impart an unpleasant taste.


About1 quart of brown sauce

Taste and Texturemeaty, rich, savory
Ingredients
A heavy-bottomed, 2-quart saucepan
A wooden spatula or spoon
A wire whip
1/3 cup each: finely diced carrots, onions, and celery
3 Tb diced boiled ham (or diced lean bacon simmered for 10 minutes in water, rinsed, and drained)
6 Tb clarified butter, rendered fresh pork fat, or cooking oil
4 Tb flour
6 cups boiling brown stock or canned beef bouillon
2 Tb tomato paste
A medium herb bouquet: 3 parsley sprigs, ½ bay leaf, and ¼ tsp thyme tied in cheesecloth
Salt and pepper
Instructions
Cook the vegetables and ham or bacon slowly in the butter, fat, or oil for 10 minutes.

Blend the flour into the vegetables and stir continually over moderately low heat for 8 to 10 minutes, until the flour slowly turns a golden, nut brown.

Remove from heat. With a wire whip, immediately blend in all the boiling liquid at once. Beat in the tomato paste. Add the herb bouquet.

Simmer slowly, partially covered, for 2 hours or more, skimming off fat and scum as necessary. Add more liquid if sauce thickens too much. You should end up with about 4 cups of sauce, thick enough to coat a spoon lightly.

Correct seasoning. Strain, pressing juice out of vegetables. Degrease thoroughly, and the sauce is ready to use.

If not used immediately, clean off sides of pan, and float a film of stock over the top of the sauce to prevent a skin from forming. When cold, cover and refrigerate or freeze.
1961, 1983, 2001 Alfred A. Knopf
YOUR RECENTLY VIEWED RECIPES
Free recipes, giveaways, exclusive partner offers, and more straight to your inbox!