Flaky Cream Cheese Pastry
Updated February 23, 2016
Cookbook
Published by Harvard Common Press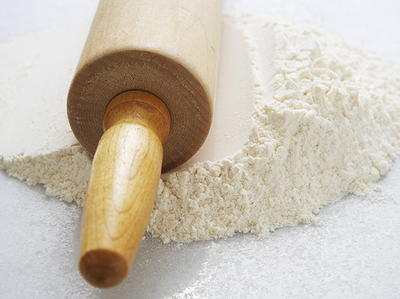 This image courtesy of Joseph DeLeo
I love this fine, tender pastry. It's about the only pastry I use to make hand pies (turnovers), and it's the perfect choice for thin, delicate, double-crust pies, such as Apple Applesauce Cherry Pie. Unlike the other pastries in this collection, the fats are incorporated into the dough not by cutting them in, but by creaming them together, then blending them into the dry ingredients–a method that ensures even distribution. One thing you should know about this crust is that a cream cheese dough, once you start to roll it, gets soft quicker than an all-butter pastry-so don't delay when you're working with this crust. For that reason, I prefer to make this pastry in the cooler months, not in the middle of summer. No matter when you make, it, though, here's a little trick: if the dough starts to get soft and sticks to your rolling pin, simply slide the pastry-waxed paper and all-onto a baking sheet and put it in the fridge for 5 minutes. Then take it out and continue to roll. This recipe is written for a large stand-up mixer fitted with a flat beater. If you don't have one, use the hand method.
Freezing Pie Dough:

Pie dough freezes beautifully I'll often plan to make a pie prepare the pastry, and then, for one reason or another, not get to it for a few days, sometimes–around thanksgiving, for instance–I just want to get as much done in advance as I can, so I'll make my pastry and freeze it the week before.

To freeze your pastry, simply wrap it in plastic as usual, then slip it into a plastic food storage bag, the day before you plan to roll the pastry, transfer it to the refrigerator; it will be thawed and ready to roll in the morning it's preferable to thaw the dough in the refrigerator rather than at room temperature, because you'll end up with less moisture on the surface. And it thaws more evenly: you won't be fooled into thinking the dough is ready to be rolled while the interior is still hard.

I seldom keep dough in the freezer for more than a week or two, but it will stay frozen, in good condition, for at least a month.

Dietary Considerationegg-free, halal, kosher, peanut free, soy free, tree nut free, vegetarian
Taste and Texturebuttery, crisp, rich
Ingredients
½ cup (1 stick) unsalted butter, at room temperature
4 ounces cream cheese, at room temperature
1 cup all-purpose flour
½ cup cake flour
2 tablespoons confectioners' sugar
Instructions
Put the butter and cream cheese in the bowl of a large stand-up mixer fitted with the flat beater attachment. Blend for 30 to 45 seconds on medium-low speed.

Sift the flours and confectioners; sugar into a medium-size mixing bowl. With the mixer on low, add the dry mixture to the creamed mixture about 1/3 cup at a time, blending reasonably well after, each addition. You don't have to wait until the previous addition has been entirely incorporated before adding the next, but do give it some time.

When all of the dry ingredients have been added and the dough starts to ball up around the beater, stop the machine. Remove the bowl and scrape the dough onto a lightly floured work surface. Knead the dough gently 3 or 4 times, then shape it into a ball. Place the ball on a lightly floured sheet of plastic wrap and flatten it into a disk about ¾ inch thick (unless the recipe instructs you to shape the dough into 2 balls for a double-crust pie). Wrap the disk in plastic and refrigerate for at least 1½ hours, until firm enough to roll.

To mix by hand: Using a wooden spoon, cream the butter and cream cheese together in a medium-size mixing bowl. Sift the dry ingredients together, as instructed above, then add them to the creamed mixture about 1/3 cup at a time, stirring well after each addition. When the dough coheres, proceed as directed above.
2002 Ken Hardrich
YOUR RECENTLY VIEWED RECIPES