Cookbook
Published by Workman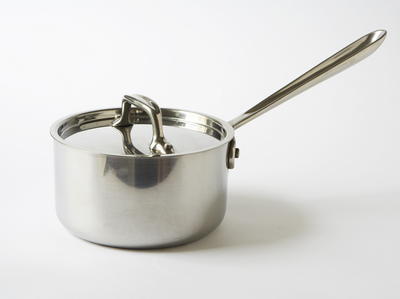 This image courtesy of Joseph DeLeo
A fumet de poisson is a fish stock, which can be made from the bones and heads of any fresh fish you buy. It is used in cooking fish and for making soups and sauces. The fish stock can also be reduced to a syrupy Glace de Poisson, which can be stored and used for sauces and soups when stock is not available. Fresh fish may be difficult to find in many areas of the country, making heads and bones nonexistent. In such cases, search for a fish wholesaler in the area. Although most fish is being processed on the two coasts and flown minus heads and bones to many parts of the country, many wholesalers buy large whole fish, because they remain fresher in that condition. They fillet them locally before selling in smaller portions. You may be able to buy bones from these wholesale markets for your stock. When buying heads and bones to make a fish stock, use a variety of fish. Make sure to remove all traces of liver and to cut away the gins. If time permits, soak the bones and heads in ice water to extract any remaining blood. This will help to produce a light and delicate stock.
If using mushrooms, do not use the dark brown undersides of the cap (the gills); use only the light-colored portions of the cap and stems.



Ingredients
2 pounds fish bones and heads (avoid oily, strong-flavored fish such as mackerel and bluefish)
2 tablespoons butter
1 onion, sliced
¼ pound mushrooms, light parts only, sliced (optional, see Notes)
10 sprigs parsley
¾ cup dry white wine
3 cups water
Instructions
Cut away all traces of the liver and the gills from the bones and fish heads. If you have time, soak the bones and fish heads in ice water for at least 20 minutes to extract any remaining blood.

In a large saucepan, heat the butter over medium heat. Add the onion, mushrooms, and parsley and gently sauté over medium heat until the onion is softened but not browned, about 3 minutes.

Add the fish heads and bones, cover, and cook for 15 minutes.

Add the wine, increase the heat to high, and reduce the liquid, uncovered, by half, about 3 minutes.

Add the water, bring to a boil, reduce the heat, and simmer, uncovered, for 15 minutes.

Strain the stock and allow it to cool uncovered before refrigerating.
1988 Richard Grausman
YOUR RECENTLY VIEWED RECIPES