Fish Soup with Rouille
Cookbook
Published by Stewart, Tabori & Chang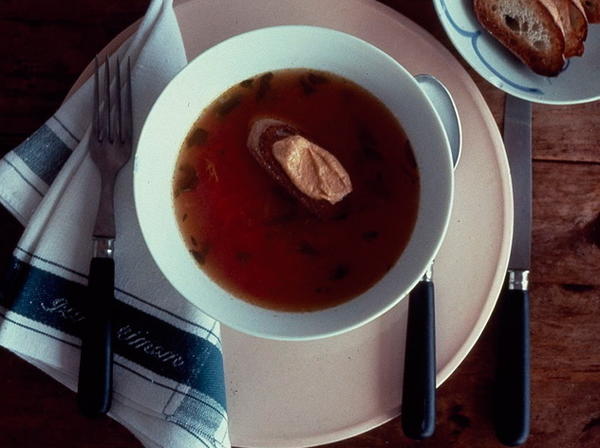 NotesTo substitute for fresh fish stock, bring 1 quart of chicken broth (preferably fresh, or use low-sodium canned), 1 quart water, 1 cup dry white wine, and 3 or 4 fish bouillon cubes to a simmer over high heat, then simmer for 10 minutes.
Serves6
Recipe Coursehot appetizer
Five Ingredients or LessYes
Taste and Texturegarlicky, herby, hot & spicy, savory, spiced
Ingredients
1 small red bell pepper
1 (2-inch-thick) slice French bread
¼ cup red wine vinegar
2 egg yolks, at room temperature
4 garlic cloves, chopped
¼ teaspoon crushed hot pepper flakes
Salt and freshly ground black pepper, to taste
About 1 cup olive oil
2 tablespoons boiling water
1 loaf French bread, cut into ½-inch-thick slices
3 pounds fish bones, including heads, backbone, and tails (use the bones of any white fish; avoid oily fish such as mackerel, blue fish, and salmon)
2 medium onions, chopped
2 celery ribs, chopped
2 carrots, chopped
1 small fennel bulb, chopped
2 strips orange zest
2 sprigs fresh thyme, or 1 teaspoon dried
2 bay leaves
5 black peppercorns
6 fresh parsley sprigs
2 cups dry white wine
¼ cup extra virgin olive oil
1 medium onion, chopped
2 pounds ripe tomatoes, peeled, seeded, and chopped
2 quarts fresh fish stock (see above and Note)
2 medium carrots, cut into 2-inch julienne
2 small leeks, washed, cut into 2-inch julienne, rewashed, and drained
1 small celery heart (white part only) cut into 2-inch julienne
¼ cup chopped flat-leaf parsley
¼ cup chopped fresh basil
1 teaspoon chopped fresh thyme leaves
1 teaspoon chopped fresh tarragon leaves
¼ teaspoon saffron threads, crumbled
2 ounces Ricard or Pernod (optional)
Salt and freshly ground black pepper, to taste
Grated Parmesan cheese, for serving
Instructions
Prepare rouille: Using a long handled fork, char the pepper on all sides over a gas flame or charcoal grill. When the skin bubbles and blackens, remove from the heat. When cool enough to handle, scrape away the charred skin, remove the stem, and scrape away the seeds.

In a small bowl, let the bread slice soak up the vinegar, then squeeze out the vinegar.

In a food processor fitted with the metal blade, combine the roasted pepper, bread, egg yolks, garlic, hot-pepper flakes, salt, and pepper. Pulse the mixture on and off until smooth. With the machine running, gradually add the olive oil in a slow steady stream and process until the mixture is the consistency of thick mayonnaise. Add the boiling water to lighten the mixture. Scrape the mixture into a bowl, cover, and set aside. (The rouille can be prepared 1 day ahead and refrigerated. Bring to room temperature before use.)

Prepare the croutons: Preheat the oven to 350°F. Place the bread on a baking sheet and bake 10 to 15 minutes until golden brown. Set the croutons aside.

Prepare the stock: Rinse the fish bones well under cold running water, checking to be sure the gills have been removed.

Place the fish bones and all the remaining ingredients in a large soup kettle, and add enough cold water to cover. Bring the stock to a boil over high heat. Reduce the heat to low and simmer for 1 hour. Remove from the heat and cool.

Line a strainer or colander with a damp kitchen towel or a double thickness of damp cheesecloth and place it over a clean pot. Ladle the stock into the strainer, then add the bones and vegetables. Let the stock drain for 15 minutes. Do not press out the juices. Set aside. (Makes about 2½ quarts; the stock can be prepared up to 2 days ahead if kept covered and refrigerated, or frozen for up to 1 month.)

Prepare the soup: In a large nonreactive stock pot. heat the olive oil over medium heat. Add the onion and sauté until wilted and translucent, about 10 minutes. Add the tomatoes and their juice and simmer for 10 minutes. Add the stock, bring to a simmer, and cook for 5 minutes. Add the carrots, leeks, and celery and simmer for 10 minutes or until the vegetables are tender but not overcooked.

Stir in the parsley, basil, thyme. tarragon, saffron, and optional Ricard and simmer for another 10 minutes. Season with salt and pepper.

Ladle the soup into warm soup plates. Spread some of the rouille on top of a crouton and float on top of the soup. Accompany with grated Parmesan cheese and additional croutons and rouille.
1997 Christopher Idone
YOUR RECENTLY VIEWED RECIPES
Free recipes, giveaways, exclusive partner offers, and more straight to your inbox!