Cookbook
Published by Broadway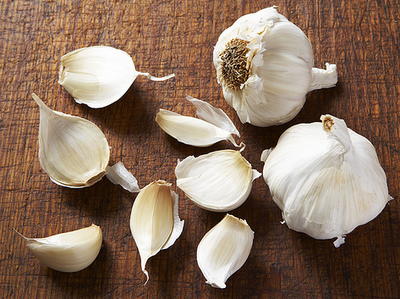 This image courtesy of Joseph DeLeo
Good stock in the box is like money in the bank," Chef Jamie likes to say. Forget the shortcuts. Stock is a strained liquid that has had meat, fish, or vegetables cooked in it, and good, clear stocks are the foundation of most of our cooking. A good stock gives you flavor without making a soup or sauce unnecessarily heavy. Our Oyster Chowder is a good example of how we use this stock. For home cooking, freeze stock so it's available whenever you need it.

Ingredients
2 pounds fish bones, cut up (they should be from non-oily fish; you can also use crabs, shrimp heads, or a combination)
2 tablespoons olive oil
8 cloves garlic, peeled
1 small onion, diced
1 bunch green onions, sliced
2 stalks celery, diced
2 teaspoons salt
1½ cups white wine
Juice of 1 small lemon
2 quarts cold water
2 teaspoons whole black peppercorns
2 bay leaves
6 parsley stems
2 large sprigs fresh thyme or 1 teaspoon dried thyme
Instructions
RInse the bones thoroughly, until the water runs clear. Drain and set aside.

Combine the olive oil, garlic, diced onion, green onions, celery, and salt in a stockpot over medium heat, and stir. Simmer until the vegetables are softened, about 5 minutes. Add the fish bones and stir, simmering, for 5 minutes. Add the wine and lemon juice, cook for 1 minute, and add the cold water, peppercorns, bay leaves, parsley stems, and thyme.

Bring the mixture almost to a boil, and skim off any impurities. Simmer for about 20 minutes, turn off the heat, and let sit for 10 more minutes.

Strain the stock through a cheesecloth-lined sieve set over a container that fits well. Ladle the stock from the pot. Do not pour it and do not disturb the solid ingredients or you risk allowing impurities into the finished stock that can cloud the liquid.
2000 Commander's Palace, Inc.
YOUR RECENTLY VIEWED RECIPES