Fish Broth
Cookbook
Published by William Morrow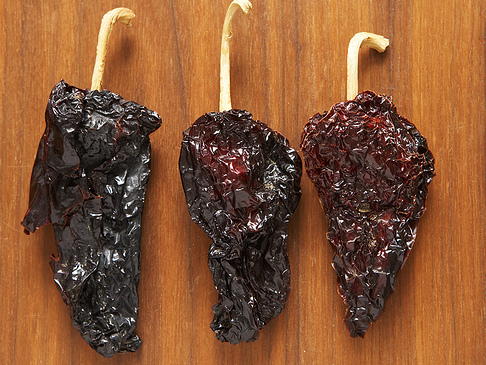 This image courtesy of Joseph DeLeo
One of the most important ingredients in a really good fish soup or sauce is a well-made fish broth. This version that I've developed is rich without being strong or fishy, it has additions that enhance the piscine flavor, and it has a nice, reddish-brown hue. In Mexico, the heads and bones are always sold beside the fillets and such; in the United States, you need to call ahead to the fish markets to have them reserved.
Notes
Techniques:
Simmering Fish Broth: Unlike other broths, fish broth gets bitter and strong if simmered more than 20 or 25 minutes.
Ingredients:
Fish Heads and Bones: They must be fresh and have the bloody gills (which cloud the broth) removed. Avoid overly strong or oily fish like most salmon, mackerel and bluefish.
Timing and Advance Preparation:
It takes 40 minutes to prepare the broth. Covered and refrigerated, it keeps 3 days.
About2 quarts
Type of Dishfish soup, stock
Ingredients
2 pounds fish heads (gills removed) and bones
1 rib celery, roughly chopped
1 small onion, sliced
1 medium-large carrot, roughly chopped
2 large cloves garlic, peeled and halved
2 tablespoons vegetable oil
1 small dried chile ancho, stemmed and seeded (optional)
1 ripe, medium-large tomato (or 1½, if you're not using the chile ancho), sliced OR 2/3 15-ounce can tomatoes (or an entire 15-ounce can, if you're not using the chile ancho), drained and roughly chopped
2 bay leaves
1½ teaspoons mixed dried herbs (such as thyme and marjoram)
4 sprigs fresh coriander (cilantro)
½ teaspoon black peppercorns, very coarsely ground
¼ teaspoon anise seed
4 strips of orange zest (orange rind only, no white), each about ½ inch wide and 2 inches long
Instructions
Preliminaries: Rinse the heads and bones, then place in a large saucepan along with the celery, onion, carrot, garlic and vegetable oil. Stir to coat the fish and vegetables lightly with oil, place over medium heat, cover and cook, stirring occasionally, for 8 minutes.

Simmering, straining and degreasing: Uncover and add the chile ancho, tomato, bay leaves, herbs, spices and orange zest. Pour in 10 cups water, partially cover and simmer gently over medium to medium-low heat for 20 minutes.

Strain through a fine-mesh sieve and discard the solids. Skim off the fat that rises and it is ready to use.

Traditional Variations

Sopa de Pescado: Half a recipe of this delicious broth can be turned into about 1½ quarts very good Mexican fish soup: Fry 1 small onion (sliced) in a little olive oil until lightly browned, then add 2 medium-small tomatoes (roasted or boiled, cored, peeled and chopped) or a 15-ounce can of tomatoes (drained and chopped); cook until reduced and thick. Add the broth and a big sprig epazote (or ½ teaspoon dried oregano); simmer 20 minutes. Add 1 to 1½ pounds boneless, skinless fish fillets (cubed) and simmer gently for several minutes, until the fish is tender (½pound of the fish can be replaced with 12 whole clams and ½ pound shrimp or tender-simmered squid or octopus for a sopa de mariscos). Serve with wedges of lime, plus a bowl of chopped onion and fresh coriander to sprinkle on. This is also good with ½ cup sliced, pitted green olives and/or 3 medium boiling potatoes, added with the broth.
1987, 2007 Rick Bayless and Deann Groen Bayless
YOUR RECENTLY VIEWED RECIPES
Free recipes, giveaways, exclusive partner offers, and more straight to your inbox!