Cookbook
Published by Chronicle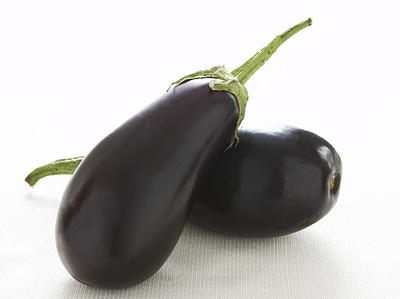 This image courtesy of Joseph DeLeo
Despite the reference to and use of Parmigiano-Reggiano, the famous cheese of the northern region of Parma, this universally Italian dish, sometimes referred to as melanzane alla napoletana, originated in Naples sometime after the tomato was accepted as nonpoisonous in the eighteenth century. In Italy, eggplant parmigiana might be served as an antipasto, as a pietanza (a complete meal), or as a contorno. Restaurant and pizzeria versions in America are sometimes disappointing, with the eggplant too heavy and greasy and the tomato sauce unpleasantly bitter from an overdose of oregano (the original version contains no oregano) and from overcooking. This heavy-handedness with oregano (authentic italian tomato sauces rarely, if ever, contain oregano) and cooking to death of tomato sauce are particularly common mistakes. Pecorino, a sharper sheep's milk cheese, may have originally been used in place of parmigiano. But parmigiano has become a universal cheese, and no melanzane alla parmigiana would be the same without it. In naples, however, caciocavallo, also called scamorza, a slightly aged, hard mozzarella, is sometimes used in place of buttery-soft fresh mozzarella. Many recipes for this dish call for larger quantities of cheeses, but I find that too much cheese detracts. A variation on this dish is to make it with zucchini instead of eggplant. Select small or medium zucchini, cutting and cooking them just as you would eggplant. Zucchini, however, require no salting prior to cooking. A good eggplant parmigiana can be made by broiling or grilling the eggplant slices rather than frying them. It produces a lighter dish than the frying method. For best results, however, the eggplant should be baked in a single layer. This means that you must have six baking dishes, each approximately eight by twelve inches, for three pounds of eggplant. The procedure follows in method 2.
Ahead-of-time: The sauce can be made 2 or 3 days in advance. Although the dish is best when freshly made, it can be assembled and refrigerated the day before, and then baked before serving. Alternatively, bake the dish a day in advance, cover and refrigerate; the next day reheat in a preheated 400 degree F oven for about 20 minutes.
For6 people
OccasionBuffet, Casual Dinner Party, Family Get-together
Recipe Courseantipasto/mezze, appetizer, main course, side dish
Dietary Considerationpeanut free, soy free, tree nut free, vegetarian
Equipmentbaking/gratin dish
Taste and Texturebubbly, cheesy, herby, savory, tangy
Type of Dishcasserole, vegetable
Ingredients
3 eggplants (about 3 pounds total weight)
2½ pounds very ripe, vine-ripened plum tomatoes, cut into quarters;1 can (28 ounces) plum tomatoes in purée, roughly chopped; or 2 cans (28 ounces) plum tomatoes
¼ teaspoon salt, or to taste
1 cup all purpose flour for dredging
Salt
Freshly milled white or black pepper
Safflower oil for frying
Unsalted butter for greasing baking dish
Lightly toasted fine dried bread crumbs for coating baking dish
¼ cup chopped fresh basil
1 pound fresh mozzarella, thinly sliced or shredded
½ cup freshly grated Parmigiano-Reggiano
3 eggplants (about 3 pounds total weight)
2 tablespoons extra virgin olive oil
1 onion, finely chopped
2½ pounds vine-ripened plum tomatoes, peeled, seeded, and finely chopped, or 1 can (28 ounces) plum tomatoes in their own juices, drained, seeded, and chopped
½ teaspoon salt
Freshly milled white or black pepper
5 tablespoons extra virgin olive oil
¾ cup fine dried bread crumbs, lightly toasted
¼ cup chopped fresh basil
½ pound mozzarella, finely sliced or shredded
¾ cup freshly grated parmigiano
Instructions
Cut the stems and navels off the eggplants and cut them crosswise into rounds ¼ inch thick. Sprinkle each slice lightly with salt. Place the rounds in a colander, standing them upright so the bitter liquid from the seeds drains off easily, about 40 minutes.

Meanwhile, to make the sauce, put the tomatoes in a saucepan. Cook uncovered over gentle heat, stirring occasionally, until thickened, about 40 minutes. If you see that the tomatoes give off a great deal of water, drain off excess liquid as they cook. Remove from the heat and let cool slightly, then pass the tomatoes through a food mill, using the attachment with the largest holes to get a smooth purée and pressing to get as much of the pulp as you can through the holes. If the purée is too thin to be a good sauce consistency (this will depend upon the texture and water content of the tomatoes), return it to a saucepan and simmer gently for up to 20 minutes longer. Season with the salt and pepper to taste.

Place a large sheet of waxed paper on the kitchen counter. Pour the flour into it and then season the flour with salt and pepper to taste.

Use a clean kitchen towel or paper towels to blot the salt and sweat from the eggplant. In a skillet over medium-high heat, pour in oil to a depth of 1 inch. Heat the oil until it is hot enough to make the eggplant sizzle. As soon as the oil is hot enough, but not before, dredge several eggplant slices in the flour, shake off the excess flour, and slip them into the hot oil. Fry on both sides, turning once, until tender and golden, about 8 minutes total cooking time. Remove to paper towels to drain well. Fry the remaining slices, dredging them only when you are ready to fry them.

Preheat an oven to 400 degrees F. Butter a 10-by-14-inch baking dish and coat it with the crumbs, shaking out any excess. (A smaller baking dish will do just fine, but it will result in a smaller casserole with a greater number of layers. I prefer to use a dish that will result in fewer layers.) Before placing each slice of eggplant in the dish, blot it with fresh paper towels once. Place a layer of eggplant in the dish, a little of the sauce, some of the chopped basil, then a layer of mozzarella, and finally a sprinkling of parmigiano. Continue layering the ingredients in this order, ending with a layer of eggplant smeared with sauce and sprinkled with parmigiano and the remaining basil (the green of the basil makes the dish exceptionally pretty).

Cover the baking dish loosely with aluminum foil and slide it onto the top rack of the oven; Bake until bubbly, about 20 minutes. Remove from the oven and allow to settle for 10 minutes before serving. Serve hot or at room temperature.

Method two:

Slice, salt, and blot the eggplants as directed in Method 1.

Meanwhile, make the sauce. In a saucepan over medium heat, warm the olive oil. Add the onion and sauté gently until softened, 7 to 8 minutes. Add the tomatoes, salt, and pepper to taste, and stir well. Cover partially and simmer over medium-low heat until a thick sauce forms, about 1 hour. Stir occasionally. If the tomatoes contain a great deal of water, it may be necessary to pour off excess liquid.

Preheat a gas or electric grill or broiler, or prepare a fire in a charcoal grill. Brush the eggplant slices on both sides with the oil. If using an indoor or outdoor grill, cook the slices, turning once, until they are lightly colored on both sides; do not char them. If using a broiler, place the eggplant slices on baking sheets about 6 inches from the heat. Broil, turning once, until lightly colored, a total of 5 or 6 minutes.

Preheat an oven to 325 degrees F. Dip the eggplant slices in the crumbs and arrange them in a single layer in 6 baking dishes each measuring 8 by 12 inches. Using a spoon smear each slice with some of the sauce, then sprinkle with basil, top with mozzarella, and sprinkle with parmigiano. Bake, uncovered, until the cheese melts and is lightly golden, about 15 minutes. Serve hot or at room temperature.
1994 Julia della Croce
YOUR RECENTLY VIEWED RECIPES
Free recipes, giveaways, exclusive partner offers, and more straight to your inbox!