Egg Bagels
Cookbook
Published by Houghton Mifflin Harcourt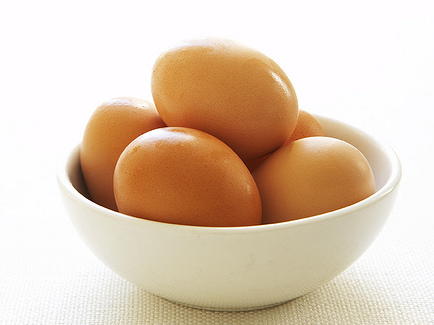 This image courtesy of Joseph DeLeo
Homemade bagels are easy to make. They taste great and have a wonderful aroma as they bake. They will not be as perfectly shaped as commercial ones but you can be sure they will disappear quickly. Use either a mixer with a dough hook or mix dough by hand. If you're baking them ahead, you can wrap them in plastic and keep them 2 days at room temperature. You can also freeze them and reheat them before serving. (This recipe yields more bagels than other recipes to keep ingredients easier to measure.)
NotesFresh bagels with lox and cream cheese are the quintessential Jewish brunch treat. In our family, we have always loved this wonderful combination.

Bagels were brought to the United States by Ashkenazic Jews.

In the old days they were served with a little butter, as lox was too expensive. Bagels used to be available only in American cities with substantial Jewish populations-at bagel bakeries and some supermarkets. Bon Appètit magazine presented bagels as a top trend in 1997, and now they have moved past a trend; they are loved and available everywhere.

And it's not just in the United States. In France, for example, poppy seed bagels with cream cheese and smoked salmon are now sold at Fauchon's, Paris' showcase delicatessen.

Bagels are easy and fun to make at home. They taste great, often better than the ones you buy. When you bake your own, you don't add artificial flavorings, which I find mar the flavor of some commercially available bagels.

Because of their brief rising and baking time, bagels are one of the fastest yeast breads to make. What is unique about bagels is that they are boiled before they are baked. This gives them their special texture and enables them to bake quickly.

Bagel spreads of cream cheese mixed with chopped lox, chives, or other herbs are easy to make at home and, of course, much more economical. Besides, you can use the type of cream cheese you prefer and the amounts of seasonings to your own taste.

With bagels' new-found popularity, they have become available in numerous new flavors, from herbs to garlic to nuts to blueberry to chocolate chip. Although lox and cream cheese remains the favorite topping, today there is a much greater choice of spreads or "shmears," as they are called in Yiddish. Many of these spreads are now made with ingredients not at all associated with Ashkenazic cooking, like sun-dried tomatoes, spinach, and goat cheese.
Makes18 bagels
Dietary Considerationvegetarian
Taste and Texturechewy, savory
Ingredients
6 cups bread flour
1 cup plus 2 tablespoons lukewarm water
2 envelopes dry yeast (½ ounce or 5 teaspoons)
2½ tablespoons sugar
1/3 cup vegetable oil
4 large eggs
2½ teaspoons salt
2 or 3 teaspoons sesame, poppy, or caraway seeds, or a mixture (optional)
Instructions
Sift flour into mixer bowl or another large bowl. Make a well in center of flour. Pour in ½ cup lukewarm water. Sprinkle yeast on top and add 1 teaspoon sugar. Leave 10 minutes until yeast is foamy. Add another 2 teaspoons sugar, oil, 3 of the eggs, remaining ½ cup plus 2 tablespoons water, and salt to well in center of flour. Mix with dough hook or with a wooden spoon until ingredients begin to come together into a dough. If using mixer, beat dough until smooth. If mixing with a spoon, when adding flour becomes difficult, mix in remaining flour with your hands.

Knead dough vigorously on a work surface about 10 minutes or until very smooth and no longer sticky. Put dough in a clean oiled bowl, cover with a damp cloth, and let rise in a warm place about 1 hour or until light but not doubled.

Shape bagels (see Shaping Bagels. below). Then, preheat oven to 400°F. To boil bagels, bring 2 quarts water and 1½ tablespoons sugar to a boil in a large saucepan. Add 3 or 4 bagels and boil 1 minute. Turn them over and boil 1 minute. If holes begin to close, force them open with handle of a wooden spoon. With a slotted spoon, transfer them to a cloth or to paper towels. Repeat with remaining bagels.

Put bagels on 2 or 3 lightly floured or greased baking sheets. Beat remaining egg with a pinch of salt. Brush egg over bagels. Sprinkle with seeds, if using.

Bake bagels about 20 minutes or until browned; if baking sheets don't fit on center rack, bake them one above the other and switch their positions after 10 minutes. If not serving them right away, cool them on a rack and wrap them

Make bagel dough and let it rise. (If you prefer, you can make the dough 1 day ahead, let it rise 30 minutes and punch it down. Then cover it with a damp cloth or plastic wrap so it doesn't dry out and refrigerate it overnight. Let it come to room temperature before shaping bagels.)

Knead the risen dough lightly. Roll dough into a thick log. For every cup of flour, cut into 3 pieces with a floured knife to make 3 bagels. (4 cups of flour yields 12 pieces.)

Roll each piece of dough into a very smooth ball by holding it under your cupped palm on an unfloured surface, and rolling it over and over while pressing it firmly on the surface. The more the dough is rolled, the more evenly shaped and smooth the final bagel will be.

Flatten one ball slightly. Make a hole by flouring your index finger and pushing it through the center of the dough ball. Twirl the dough around your finger on the work surface to stretch the hole; then insert 2 fingers and continue twirling until hole is about 1 inch in diameter and evenly round.

Gently pull the edges to even out the shape of the bagel. Transfer the bagels to a floured board. Cover and let rise 15 minutes. Boil and bake them as directed in each recipe.
2000 Faye Levy
YOUR RECENTLY VIEWED RECIPES
Free recipes, giveaways, exclusive partner offers, and more straight to your inbox!