Dry-Brined Roasted Turkey with Sage and Cider Gravy
Cookbook
Published by William Morrow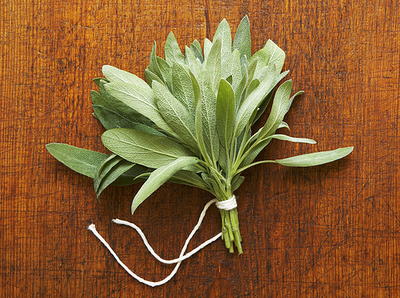 While I am perfectly happy with the simple roasted turkey that I have been teaching for years (cover the breast with foil and kiss worries about dry white meat good-bye), I do want to acknowledge other cooking methods. Salting the bird a day ahead does a nice job of seasoning the turkey without overwhelming it with unnecessary flavors. This amount of salt and herbs works for a 16- to 18-pound bird, but it can be adjusted a tablespoon or two in either direction for larger or smaller birds; it is better to under-salt slightly than to oversalt. Dry-brining only works with fresh, "all natural" turkeys. Do not use any turkey that has been injected with sodium solutions (frozen turkeys are always processed this way), or the bird will end up too salty. This recipe may seem long, but believe me, it is easy, and it's only lengthy because I've provided details to be sure that your holiday bird will be the best it can possibly be.
Make-Ahead: Salt and refrigerate the turkey the day before roasting

Turkey Talk

Turkey is an enormous subject; I have written two books about it, Here are a few tips to guarantee a great holiday bird on your table.

A fresh turkey has the most natural flavor. The easiest rule of thumb for serving portions is to estimate 1 pound of uncooked turkey per person as the bones can make up a fair amount of the weight. There's no difference in flavor between a hen and a tom so just buy a turkey of the size you need.

Use a high quality roasting pan; which will absorb the oven heat and help create dark, rich drippings that in turn make great gravy.

An accurate meat thermometer is a must. Don't trust the pop-up thermometers that come with some turkeys as they often get glued shut by the roasting juices. My favorite thermometer is the digital probe thermometer with the readout that sits outside of the stove. which indicates the temperature without requiring that you open the door.

Basting does not keep the bird most, but it does help create a gorgeous browned skin. Don't overdo basting as every time the oven door is opened the temperature will drop.

Be sure to let the roasted turkey stand at room temperature for at least 30 minutes before carving to a low the hot juices in the bird to redistribute themselves. This also gives you a good-size window for heating side dishes and making gravy.

Do not bother to tent the bird with foil. This only allows steam to gather, which will soften the skin.


Cooking Methodbrining, roasting
OccasionBuffet, Family Get-together
Five Ingredients or LessYes
Ingredients
One 16- to 18 pound fresh turkey
1 tablespoon vegetable oil
1 small onion, chopped
1 small celery rib, chopped
1 small carrot, chopped
2 large turkey wings (about 1 pound each), chopped between the joints (optional)
2 quarts canned low-sodium chicken broth
4 parsley sprigs
¼ teaspoon dried thyme
¼ teaspoon dried peppercorns
1 bay leaf
6 tablespoons kosher salt
1¼ teaspoons dried thyme
1¼ teaspoons dried rubbed sage
1¼ teaspoons crumbled dried rosemary
1¼ teaspoons dried marjoram
1 teaspoon freshly ground black pepper
2 bay leaves, well crumbled
8 tablespoons (1 stick) unsalted butter, at room temperature, plus more if needed
Salt and freshly ground black pepper
¾ cup all-purpose flour
½ cup hard apple cider
1 tablespoon finely chopped fresh sage
Instructions
The day before roasting the turkey, remove the neck and giblets from the turkey. Using a heavy knife or a cleaver, chop the neck into 2-inch chunks. Discard the liver, or save for another use. Pull out the yellow fat pads on either side of the tail (some producers remove these), cover, and refrigerate. Set the turkey aside.

To make the turkey stock, heat the oil in a large soup pot over medium-high heat. Add the turkey neck and giblets and cook, turning occasionally, until well browned, about 10 minutes. Add the onion, celery, and carrot and cook, stirring occasionally, until the onion softens, about 5 minutes. If using the wings, add them to the pot at this point, but no need to brown them. Add the broth and enough cold water to cover the turkey parts by 1 inch. Bring to a boil over high heat, skimming off any foam that rises to the surface. Add the parsley, thyme, peppercorns, and bay leaf. Reduce the heat to low. Simmer, uncovered, until the stock is full-flavored, about 3 hours. Strain through a wire sieve into a bowl. You should have about 2½ quarts broth; add more chicken broth or water, if necessary. Cool completely. Cover and refrigerate overnight.

To make the dry brine rub, mix the salt, thyme, sage, rosemary, marjoram, ground pepper, and bay leaves in a small bowl. Rinse the turkey inside and out, but do not pat dry. Place the turkey in a turkey-size oven roasting bag. Sprinkle the dry brine inside and on the outside of the bird, coating it evenly. Close the bag and refrigerate for 18 to 24 hours.

The next day, position a rack in the lowest position of the oven and preheat to 325°F. Scrape off and discard the solidified fat on the surface of the stock. Transfer the stock to a large saucepan and bring to a boil over medium heat. Remove the stock from the heat.

Remove the turkey from the bag and rinse thoroughly under cold water. Pat the turkey skin dry. Turn the turkey on its breast. Loosely fill the neck cavity with stuffing (or with the chopped vegetable mixture; see Variation). Using a thin wooden or metal skewer, pin the turkey's neck skin to the back. Fold the turkey's wings akimbo behind the back or tie to the body with kitchen string. Turn the turkey over. Loosely fill the large body cavity with stuffing. Place any remaining stuffing in a lightly buttered casserole, cover, and refrigerate to bake later as a side dish. Place the drumsticks in the hock lock (the metal or plastic implement that some producers insert in the tail area) or tie together with kitchen string.

Place the turkey, breast side up, on a rack in the roasting pan. Rub all over with the softened butter. Season with salt and pepper. Tightly cover the breast area with aluminum foil. Pour 2 cups of the turkey stock into the bottom of the pan. Add the reserved turkey fat to the pan.

Roast the turkey, basting allover every 45 minutes or so with the juices on the bottom of the pan (lift up the foil to reach the breast area), until a meat thermometer inserted in the meaty part of the thigh (but not touching a bone) reads 180°F and the stuffing is at least 160°F, about 4 hours. (See Estimated Roasting Times, page 51.) Whenever the drippings evaporate to a brown glaze, add stock or water to moisten them (about 1 cup at a time). During the last hour, remove the foil and baste a couple of times with the pan juices.

Transfer the turkey to a large serving platter and let it stand for at least 30 minutes before carving. Increase the oven temperature to 350°F. Drizzle ½ cup of the turkey stock over the stuffing in the casserole, cover, and bake until heated through, about 30 minutes.

Meanwhile, pour the drippings from the roasting pan into a heat-proof glass bowl or measuring cup. Let stand for 5 minutes; then skim off and reserve the clear yellow fat that rises to the top. Measure 9 tablespoons fat, into a small bowl, adding melted butter if needed. Add enough turkey stock to the skimmed drippings to make 6 cups total.

. Place the roasting pan over two stove burners on low heat and add the 9 tablespoons of turkey fat. Whisk in the flour, scraping up the browned bits on the bottom of the pan, and cook until lightly browned, about 2 minutes. Whisk in the cider, and then the stock mixture. Bring to a boil, then reduce the heat to medium-low. Simmer, whisking often, until the gravy has thickened and no trace of raw flour flavor remains, about 5 minutes. Strain into a clean 2-quart measuring cup. Season the gravy with salt and pepper, then stir in the sage. Pour into a warmed gravy boat. Carve the turkey and serve the stuffing and gravy alongside.

Not everyone likes to stuff turkey, and en unstuffed bird roast more quickly than a stuffed one. If you prefer, stuff the bird with vegetables and herbs to flavor the meat and juices, but these will not be served as a side dish. Mix 1 onion, 1 celery rib, and 1 carrot, chopped, with 2 teaspoons chopped fresh parsley and 1 teaspoon each dried rosemary, thyme, sage, and marjoram. Use the vegetable mixture to stuff the neck and cavities. After roasting the tilt it so the tasty juices run out the body cavity into the roasting pan to add flavor to the gravy.

(Oven Temperature: 325°F)

Add an extra 30 minutes to the roasting time to allow for variations in roasting conditions. It's better to have the turkey done ahead of time than to keep everyone hungry and waiting for the bird to finish roasting.

8 to 12 Pounds 2¾ to 3 Hours

12 to 14 Pounds 3 to 3¾ Hours

14 to 18 Pounds 3¾ to 4¼ Hours

18 to 20 Pounds 4¼ to 4½ Hours

20 to 24 Pounds 4½ to 5 Hours

8 to 12 Pounds 3 to 3½ Hours

12 to 14 Pounds 3½ to 4 Hours

14 to 18 Pounds 4 to 4¼ Hours

18 to 20 Pounds 4¾ to 5¼ Hours

20 to 24 Pounds 4¾ to ¼ Hours
2008 Rick Rodgers
YOUR RECENTLY VIEWED RECIPES