Deep-Dish Pizza with Sausage, Garlic, and Mozzarella
Cookbook
Published by Chronicle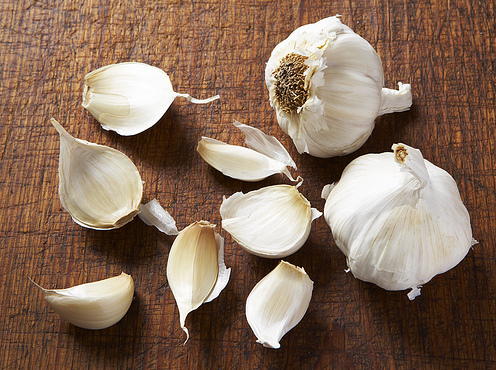 Ideally, buy top-quality Italian pork sausages from a meat market that makes their own sausages; or buy packaged sausages that contain no filler or preservatives Most of the Chicago-style pizzerias use raw sausage in their deep-dish pizzas This does not work as well for the home cook for two reasons First, commercial pizzerias, with their low, deep, well-insulated ovens, are able to cook pizzas so the filling is completely cooked through without over-browning the crust and top of the pizza. Second, the sausage they are able to buy is very lean, usually 90 percent lean pork meat, so it doesn't ooze excess fat into the pizza The best choice for the home cook is to precook the sausage and drain off the excess fat. This is hardly a compromise-wait 'til you taste this pizza'
Dietary Considerationpeanut free, soy free, tree nut free
Taste and Texturecheesy, chewy, garlicky, hot & spicy, meaty, savory, spiced
Ingredients
1½ tablespoons olive oil
chicago-style deep-dish pizza dough, at room temperature
1 pound mild or hot italian pork sausage, casings removed, crumbled
1 pound whole-milk or part-skim, low-moisture mozzarella cheese, thinly sliced
2 cloves garlic, minced
3½ cups slow-simmered tomato sauce, at room temperature
½ cup (2 ounces) freshly grated parmesan cheese
Instructions
1 Position an oven rack on the second-lowest level in the oven and place a baking stone, if using one, on the rack. Preheat the oven to 500°F.

2 Brush a 14-inch round deep-dish pizza pan with ½ tablespoon of the olive oil. Starting in the middle and using your fingertips, press the dough evenly to cover the bottom and about 2 inches up the sides of the pan. Cover the pan with plastic wrap or a clean kitchen towel and let the dough rise in the pan for 15 to 20 minutes.

3 Meanwhile, in a large skillet over medium heat, warm the remaining 1 tablespoon olive oil and swirl to coat the plan. Scatter the sausage in the pan and sauté, stirring frequently, until the sausage is cooked through and no longer pink, about 5 minutes. Remove the pan from the heat. Using a slotted spoon, drain the sausage of all excess fat and transfer the sausage to a plate.

4 To assemble the pizza, lightly press the dough up the sides of the pan if it has slid back down. Lay half of the mozzarella slices over the pizza dough, overlapping them to cover the dough completely. Scatter the cooked sausage over the top. Sprinkle the garlic over the sausage. Arrange the rest of the mozzarella over the top of the sausage and garlic. Ladle the tomato sauce evenly over the mozzarella. Sprinkle the Parmesan over the top of the sauce.

5 Place the pizza in the oven on the rack or baking stone and reduce the temperature to 450°F. (Work quickly to slide the pizza into the oven and close the door so the oven temperature doesn't drop too much.) Bake the pizza until the crust is crisp and a deep golden brown and the cheese golden, about 30 minutes. Remove the pizza from the oven and place on a wire rack to cool for 5 to 7 minutes.

If using a two-piece deep-dish pizza pan with removable sides, using long oven mitts, lift up the pizza pan. Center one hand underneath the bottom of the pan and slide the side ring of the pan off with the other hand. Carefully set the bottom of the pan back on the wire rack.

6 Cut the pizza into large wedges and serve immediately.

7 If using a one-piece deep-dish pizza pan, use a knife to loosen the crust from the sides of the pan. Cut the pizza into large wedges and then slide a metal spatula under the bottom crust to remove and lift out the wedges. Serve immediately.
2005 Diane Morgan and Tony Gemignani
YOUR RECENTLY VIEWED RECIPES
Free recipes, giveaways, exclusive partner offers, and more straight to your inbox!