Cookbook
Published by Sasquatch Books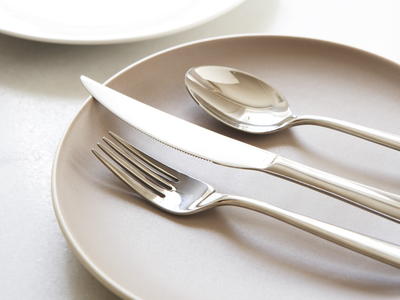 Before he settled down and became a stockbroker and financial planner, my wife's cousin Bob, who stood up for me as a groom's man at our wedding, worked at various odd and colorful jobs. For years, he was a housepainter. And for a while, during the early 1980s, he used to follow the Grateful Dead concert tours, pulling a trailer equipped with a rudimentary kitchen. In the trailer, he made and sold pad thai, which he served with Bob's Hot Habanero Shake. Bob's noodles were my introduction to the phenomenon that is Thai food. I never got his recipe, but after years of carefully dissecting the dish and studying other recipes, I have finally developed one that comes close. I decided to forgo the habanero shake in favor of a few dried red chile flakes.
If using tamarind pods, make a purée by boiling a cup of dried tamarind pods in water for 10 minutes. Strain the juice through a fine-mesh sieve into a 2-quart pitcher or jar, pressing hard on the solids.
Makes4 servings 
Cooking Methodstir-frying
Total Timeunder 30 minutes
Dietary Considerationgluten-free, halal, kosher, lactose-free, soy free, tree nut free
Taste and Texturenutty, savory, sweet, tart
Ingredients
8 ounces dried rice stick 
4 cups hot tap water
2/3 cup tamarind purée (see Notes), or 1/3 cup lime juice plus 1/3 cup water
3 tablespoons brown sugar
3 tablespoons fish sauce
1 tablespoon rice vinegar
2 teaspoons dried red chile flakes
2 tablespoons peanut or canola oil
3 large eggs
½ teaspoon kosher salt
2 tablespoons peanut or canola oil
4 cloves garlic, grated on a Microplane grater
1-inch piece ginger root, grated on a Microplane grater
3 cups bean sprouts
½ cup chopped roasted, salted peanuts
1 bunch green onions, white and green parts only, cut into 1/8-inch slices
¼ cup loosely packed cilantro leaves
Lime wedges
Instructions
Cover the rice sticks with the hot tap water in a large bowl; soak until the noodles are barely tender, about 20 minutes. Drain the noodles and keep them close to the stove.

In a measuring cup or small mixing bowl, whisk together the ingredients for the sauce and keep it near the stove.

Make the omelet. In a small bowl, beat the eggs with the salt. Preheat a large sauté pan over medium-high heat. Put the oil in the pan and swirl the pan to coat it with the oil. Sauté the garlic and ginger until fragrant, about 1 minute, then pour in the eggs. When the eggs begin to set, stir gently with a heatproof silicone or wooden spatula until they are cooked through, about 2 minutes.

Add the drained noodles to the eggs and toss with a heatproof silicone or wooden spatula until the noodles and eggs are evenly distributed. Pour the sauce mixture over the noodles and eggs, increase the heat to high, and cook, tossing constantly, until the noodles are evenly coated.

Add the bean sprouts, half the peanuts, and half the green onions. Continue to cook, tossing constantly, until the sprouts are heated through and the noodles are tender, about 3 minutes.

Transfer to a serving platter, and sprinkle with the remaining peanuts and green onions and the cilantro. Serve hot, passing the lime wedges separately.
2006 Greg Atkinson
YOUR RECENTLY VIEWED RECIPES