Crispy Quinoa Cakes with Roasted Ratatouille
Cookbook
Published by William Morrow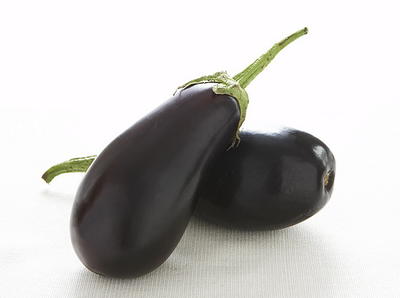 This image courtesy of Joseph DeLeo
Quinoa is terrific for everyone, but it's fantastic for nursing moms—it has all nine essential amino acids so it's a "complete" protein, it's high in iron, and nutritionally it's considered a whole grain. Personally, I don't like the taste of plain quinoa all that much, but when I mix it with Parmesan and pan-fry little patties until they're golden and crunch, it takes a concerted effort not to eat the whole batch.
The uncooked patties are quite delicate, so take care when sliding them into the pan and again when turning.

Make Baby Food: Texturally, the ratatouille's ideal for babies—you can puree or serve as-is. And quinoa is wonderful for little ones. Either set some aside before you add the egg, cheese and parsley, and puree along with the ratatouille, or serve a cake as finger food.

Mama Said: "Awesome! I got 10 patties out of the quinoa mixture, just FYI. My husband and I loved the dish, and my three-and-a-half-year-old daughter ate the quinoa patties dipped in ketchup (which is how she eats most things these days)."—Karen M., mom of two, Barbados
Serves4
Cooking Methodpan-frying, roasting
Dietary Considerationgluten-free, halal, kosher, peanut free, soy free, tree nut free, vegetarian
Taste and Texturecrisp, herby, savory
Ingredients
2 tablespoons chopped flat-leaf parsley
1 medium eggplant, skin on, chopped into ½-inch pieces
2 small zucchini, chopped into ½-inch pieces
1 large red bell pepper, chopped into ½-inch pieces
3 plum tomatoes, chopped into ½-inch pieces
1 medium onion, chopped
8 garlic cloves, unpeeled
4 to 6 tablespoons olive oil, divided
Salt and pepper
1 cup quinoa
1 large egg, lightly beaten
1 egg white, lightly beaten
1 cup grated Parmesan cheese
½ cup low-sodium chicken or vegetable broth
2 tablespoons tomato paste
6 to 8 basil leaves, chopped
Instructions
Preheat oven to 425°F. Grease or line two baking sheets.

Chop the parsley, put into a small bowl, cover, and refrigerate.

Prepare the eggplant, zucchini, pepper, tomatoes, and onion and put into a large bowl, along with the garlic. Toss with 2 tablespoons olive oil and salt and pepper to taste, then divide between the baking sheets.

Roast for 15 minutes, then stir the vegetables, and roast for another 15 minutes. Remove from oven, put into a bowl, and cover immediately. (You want a little bit of condensation, which will help keep things juicy later.) Once vegetables have cooled slightly, refrigerate.

In a small saucepan, bring 1¼ cups lightly salted water to a boil.

While water is heating, rinse the quinoa well in a fine strainer or sieve. If your quinoa package says that it's pre-rinsed skip this step.

When the water boils, add the quinoa, stir, cover and reduce heat to low. Cook for 15 minutes, or until almost all the water has been absorbed, then remove from heat Let sit, covered, 5 minutes.

Transfer quinoa to a medium bowl and cool, stirring occasionally, 10 minutes. While it's cooling, put a sheet of wax paper on top fo a medium cutting board or tray and set aside.

Add the chopped parsley, egg and egg white, and Parmesan to the quinoa, and stir to combine. 6. Coat a 1/3-cup dry measuring cup with cooking spray. Pack solidly with the quinoa mixture, but under-fill just slightly, and unmold onto the wax paper. Repeat with the remaining mixture, leaving a bit of space between each; you should get 8 scoops. Using a spatula, press down gently on the scoops to form 3-inch patties. Cover loosely with plastic wrap and refrigerate.

Heat 2 tablespoons olive oil in a large nonstick skillet over medium heat until hot but not smoking.

While it's heating, chop the basil and set aside.

With a spatula, gently add the patties. All 8 should fit without crowding—if they don't, cook them in 2 batches. Cook until the bottoms of the patties form solid, golden-brown crusts, 8 to 10 minutes (patties are quite delicate, so don't attempt to turn too soon.) You may need to add remaining 2 tablespoons oil.

Turn carefully, using two spatulas, and cook until the other side is lightly browned. Transfer to a paper-towel lined plate. If they break in transit don't sweat it—they'll still taste delicious!

While the patties are cooking, squeeze the garlic cloves out of their skins and transfer the roasted vegetables to a large saucepan and cook over medium-low heat. Add the chicken broth, tomato paste, and basil and cook, stirring occasionally, until heated through and lightly thickened. Taste, and adjust seasoning with salt and pepper.

Put two patties on each plate, and top with ratatouille.
2012 Debbie Koenig
YOUR RECENTLY VIEWED RECIPES