Crispy Chinese Noodles with Eggplant and Peanuts
Cookbook
Published by Harvard Common Press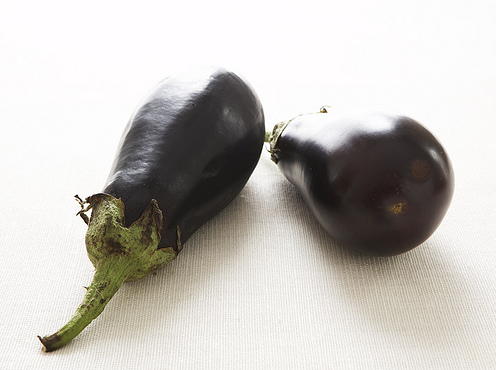 This image courtesy of Joseph DeLeo
People who try this dish always want to know what kind of noodles they're eating. They are fresh Chinese noodles, the best bargain around. Although fresh Italian pasta is quite expensive, fresh Chinese noodles are usually under a dollar a pound. In this dish they form a crunchy crust over eggplant and peanuts in a Vietnamese-inspired sauce of ginger, sherry, vinegar, and onions.
NotesAsian Noodles:

RICE VERMICELLI, OR RICE STICKS. These very thin noodles are sold dry, often divided into skeins, in dear plastic packages in Asian markets and many supermarkets.

To cook: Soak the noodles in warm water until soft, about 30 minutes, before adding to soups, stir-fried dishes, and sauces. To serve cold or in rice-paper rolls, boil for 1 minute, then rinse well. They can also be deep-fried; drop them into hot oil, and they will immediately puff up. Drain the fried noodles, and use them in salads and stir-fried dishes.

DRIED RICE NOODLES (THE WIDER ONES). These noodles, used in pad Thai and other pan-fried dishes, vary in width from 1/16 to 1/3 inch. They are sold in Asian markets. To cook: Pour a lot of very hot water over the noodles, and let them stand until soft (about 30 minutes). Strain the noodles, and lightly coat them with oil. Add them to a pan-fried dish such as pad Thai, to soup, or to stew.

BEAN THREAD OR CELLOPHANE ("TRANSPARENT") NOODLES. Made from mung-bean starch, these thin, dry noodles are sold in Asian markets and some supermarkets. To cook: Soak the noodles in warm water until they are soft, about 15 minutes, then add them to soup or a stir-fried dish.

FRESH RICE NOODLES (SHA HE FEN OR HU TIEU). These are sold in folded sheets in larger Asian markets. When cooked, the noodles have a wonderful slippery, satiny texture.

To cook: The sheets are cut into thin strips and stir-fried, or cut into wide strips, rolled around a filling, and steamed or pan-fried. Best used the day they are purchased, but will keep for up 5 days in the refrigerator. After refrigeration, they need to be resoftened: Drop them, into boiling water, and boil for about 2 minutes.

FRESH CHINESE WHEAT NOODLES, OR MEIN. Typically sold in 1-pound packages, these noodles vary in width. They are sold in most supermarkets as well as Asian markets. To cook: Boil these in plenty of unsalted water until they are tender, about 4 to 6 minutes. Rinse the cooked noodles before, adding them to a pan-fried dish or soup.

DRIED CHINESE WHEAT NOODLES. These are sold in swirled nests and straight lengths.

To cook: Ignore any directions on the package. Boil the noodles in unsalted water until they are tender; the time will vary depending on the width of the noodles. Use the noodles as you would fresh wheat noodles: pan-fried, in soups, or in stews.

DRIED UDON. These medium-size Japanese wheat noodles are sold in 12-ounce and 16-ounce packages in Asian markets and whole-foods stores. If unavailable, substitute soba.

To cook: Typically served in broth, udon noodles are first boiled in water until tender.

DRIED SOBA. These Japanese buckwheat noodles may also contain wheat flour. They are traditionally served with dashi (a stock of bonito and kelp). Sold in Asian markets and whole foods stores, they are rather expensive. Udon noodles can be substituted.

To cook: Boil soba noodles in water until they are tender. Serve them cold or pan-fried.
Serves4
Cooking Methodpan-frying, sauteeing
OccasionBuffet, Casual Dinner Party, Family Get-together
Recipe Coursemain course, side dish
Dietary Considerationhalal, kosher, lactose-free, soy free, tree nut free
Taste and Texturecrunchy, nutty, salty, savory, spiced, sweet, tart
Ingredients
1 eggplant (about 1 pound), cut into ½-inch cubes
1 teaspoon salt
1 pound fresh Chinese wheat noodles (available in Chinese markets and in the produce sections of many supermarkets)
2 tablespoons sherry
1 tablespoon cornstarch
¼ cup red wine vinegar
1/3 cup water or Basic Vegetable Stock
1 tablespoon minced fresh ginger
1 tablespoon sugar
2 tablespoons Thai or Vietnamese fish sauce, or 1 teaspoon salt
2 cups sliced onions
3 tablespoons canola or corn oil
4 garlic cloves, minced
1 red bell pepper, seeded and cut into thin julienne ships
4 tablespoons chopped dry-roasted, unsalted peanuts
1 tablespoon chopped fresh mint (optional)
Instructions
Put the eggplant cubes into a colander. Add the salt, and toss well. Let the eggplant drain for 15 minutes, then rinse it lightly with water. Let it drain again in the colander.

Bring a large pot of water to a boil. Add the noodles, and boil them for about 5 minutes, until they are tender. Drain them, and rinse them well with cold water. Let them drain in a colander for at least 10 minutes.

Combine the sherry with the cornstarch in a small bowl, and set the bowl aside. In a saucepan, combine the red wine vinegar, water or stock, ginger, sugar, fish sauce or salt, and onions. Bring the mixture to a boil, turn the heat to low, and let the mixture simmer for 5 minutes.

In a large skillet, preferably non-stick, heat 1½ tablespoons oil over medium-high heat. Add the eggplant, and cook it for 5 minutes, stirring frequently. Add the garlic and red pepper, and cook, stirring occasionally, for 5 minutes more or until the eggplant softens. Add both the onion-vinegar mixture and the cornstarch-sherry mixture. Cook for 2 to 3 minutes, stirring occasionally. Keep the mixture warm.

In a large non-stick or well-seasoned skillet, heat the remaining 1½ tablespoons oil over medium-high heat. When the oil begins to smoke, add the noodles, then place two or three plates on top of them so that more surface area will brown. Let the noodles sit over medium-high heat for 5 minutes. When the noodles have developed a golden brown crust on the underside, remove the plates, turn the noodles over with a spatula, and cook them 5 minutes on the other side. Then take the pan off the heat.

Add the peanuts to the eggplant mixture, and spoon it onto plates. Divide the noodles into four parts, and place them atop the vegetables and sauce. Sprinkle with mint, if you like, and serve.
1997 Didi Emmons
YOUR RECENTLY VIEWED RECIPES
Free recipes, giveaways, exclusive partner offers, and more straight to your inbox!