Updated February 23, 2016
Cookbook
Published by Stewart, Tabori & Chang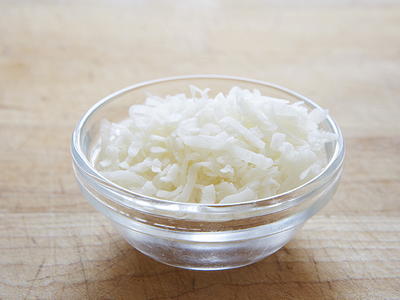 This is the creamiest, dreamiest, most sensational buttercream I've ever made—it was the first I'd ever created. I remember sheepishly bringing the frosted cake into work and placing it in the kitchen without a note to take credit, then making a beeline back to my desk. Its debut got a great reception and it continues to be one of my favorites at CakeLove. We pair it with chocolate cake and call it NGC—New German Chocolate. Once a whole cake was returned without a single slice taken because it didn't look like a regular German Chocolate Cake. But that's why I like it. This is a pastry cream–based buttercream that relies on coconut steeped in milk to deliver rich undertones. Dark brown sugar can be used, but muscovado is worth buying for the special accents it lends.
4 to 5 cups (enough for two 9-inch-round, three-layer cakes or 24 cupcakes)
Taste and Texturebuttery, savory, sweet
Type of Dishdessert sauce
Ingredients
Whole milk, 2 cups
Unsweetened coconut flakes, 3 ounces (½ cup)
Extra-fine granulated sugar, 7 ounces (¾ cup + 2 tablespoons)
Egg yolks (large), 6
Extra-fine granulated sugar, 2 ounces (¼ cup)
Potato starch, 3 tablespoons
Unsalted butter, at room temperature, 2 ounces (½ stick)
Muscovado or dark brown sugar, 3 ounces (¼ cup), packed
Coconut rum, 1 tablespoon
Vanilla extract, 2 teaspoons
Unsalted butter, chilled, 1 pound (4 sticks)
Mixing bowls
2-quart, heavy-bottomed saucepan
Standing mixer
Instructions
Set out the ingredients and equipment:

Separate the yolks into a large bowl. Add the 2 ounces sugar and the potato starch and whisk to combine. Add the 2 ounces butter, but do not stir in. Place a damp kitchen towel under the bowl to prevent it from sliding.

Measure the milk mixture ingredients into a 2-quart, heavy-bottomed saucepan and bring to a boil over medium-high heat. Turn off the heat and let the mixture steep for 10 minutes.

Measure the flavorings into three separate bowls and set aside.

Return the milk mixture to a simmer. Once it reaches a simmer, slowly pour it into the yolk mixture, whisking slowly in small circles at first and ending with broader strokes until fully combined. Pour the mixture back into the saucepan.

Return the saucepan to the stove and heat over medium heat, whisking constantly but not rapidly, for about 4 minutes (3 minutes at high altitude). The key is to keep the pastry cream moving so it won't scorch on the bottom of the saucepan.

When you begin to see lava bubbles—large, slowly forming bubbles that burp steam—reduce the heat to the lowest setting and whisk briskly for 1 minute to pasteurize the pastry cream.

Pour the pastry cream into the bowl of a standing mixer fitted with the wire whip attachment. Add the muscovado, coconut rum, and vanilla extract. Whip the pastry cream on high speed until it's cooled to room temperature, about 4 to 5 minutes.

Reduce the mixer speed to medium-low and add the pound of butter, 1 tablespoon at a time. Whip on medium speed until smooth, about 2 to 3 minutes.
2008 Warren Brown
YOUR RECENTLY VIEWED RECIPES