Classic Vietnamese Spring Rolls
Cookbook
Published by Workman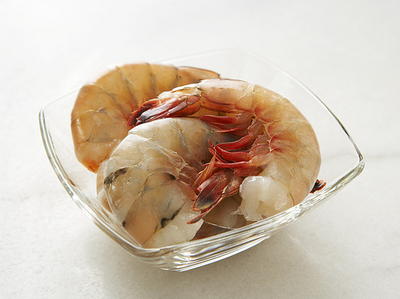 This image courtesy of Joseph DeLeo
In Vietnam, deep-fried spring rolls are mostly market and restaurant food. They can be made small or long, but either way, they're eaten in the hand, wrapped in a lettuce leaf with some fresh herbs, served occasionally with vinegared carrots and cold cooked rice noodles. You can assemble the rolls several hours ahead and refrigerate until you are ready to deep-fry. Once fried and drained on paper towels, they can be reheated in the oven or in hot oil. Use either small round rice paper wrappers or wedge-shaped wrappers if you can. We like Red Rose brand best. If you can only find large wrappers, you will be making longer rolls, and fewer of them.
Everyone has his or her tricks and theories about how to make a perfect Vietnamese spring roll. When we asked the chef-owners at our favorite local restaurant Pho Hung, in Toronto, for their advice, they told us that they use beer to moisten the rice papers. It helps make the paper crisp when it fries, they said. But, as they pointed out, in Vietnam beer is too expensive, so people just use water. We've tried soaking in plain water and in beer, and both work well; over time, we've come to think the beer might give a slightly crisper and more golden result, but it's a close call.

We've also read recipes that advise putting sugar in the soaking water. We've tried it and didn't like it; it made the rolls too dark. (When asked about sugar water, the people at the Pho Hung shook their heads: "Bad idea," they said firmly.)

Sometimes the paper bubbles and boils in the oil as it fries, making blisters; this is not a problem. And even if you overcook the rolls a bit, they're still very good.

You can also use the restaurant approach to deep-frying spring rolls: Fry the rolls lightly until an almost-done pale golden color, then take them out and drain well on a paper towel—covered rack. Just before serving, reheat your oil, then quickly fry them for a minute or two more so you can serve them hot and crisp.


OccasionBuffet, Casual Dinner Party, Cocktail Party
Recipe Coursehot appetizer
Dietary Considerationegg-free, lactose-free, tree nut free
Taste and Texturecrisp, crunchy, meaty, savory
Ingredients
½ pound ground pork
2 ounces peeled and deveined medium shrimp, briefly rinsed and finely chopped (about ½ cup)
½ medium onion (or large shallot), finely chopped
2 cloves garlic, minced
2 to 3 shallots, minced
½ cup finely chopped jicama or carrot (optional)
1 ounce cellophane noodles, soaked in warm water for 20 minutes, drained, and cut into 1-inch lengths with scissors (just over ½ cup)
¼ teaspoon freshly ground black pepper
2 tablespoons Vietnamese fish sauce
40 small round rice papers (about 5 inches across) or wedge-shaped papers, or substitute ten 8-inch round rice papers
Peanut oil for deep-frying
½ pound thin dried rice noodles, soaked in warm water for 20 minutes, drained, cooked in boiling water for about 2 minutes, and then drained, rinsed with cold water, and drained again (optional)
Vietnamese Herb and Salad Plate, with plenty of lettuce leaves
1½ cups Vietnamese Must-Have Table Sauce (nuoc cham)
Instructions
Place the pork in a medium bowl, add all the other filling ingredients, and mix very well. You will have about 2 cups of filling. Set aside. (You can prepare the filling ahead and store in a well-sealed container in the refrigerator for up to 12 hours.)

Set out two large plates or a flat tray. Wet a tea towel well, then wring out and place on your work surface. Fill a wide bowl or basin with 2 inches of warm water. (Or, fill with 1 inch beer and add 1 inch hot water, to make a warm mixture; see Notes.)

If using small round papers or wedges, immerse a paper in the warm soaking liquid until well softened, then lay on the damp tea towel (place the wedge with the point facing away from you).

Place a generous teaspoon of the filling onto the paper in a 2-inch-long line near and parallel to the round edge nearest you. Roll that edge over the filling, then fold over the sides of the rice paper and roll up tightly. Place the finished roll on the plate or tray, seam side down, and cover with a damp cloth. Repeat for the remaining rolls.

If using large papers, wet 1 paper thoroughly until softened, then place on the damp tea towel. Place a scant 2 tablespoons filling in a line about 5 inches long across the wrapper, well below the midline, leaving a I-inch border at either end of the line. Fold the edge nearest you over the filling, fold over the sides of the rice paper, and roll up tightly. Place on the plate or tray, cover with a damp cloth, and repeat with the remaining papers and filling.

(The rolls can be assembled up to 3 hours ahead and stored, well-sealed, in the refrigerator.)

When ready to fry, set out several racks or large plates lined with paper towels, and have extra paper towels ready. Also set out a slotted spoon.

Place two stable woks or large heavy skillets over medium-high heat. (You can use only one, of course; it will just take longer.) Add peanut oil to a depth of about 1 inch in each wok at its deepest point or ¾ inch in the skillets, and heat until hot. (Use slightly more oil if frying longer or larger rolls.)

Test the temperature by dropping a piece of moistened rice paper into the oil. It should sink and then immediately rise back up slowly, without darkening. If it darkens and rises up quickly, the oil is too hot; lower the temperature slightly if necessary. We find a setting somewhere between medium and medium-high to be ideal.

Add the rolls one at a time to the pans, being careful not to splash yourself with hot oil, without crowding; make sure the rolls aren't touching. (You will probably have to make two batches at least, even if using two large skillets or woks.)

After you add the rolls to the oil, they will hiss vigorously as they release moisture into the hot oil, then they'll bubble and the rice paper will change texture. Use a spatula to turn the rolls so they cook evenly, but be gentle with them so you don't tear the skins.

Cook for 7 to 10 minutes, until golden all over, then use the slotted spoon to transfer to a paper towel—lined rack or plate. Repeat with the remaining rolls.

Arrange the cooked noodles, if using, and the salad plate on one or more platters, so guests can serve themselves as they wish.

Or, arrange an individual plate of noodles and salad ingredients for each guest. Put the table sauce in individual condiment bowls so each person has a personal dipping sauce. Serve the rolls on one or more plates; if serving long rolls, cut in half or into thirds.
2000 Jeffrey Alford and Naomi Dugid
YOUR RECENTLY VIEWED RECIPES