Cinnamon Caramel Mousse
Cookbook
Published by Bulfinch Press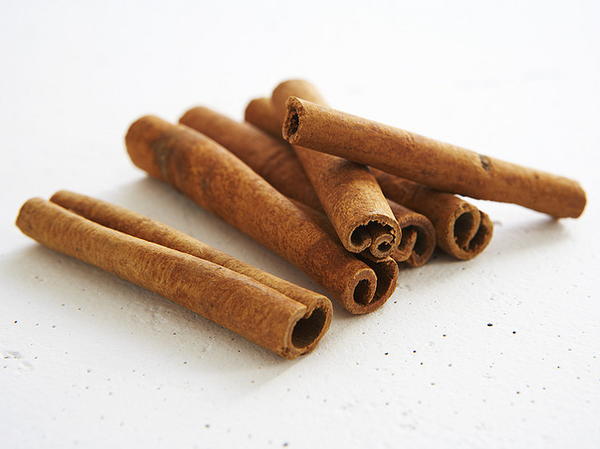 This image courtesy of Joseph DeLeo
Like most pastry chefs, I use a set of core recipes that provide the building blocks for many of my seemingly elaborate preparations. One of the secrets to success, whether at home or in the restaurant kitchen, is to know just how many ways a single recipe can be used in different plated desserts, rather than inventing new recipes for each dessert.
This simple, delicious mousse is one of my most basic and central recipes. It can be served on its own, alongside a crisp wafer-like cookie or Thin and Delicate Peanut Brittle. I use this mousse in a variety of "Napoleons"--layered between apple or pear chips or infused with star anise and cinnamon and sandwiched in tempered chocolate. With a little extra gelatin, this mousse becomes a cake filling; frozen, it becomes a parfait. And this is just the start: once you're comfortable with the recipe, you can use it, as I do, as a cornerstone of your pastry kitchen.
NotesCooking caramel successfully:

There are two common problems cooks encounter when making caramel: crystallization and burnt caramel.

Crystallization:

Boiling sugar can sometimes crystallize and never make it to a caramelized state. Crystallized sugar appears suddenly in your pan as a blurry, hard white mass that looks like rock candy. There are a couple of strategies to prevent sugar from crystallizing:

1. Change the composition of the sugar syrup.

Once the water boils away, plain sugar syrups are almost 100 percent sucrose (table sugar). Pure substances of any kind can crystallize easily. On the other hand, impure substances-those with more than one type of molecule-don't crystallize readily. To reduce the chance that your caramel will crystallize, you can add other sugar molecules such as glucose or fructose, to reduce the syrup's purity. Sugar syrups containing glucose or fructose are called "inverted."

• Invert the sugar syrup directly, with liquid sugars, like corn syrup, which is mostly glucose, or honey, which contains a lot of fructose.

• Add an acidic ingredient such as cream of tartar or lemon juice (which I recommend in my recipes), which breaks sucrose down into component molecules-fructose and glucose-when heated.

2. Do not allow other crystals or particles to grow in your syrup. Any tiny particle, or "seed," in a boiling syrup can spark crystallization. Seeds can be anything, from dust to air bubbles to sugar crystals themselves. For example, a bit of syrup can splash up the side of the pan, dry there, and then fall back again as a seed. To discourage the growth of "seeds" in your caramel:

• Cover the pan. When syrup boils rapidly in a covered pan, steam washes down the sides, dissolving any stranded sugar crystals there.

• Leave the pan alone. Do not stir or swirl the syrup around. These motions can introduce foreign particles or air into the boiling syrup, and can agitate the sugar solution, causing seeds to develop in the syrup itself.

• Cook the syrup over high heat. The longer it takes for the caramel to get to 325°F, the more likely it is that the syrup will crystallize.

Burnt Caramel:

Sometimes sugar caramelizes so quickly that it burns or becomes too dark and bitter.

• Remove your caramel from the heat when it is a light golden brown (approximately 325°F on a candy thermometer). Let it sit for 30 seconds; the caramel will be so hot that it will continue to cook even off the heat. Then check for color; if the caramel is not dark enough, return the pan to medium heat for a few more seconds. Repeat until you have achieved a nice rich, brown caramel. (Note that in order to assess the color visually you need to use a white enamel, stainless-steel, or aluminum-coated pan. Dark enamels, Calphalon, Teflon coating, and copper disguise the color brown.)

• When the syrup starts to boil, place a bowl of ice water big enough to hold your pan next to the stove. If the caramel is coloring too rapidly, dip the bottom of the pan in the ice water to quickly stop the cooking process.


5 cups, serves 6 to 8
OccasionCasual Dinner Party, Cooking for a date, Formal Dinner Party
Dietary Considerationgluten-free, halal, kosher, peanut free, soy free, tree nut free, vegetarian
Taste and Texturecreamy, light, spiced, sweet
Ingredients
6 egg yolks
Pinch of salt
1 tablespoon unflavored gelatin
1 cup sugar
Pinch of cream of tartar
3 cinnamon sticks
2 cups heavy cream
Stand mixer
Instructions
In the bowl of a stand mixer, whisk together the egg yolks and salt on medium speed. In a small bowl, sprinkle the gelatin over ¼ cup of cold water and let this mixture sit while you prepare the caramel.

Make the caramel syrup (see "Cooking caramel successfully" in the Notes section, below):

Combine the sugar, cream of tartar, cinnamon sticks, and ¼ cup water in a heavy-bottomed saucepan. Cover and bring to a rapid boil over medium-high heat. Once boiling, uncover the pan and cook the sugar until deep golden brown. Turn off the heat and very carefully pour ¼ cup water into the hot caramel. Stand back-the caramel will hiss and bubble and spurt.

Add the caramel to the yolks:

Once you have added the water, the caramel syrup will come back to a rolling boil from the residual heat. Remove the cinnamon sticks with a fork and discard. When the caramel syrup stops boiling, slowly pour it into the egg yolks with the mixer running on high speed. With a rubber spatula scrape the gelatin into the empty saucepan in which you cooked the caramel and let it melt into a syrupy liquid. Pour the gelatin into the egg yolk mixture and whisk at medium high speed until it triples in volume and cools to room temperature.

Remove the bowl with the mousse base from the mixer. In a separate bowl, whip the heavy cream until it has soft peaks. Scrape the whipped cream on top of the mousse base. Fold the two together with a spatula or bowl scraper: place your spatula in the center of the bowl, scrape the bottom, and bring the bottom over the top. Rotate the bowl 45 degrees and continue folding until all the whipped cream is incorporated.

If you want to serve the mousse in a casual manner, let it chill and gel in a large bowl or plastic container for at least 2 hours before dolloping it out onto individual plates. Alternatively, for a more finished look, pour the mousse into 6 to 8 small serving dishes and let it set in the refrigerator, covered, for at least 2 hours before serving.

Serve this mousse with the Thin and Delicate Peanut Brittle or any crunchy thin cookie. You can also serve it in classic mousse style, in a bowl or cup with some whipped cream, shaved bittersweet chocolate (use a peeler and peel the edge of a cold block of good bittersweet chocolate), and a sprinkle of ground cinnamon.
2006 Kate Zuckerman
YOUR RECENTLY VIEWED RECIPES
Free recipes, giveaways, exclusive partner offers, and more straight to your inbox!