Chunky Guacamole (Avocado Relish)
Cookbook
Published by William Morrow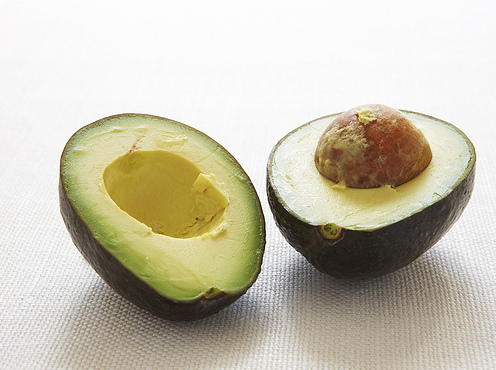 This image courtesy of Joseph DeLeo
NotesFlavoring Guacamole: In order to accommodate any avocados you might come up with, I've written a loose recipe. Some of the blander fruits will need a little garlic and/or lime juice–even a drizzling of good olive oil—to make a tasty guacamole.

Timing and Advance Preparation:
Allow 20 to 30 minutes to make the guacamole and, for best results, plan to serve it within an hour. The lime juice helps to slow down the notorious avocado darkening, but not much; Fruit-Fresh and other antioxidants leave a telltale taste behind. So choose a slow-browning variety like Hass, return the pits to the guacamole (they retard darkening), and cover it with plastic wrap pressed directly on the surface to keep out oxidizing air; after a while, you may need to scrape off the thin dark layer that forms across the surface.
Queso Fresco: Fresh or Aged Crumbling Cheese: In Mexico, this white cheese is available in nearly all markets; it ranges in size from huge blocks to tiny cakes, and in texture from fine (almost smooth on the tongue) to coarse and spongy; all of it breaks apart or crumbles readily when pressed between the fingers (like the dry fresh farmer's cheese). Most of it softens when heated (often exuding whey), but it usually will not melt. Most is made from skimmed (usually unpasteurized) milk, is sold within a day or two of making (so it is often still draining whey), and has a high water content (so it may spoil if not stored properly). Some versions are specially made for aging (they seem to dehydrate more than ripen, perhaps because of the high salt content). Most Mexican fresh cheeses taste fresh and milky (rather than cheesy) and they have a good amount of acid and salt. An aged cheese retains some of that milkiness (though it's sharper) and it doesn't have the nutty, developed-cheese flavor of a Parmesan—a cheese you'd think it would resemble. Other names for queso fresco are simply queso, queso ranchero ("ranch cheese"), and, occasionally, queso de metate (if its curds have been smoothed on the metate); names for queso anejo include queso Cotija, queso oreado (literally "aired cheese"), and queso seco ("dry cheese"), plus the more distinct varieties like sierra and morral, which fill the same function.
In the United States, the queso fresco available from most of the cheese companies that specialize in Mexican cheese (Cacique and Supremo, among others) often tastes cheesy (like a Muenster) or bland; the only exception I can recommend is the 5-ounce round of "queso fresco/Mexican-style cheese" made by Supremo in Chicago. When that's not available, I usually use the creamier feta cheese to replace either queso fresco or queso añejo, though it is more strongly flavored. To tame its brininess, soak it in water for an hour or two; to give it a more authentic texture, let it dry out at room temperature, turning occasionally, for a day or two. Some other substitutes for queso fresco are: dry (pressed), fresh farmer's cheese, usually available in pear-shaped slabs (this doesn't have the acidity or saltiness of queso fresco; crumble and add salt); dry-curd cottage cheese (this has a high moisture content, so press it between paper towels, then crumble and add salt); a mild, domestic, fresh goat cheese, like the small rounds made in California, New York or New Jersey (these are tangier and creamier than queso fresco, but they have a similar fresh quality). In addition to feta, some other substitutes for queso añejo are: a mild Parmesan, Romano or Sardo (they all lack that milkiness and are more cheesy-flavored, though they can be crumbled/grated appropriately) or the dry ricotta (not the soft variety packed in tubs) available in some specialty cheese stores (look for salted ricotta, ricotta salata or aged ricotta).
About3 cups, serving 6 as an appetizer, 12 to 15 as a dip

Total Timeunder 30 minutes
OccasionBuffet, Cocktail Party, game day
Recipe Coursecold appetizer, hors d'oeuvre
Dietary Considerationdiabetic, egg-free, gluten-free, healthy, kosher, lactose-free, low carb, low cholesterol, peanut free, soy free, tree nut free, vegetarian
Taste and Texturecreamy, garlicky, spiced
Ingredients
½ small onion, very finely chopped
Fresh hot green chiles to taste (roughly 2 chiles serranos or 1 chile jalapeno), stemmed, seeded and very finely chopped
1 ripe, medium-large tomato, cored and very finely chopped (optional)
1 clove garlic, peeled and very finely chopped (optional)
10 sprigs fresh coriander (cilantro), chopped (optional)
3 ripe, medium avocados
Salt, about ½ teaspoon
½ lime, juiced (optional)
Additional chopped onion and fresh coriander, radish slices or roses, and/or a little crumbled Mexican queso fresco (see Notes) or other fresh cheese like feta or farmer's cheese, for garnish
Instructions
The preliminaries: In a medium-size bowl, mix the finely chopped onion and chiles with the optional tomato, garlic and coriander.

The avocado: Close to the time you are going to serve, halve the avocados lengthwise by cutting from the stem to flower ends, around the pits. Twist the avocado halves in opposite directions to loosen the meat from the pits, then scoop out the pits and reserve. Scrape the avocado pulp from the skins and add it to the bowl.

Finishing the guacamole: Using your hand or a spoon, roughly mash the avocado while mixing in the other ingredients, making a coarse, thick mass. Flavor with salt, then enough lime juice to add a little zing, if you wish. Return the pits to the guacamole and cover with a sheet of plastic wrap pressed directly onto the surface of the mixture. Set aside for a few minutes to let the flavors blend.

Garnish and presentation: The guacamole is very attractive in a pottery bowl or Mexican mortar, sprinkled with chopped onion, coriander, radish slices and crumbled fresh cheese; radish roses really dress it up.
1987, 2007 Rick Bayless and Deann Groen Bayless
YOUR RECENTLY VIEWED RECIPES
Free recipes, giveaways, exclusive partner offers, and more straight to your inbox!