Chive-Studded Yorkshire Pudding
Cookbook
Published by Clarkson Potter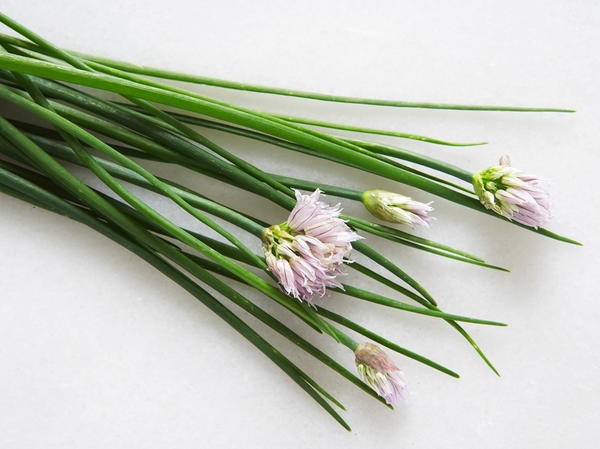 Not a pudding at all, Yorkshire pudding is actually a crisp, delicately flavored, flour-and-egg-based thin breadlike custard that originated in the county of Yorkshire, England. It is traditionally served with roast beef, and it uses the drippings from the meat to give it incredible taste. The added color and sassy flavor from both minced chives and cayenne make this an exceptionally flavorful version of an old-time recipe. Yorkshire pudding is meant to be eaten with every bite of meat, napped either with the natural meat juices (called au jus in French) or with another delicious sauce.
NotesTiming is Everything

• The custard mixture (milk, eggs, and chives) can be mixed early in the day and kept refrigerated, covered. Stir before using.Here's the Scoop: On Using Glass Baking Dishes

Glass is a terrific way to transfer heat and get a nice crisp finish on baked goods, and pie crusts are a good example. If you have only a metal pan, you'll need to raise the oven temperature by 25°F. to help duplicate this quick and intense transfer of heat. This will apply to any recipe that you use where you're asked to use a glass pan, unless your recipe specifies otherwise. Conversely, to avoid overcooking, if a metal pan is requested and all you have is glass, you'll need to reduce the oven temperature called for in your recipe by 25°F.
Dietary Considerationpeanut free, soy free, tree nut free
Taste and Texturebuttery, rich, salty, savory
Ingredients
1 cup unbleached all-purpose flour
½ teaspoon salt
¼ teaspoon cayenne pepper
Freshly ground black pepper to taste
2 extra-large eggs
1 cup milk
1/3 cup packed thinly sliced chives (if unavailable, mince the deeper green part of a scallion)
3 tablespoons beef drippings (optional)
3 tablespoons melted unsalted butter (if not using drippings, use 3 tablespoons each whole and Clarified Butter)
Instructions
When your roast beef enters the oven, assemble the batter. Use a whisk to combine the flour, salt, cayenne, and black pepper. In a separate mixing bowl, use a fork to beat the eggs. Mix the milk and chives into the eggs. Pour the seasoned flour into the beaten egg mixture and, using either a batter whisk or a regular whisk, combine the mixture gently but thoroughly. (No dry pockets of flour should remain.) Cover the bowl and let it sit out at room temperature until your roast leaves the oven.

When the meat comes out of the oven, remove it to another tray (or a warmed serving platter) and loosely cover it with aluminum foil. Turn the oven temperature to 450°F. with the rack on the center shelf. Pour all of the drippings into a bowl (a 9-pound roast should yield ½ to 1 cup of drippings). Place a small heatproof bowl on your work surface, and into it place the measured beef drippings and melted butter (if not using drippings, use equal amounts of whole and clarified butter).

Place a 13 × 9-inch glass baking dish in the oven to preheat for 5 minutes. Open the oven and add the mixed fat to the dish and shut the door. Allow the fat to heat for 1 minute. Give the batter a brief stir, then open the oven and pour the prepared batter into the hot dish, using a rubber spatula to scrape out all of it (try to be quick, so the oven doesn't cool down). Shut the door and bake the custard for 12 minutes. Reduce the temperature to 400°F. and bake for 5 minutes. Reduce the temperature to 350°F. and bake for 12 to 15 minutes, or until the pudding is golden, crisp, and puffed around the edges and the center is fully set but not overly dark. Remove the dish from the oven and cut the pudding into 6 to 8 equal rectangles, making sure that each person gets a portion of the crisp rim. Serve as soon as you can, surrounding the sliced roast or on an individual platter.
2004 by Lauren Groveman
YOUR RECENTLY VIEWED RECIPES
Free recipes, giveaways, exclusive partner offers, and more straight to your inbox!