Chickpea Flour "Cigars" With A Coconut-Mint Sauce
Cookbook
Published by Workman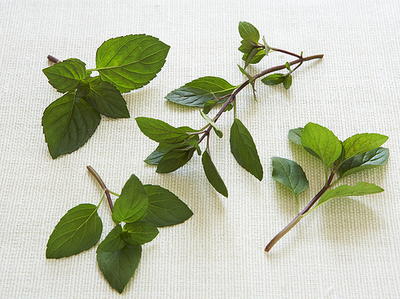 This image courtesy of Joseph DeLeo
I watched carefully as Bharati Sindhvad, my friend Swetal's mother, made khaandvi. As the batter thickened in the pan and started to separate from the sides, she spread a little of it on the counter next to the stove, spreading it out with her finger to see if it was the right consistency. "Almost there," she said in Gujarati, and continued her clockwise stirring for an additional 1 to 2 minutes. Within minutes, the thin, flat lasagnalike sheets lay spread out on foil, cooling. After slicing them, she rolled them into loose cigar shapes and placed them on a serving platter ready to be seasoned, then served.
To reconstitute coconut, cover with ½ cup boiling water, set aside for about 15 minutes, and then drain.
Serves8
Recipe Coursehot appetizer, snack
Dietary Considerationegg-free, vegetarian
Taste and Textureherby, hot & spicy, savory, spiced, tart
Ingredients
1 cup chickpea flour
1 teaspoon white granulated sugar
1 teaspoon coarse kosher or sea salt
½ teaspoon ground turmeric
1¼ cups buttermilk
4 tablespoons canola oil
1 tablespoon Ginger Chile Paste
 Vegetable cooking spray
1 teaspoon black or yellow mustard seeds
¼ teaspoon ground asafetida
2 tablespoons finely chopped fresh cilantro leaves and tender stems
1 or 2 fresh green Thai, cayenne, or serrano chiles, to taste, stems removed, finely chopped (do not remove the seeds)
1 cup firmly packed fresh mint leaves
½ cup firmly packed fresh cilantro leaves and tender stems
¼ cup shredded fresh coconut; or 2 tablespoons shredded dried unsweetened coconut, reconstituted (see Note)
1 teaspoon white granulated sugar
1 teaspoon coarse kosher or sea salt
Juice of 1 medium-size lime
Instructions
To make the khaandvi, combine the chickpea flour, sugar, salt, and turmeric in a medium-size bowl.

Pour in half of the buttermilk, quickly whisking it in to make a thick, lump-free batter. Then add the remaining buttermilk, whisking it in to form a thinner batter. Whisk in 2 tablespoons of the oil and the Ginger Chile Paste.

Tear off two large sheets of aluminum foil about the size of a cookie sheet, and lay them side by side on the counter next to the stove. Lightly spray them with cooking spray.

Pour the batter into a small saucepan and heat it gently, stirring constantly, over medium-low heat. Keep stirring until its color changes from shiny yellow to a dull, opaque yellow and it starts to thicken and pull away from the sides of the pan, 10 to 15 minutes.

Using a spatula, transfer a walnut-size wad of the soft dough-like batter to the prepared foil and quickly (and that's the key) spread it out to form a thin, flat sheet, about the same length, thickness, and width as a single lasagna noodle. Repeat (working quickly so the batter doesn't cool) until all the batter is spread out. Don't worry if the edges are ragged and not straight (I, for one, never could draw a straight line). Cut each sheet of dough in half crosswise. Allow the dough to cool until you can handle it, 5 to 10 minutes. Then roll each half-sheet into a loose cigar shape and place it on a serving platter.

Heat the remaining 2 tablespoons oil in a small skillet. Add the mustard seeds, cover, and cook until the seeds have stopped popping (not unlike popcorn), about 30 seconds. Sprinkle in the asafetida, which will instantly sizzle and smell strong, with garlicky undertones. Pour this seedy oil evenly over the rolled khaandvi. Top them with the cilantro and chiles.

To make the sauce, pour ½ cup water into a blender jar, and then add all the sauce ingredients. Puree, scraping the inside of the jar as needed, to form a light green sauce. Pour it into a serving bowl.

Pass individual plates and have folks dip the khaandvi, fondue-style, into the sauce before taking a bite.
2008 Raghavan Iyer
YOUR RECENTLY VIEWED RECIPES